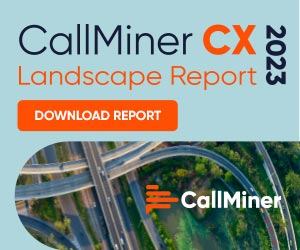 On June 23, CallMiner held the third forum in their four-part LISTEN UK 2021 Virtual Series and had the honour of announcing the winners of their LISTEN UK 2021 Awards.
This group of CallMiner customers have truly embraced the power of conversation analytics, resulting in compelling achievements and business improvements in the past year.
During our selection process, we assessed new and existing UK and international customers, both directly sold to and sold via partners.
The three organisations that stood out were African Bank, British Gas and Hoist Finance UK. We spotlighted them during our event this week, but we also wanted to share more about their achievements here:
Best New International Implementation 2021 won by African Bank
African Bank had very clear and impactful use cases in credit and collections, and embraced the use of the CallMiner API from day one.
The CallMiner API enabled them to combine existing data from within the data warehouse with data from conversation analytics to get a complete view of their customer interactions.
The African Bank analyst team has been instrumental in driving the analysis of customer conversations and empowering three key organisational departments: sales, customer service and collections.
With executive support, the positioning of conversation analytics as a transformative strategic initiative in African Bank is underlined by the methodology, resourcing, and commitment to success.
Vere Millican, African Bank's Executive of Credit and Data Science, said: "We are very proud to receive a LISTEN UK 2021 Award for our international implementation from CallMiner, which recognises the incredible effort and commitment of our teams to successfully implement this world class conversation analytics technology.
Our contact centre operations embraced this project from day one and received incredible support and encouragement every step of the way from CallMiner's international specialists. So many of our teams have been involved in this project.
I would like to specifically acknowledge the hard work done on the contracting, technical, implementation and IT and projects side, to make this a seamless and successful implementation. The benefit to African Bank is looking encouraging.
98% of our calls from our three contact centres are now reviewed through the CallMiner Eureka solution as opposed to less than 2% previously reviewed through the traditional QA process.
It has given us additional data to support the Bank's strategy for data driven decision making, helped us prepare for a successful implementation of DebiCheck (new electronic debit order confirmation platform) and allowed us to monitor major compliance disclosures and conversations.
We are only starting our journey and look forward to utilising CallMiner to further assist us in identifying key trends in agent and customer behaviour."
Most Innovative Customer 2021 won by British Gas
British Gas has been a CallMiner customer for over 12 years. In the past year, they embarked on an impressive project, with the support of Davies Consulting, to put rigour around managing communications, improving QA and changes within their internal teams.
They have been using structured data from the CallMiner Eureka platform to improve customer experience by demonstrating ownership of customer issues, providing next-best action guidance to agents from their learnings, and much more.
With CallMiner, they've also been able to conduct root cause analysis into the customer complaints they were receiving and more effectively and efficiently solve problems. With these efforts, they've been able to make sure agents are well equipped to better set and meet customer expectations.
British Gas has been impressive at combining internal knowledge with external expertise – setting an excellent example of how to innovate at scale.
Ash Longman, Head of Operational Excellence, said: "I'm delighted to accept this award on behalf of British Gas and the fantastic team of colleagues I work with.
We believe that our customers should be at the heart of everything we do and finding new, innovative ways to help us understand the experience they receive and how we can improve it is critical to achieving that goal."
Best New Partner Implementation 2021 won by Hoist Finance UK
Hoist Finance UK was sold and delivered through CallMiner partner Aspect, now Alvaria.
They had a clear focus on understanding their content and identifying positive and negative elements, particularly regarding silence. In collections, silence can be useful if handled appropriately, but Hoist needed to eliminate inappropriate silence.
Within a couple of months, they had reduced their overall silence by almost half. Hoist also looked at risk exposure and introduced a consistent methodology of monitoring complaints, reducing potential fees by over £800k per year.
The entire business was engaged in the effort via tools like Facebook's Workplace and explanatory videos – all of this was achieved from a standing start in less than twelve months.
Colin Whelan, Head of Workforce Optimisation, said: "It's an incredible piece of recognition to have received this award from our technology vendor, CallMiner.
We appreciate CallMiner's observations of the programme we have developed and the processes we instilled that has allowed us all in Hoist Finance in the UK to adopt the Conversation Analytics tool into our everyday working lives, ensuring we learn how we can be better for our customers."
African Bank, British Gas and Hoist Finance UK have all demonstrated the power of conversation analytics and how the insights from customer interactions can have a profound impact across the entire enterprise.
We're thrilled to share the impressive achievements of these organisations – congratulations once again!
This blog post has been re-published by kind permission of CallMiner – View the
Original Article
For more information about CallMiner - visit the
CallMiner Website