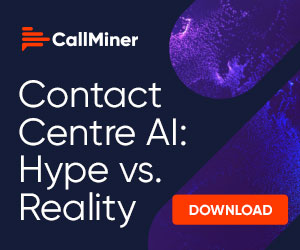 CallMiner have been named as a leader in the report "Forrester New Wave: AI-Driven Speech Analytics Providers, Q2 2018" by Forrester Research.
This new report was Forrester's first ranking and assessment of the emerging AI-driven speech analytics market.
Forrester identified 11 of the most significant providers in the industry to participate in the report.
The report details Forrester findings about how well each vendor scored against 10 criteria such as natural language processing, coaching and quality management, real-time speech analytics, business insights, and ease of use, and where they stand in relation to each other.
Forrester also conducted a test of each solution's ability to transcribe spoken audio accurately as part of the evaluation.
CallMiner received a designation of Differentiated in eight of the 10 evaluation criteria, the highest number of Differentiated scores among the participants.
According to the report: "CallMiner's real-time and business insights capabilities stand out among WFO suites. From providing guidance to the agent to triggering follow-up actions, CallMiner is enabling customers to take action in real time. It is also driving value outside the contact center for marketing effectiveness, product design, and sales operations use cases."
CallMiner is also highlighted for having "the most advanced, enterprise-ready speech analytics functionality" and combining "traditional speech analytics with machine learning to improve ease of use and accuracy while still providing control and transparency".
"Being recognised by Forrester as a Leader in this new report is an honor that speaks to the incredible work we have put in internally and with our customers over the course of our 16+ years in the speech analytics industry," said Paul Bernard, CallMiner President and CEO.
"Our vision is to empower organizations to extract meaningful and actionable intelligence from their customer conversations, and AI has become a cornerstone of providing those capabilities with efficiency and scale."
"We have continuously invested in advanced technology – including AI, machine learning, and predictive analytics – as we enhance our product suite and work with customers on their use cases."
Customer references were also conducted as part of the evaluation process, with CallMiner receiving some great feedback.
Customers praised CallMiner as "outstanding tech for analytics and consulting use cases" and confirmed their "software provides a short ramp-up time for new users; product is extremely scalable, and service is first-rate".
For more information about CallMiner's final evaluation, visit: www.callminer.com/new-wave