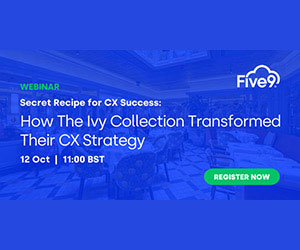 For more than 140 years, Michigan- based BISSELL has developed innovative floor care solutions that simplify cleaning. BISSELL has 2,500 employees and contact center agents in four international locations.
BISSELL had outgrown its previous on- premises contact center technology. "It was a challenging and inflexible product," says Razi Sharbaan II, the company's Associate Director of Consumer Services and After-Sales. It was time for a major change to elevate the customer experience.
"Reporting was difficult, configurations were challenging for IT, and there was no integration with other systems," recalls Razi. "Scripting IVRs was challenging and we couldn't route calls like we wanted. The innovation really wasn't there. And we had experienced several service disruptions that would take us out for hours. We couldn't grow with it."
Industry: Retail, Manufacturing
Challenges:
Previous contact center was unable to support growth
On-premises platform lacked system integrations
Wanted to increase CSAT
Difficult IVR configuration caused inefficiencies
Benefits:
Fully integrated cloud- based system
Out-of-the-box proven features and benefits from day one
Increased CSAT score by 9%
5% FTE savings with IVR queue callback and efficient agent routing capabilities
Solutions:
Intelligent Virtual Agent
IVR
Five9 Adapter for Oracle
Five9 Quality Management
Technical Account Manager
A Partner to Grow With as Complexity Increases
BISSELL spent more than a year planning its move to the cloud and evaluated multiple vendors. Five9 came out on top. The company underwent a major digital transformation of its contact center technology, moving its four outsourced contact centers to the cloud and introducing additional capabilities.
"We made a complete digital pivot," says Razi. "Five9 excelled in terms of simplicity and coming to the table with immediate solutions we could put into action. It had features that we could take advantage of on day one including CTI, agent whisper, queue callback, hot seating and multi-desk sharing, and redundancy and native integration to our CRM. That was all very attractive."
"Five9 has made AI and automation our North Star." – Razi Sharbaan II, BISSELL
Proven Integrations
BISSELL supports retailers and direct consumers with product, shipping, and e-commerce, so integrations were required, not nice-to-haves.
BISSELL's integration enables its IVR to detect when a customer is known to the system, pull up the record in the Oracle CRM, and, if the customer owns one of the mobile- connected products, automatically routes the call to the team that handles those products.
"This reduces the number of transfers a customer must undergo and makes for a better customer experience," says Razi. "We were excited to be able to stand this up quickly with Five9. Five9 has been able to grow with us as the complexity in our business increases.
"If there is a wait, the IVR provides the predicted wait time and gives the customer the option to receive a callback. The outbound dialing capabilities have been helpful in reducing the agent workload and callback queues.
Five9 Quality Management records the agent screens on customer calls, which has saved BISSELL two or three full-time employees thanks to the multi-desk sharing capability. BISSELL doesn't have to worry about each agent's physical cubicle location like it did with its previous solution; now recordings are hosted in the cloud.
"Five9 has helped us save over 5% of FTE costs," says Razi. "Between the queue callback and Five9 QM, I'm estimating that I would need at least seven more FTEs than what I have now if we weren't on the Five9 platform."
Since moving to the cloud with Five9, BISSELL has experienced a 9% increase in customer satisfaction scores, measured over thousands of consumer interactions.
"Five9 doubled our licenses overnight so we could open a new call center site while we transitioned our agents to working from home." – Razi Sharbaan II, BISSELL
Consumer feedback around its products is critical to the BISSELL brand and their service is no exception. BISSELL has found additional benefits by easily sharing customer feedback about its mobile app with its developers.
Developers could hear how consumers were reacting through the call and screen recordings, which was a source of input BISSELL didn't previously have.
Moving Forward
"Before the pandemic, we ruled out having remote agents as a part of our service staffing strategy. Then the shelter-in-place orders happened and we temporarily lost 85% of our agents worldwide in literally one day," says Razi. "Five9 doubled our licenses overnight so we could open a new call center while we transitioned our agents to working from home."
With over a million interactions a year, BISSELL also wanted to provide customers with self-service options handled by AI technology. Customers can use Five9 Intelligent Virtual Agent to check order status, cancel an order, or register their product. This not only frees agents to handle more complex inquiries, but has increased containment rates by 15%.
"Five9 has made AI and automation our North Star," Razi says. "Our customers are receiving answers in a natural, conversational way without speaking to a live agent. It's allowed us to scale our service without compromising quality."
"With Five9, the trust is there and the technology is there. We are constantly looking at how we can innovate and I'm excited that we can grow with Five9."
This case study has been re-published by kind permission of Five9 – View the original post
For more information about Five9 - visit the
Five9 Website