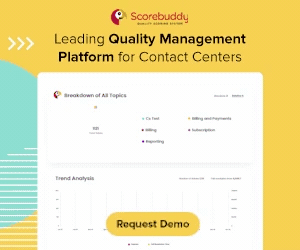 Dick Bourke urges you to consider the following challenges to improve quality when looking to outsource your contact centre services.
It costs more to get a new customer than to up-sell to an existing customer. That is why customer service and satisfaction is so important.
Many companies believe that the only way to handle call centre processes is in-house. But a growing number of businesses have found that they can successfully outsource this department.
The biggest worry most companies have is maintaining, or even improving, customer service when somebody else is handling it.
This article will explore how to outsource your customer service department successfully with an eye towards keeping your clients happy.
What to Look for in an External Call Centre
You should start looking at outsourcing your customer service desk if you spend more time and money managing the department than you do on your core business tasks.
Often, as companies grow, their support services begin to take more and more money and resources to maintain. Additionally, the time that senior executives need to devote to the service aspect of their companies, the less time they have to focus on growing their businesses.
There is clearly a competitive advantage in doing an excellent job with customer service, so outsourcing this aspect must be done cautiously and thoughtfully.
When looking for an external call centre, the first thing you should decide is where you want the servicer to be located.
Some companies want the business process outsourcer (BPO) to be local to their geography, others want it domiciled in the United States, and still others look overseas in an effort to minimise costs. So, consider whether the outsourced agents will need local knowledge and reference points to do their jobs, and whether perfect American English is important to your customers.
Next, you'll want to match your outsourcer's corporate culture to your own. You have a "brand" and it is important that it be maintained in your outsourced call centre operations.
The main reason most companies start to look at outsourcing is cost. You can often save up to 50 percent of your expenses needed for a good customer service function when you outsource, but you want to ensure that you purchase the best value (cost plus quality) and not just the lowest price.
You will also want to look for scalability. If you suddenly had a boom season, would the outsourced call centre be able to grow with you and handle peak support times?
Finally, determine and discuss how you will interact with the outsourcing company. Outline the level of communication and oversight you require. When you enter negotiations with a BPO, make sure all your requirements are laid out in a formal written contract. 
Challenges to Call Centre Outsourcing
The first challenge to outsourcing your call centre is maintaining quality. Someone who is an employee of the company needs to be responsible for oversight.
One way to maintain quality standards is to establish clear benchmarks for the BPO to meet. You can verify that your standards are met both by providing a scorecard and by using a third-party monitoring service.
The next challenge is maintaining data security. In a time when there are daily headlines about big data breaches, you need to know that your customers' private information will be just as secure on the outsourcer's computer as it is on your own.
As part of the process of outsourcing, evaluate each company's data policy and practices, including infrastructure. Be vigilant that these standards are maintained over time.
Finally, consider the rising costs of mission creep. When you outsource, you contract for defined services. Additional services will be billed separately or require a new contract.
While you can often get your own employees to do more, a contractor will usually require additional fees. So, when you are initiating an outsourcing contract, try to anticipate the scope of the project and get an inclusive price quote.
Call Centre Outsourcing: Maintain and Improve Customer Service Quality Standards
Researchers from the MIT Sloan School of Management recently showed that outsourcing call centre services offshore results in lower customer satisfaction ratings. To combat that, it is important to have an updated scorecard that measures performance.
When you outsource customer service to an external service provider, you put a vital business function in a stranger's hands. Because you cannot watch their services in person, having current performance metrics can keep this function operating smoothly.
Ultimately, there are many reasons to outsource your call centre, but you should have a way to monitor the service and a plan to intervene if the BPO does not meet quality metrics.
---
Recommended Articles