Monitoring conversations for quality and training is vitally important in any contact centre, but this can only be done successfully if businesses know what they are looking out for.
Olena Iosifova, CEO at Ender Turing, asked members of our LinkedIn Community "What is your opinion on a random selection of 2–5% conversations for the purpose of quality and training?"
280 professionals responded to the poll and the results are as follows:
| Communication Method | Response % |
| --- | --- |
| Missed Client Complaints | 19% |
| Missed Training Opportunities | 50% |
| Missed Sales Opportunities | 8% |
| Loss of Other Important Data | 23% |
With 50% of respondents stating that this could identify missed training opportunities, compared to 8% that thought this could identify missed sales opportunities, this suggests that the focus of companies is more aimed at ensuring agents have the necessary skills to provide a high level of customer service.
It is interesting that 19% responded that it would identify missed client complaints, and 23% that it would identify the loss of other important data.
The 4% difference between these two results again shows that companies are focusing more on the quality of service they provide.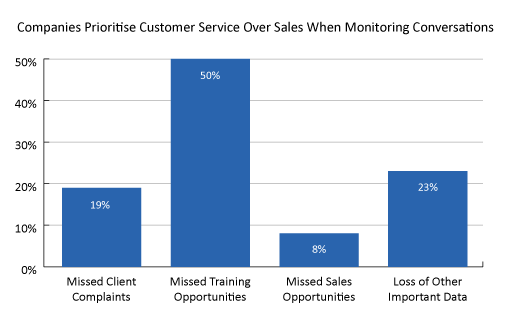 In total this means that 92% of responses are based around identifying areas for improvement related to quality of service and experience, rather than missed sales opportunities (8%).
Missed sales opportunities would potentially be resolved with a higher level of customer service and improved agent ability.
★★★★★
Several professionals also commented on this poll to provide insightful suggestions on how to optimize and develop monitoring in the contact centre:
3 Calls and Emails Per Agent a Month
I assess 3 calls and emails per agent a month, which helps me pull out any areas missing from their knowledge and training.
Thanks to Madeline
Ensure Agents Are Taking Correct Actions and Providing Correct Information
It's crucial to monitor calls for the purpose of ensuring that agents are taking correct actions and providing correct information.
Failing to monitor a reasonable number of calls is detrimental to the business as well as the agent and the consumer.
Having a robust quality framework helps reduce complaints in the long term as long as the feedback is constructive.
Thanks to Wendy
The List Is Interconnected
This list is interconnected. A miss/loss/failure in one will often lead to a miss/loss/failure in another area. To be effective in one, you'll likely have to focus on all.
Thanks to Sue Ellen
5% Is a Reasonable Relative Sample
I believe that 5% is a reasonable relative sample, meaning that I doubt that there would be much substantial difference from what you would get from a review of 100% of the calls.
Obviously, quality auditing cannot review every call and must try to work with a reasonable percentage in order to allow the audit process to be relative to the entire base of interactions.
Thanks to Barry
Look to Missed Sales and "Drill Down" on the Others
The choices seem somewhat "Chicken or Egg" to me. Sales or the generation of revenue is generally the point of a revenue-generating contact centre and business overall.
Missed training opportunities, client complaints or a loss of important data would lead to missed sales opportunities.
Therefore, I look to missed sales and "drill down" on the others as possible causation. That is if I am interpreting the question correctly.
Thanks to Chris
Failure Demand
Each of these ignores the fact that most calls will be failure demand.
Thanks to David
Technology Can Review 100% of Conversations
I would be wondering why speech to text analytics wasn't being used to review 100% of conversations based on various sets of parameters.
Thanks to Derek
All of the Above
There should be another option – "All of the above". While you are able to pick up systemic issues through sampling of your interactions, you will miss all these opportunities for the transactions that have not been analyzed.
There are various solutions out there that would help resolve this for you, but you need to find the "right fit" for your operation and intended outcomes.
Thanks to Lance
Analysis Automatization
For call contacts I have seen a new solution a few days ago that allows call analysis automatization, using a speech to text solution.
It scores emotion of the call, translates it into text, and last but not least, it summarizes the conversation. Doing so you can directly fill in your CRM with this data.
The solution is there times less expensive than the google solution and is definitely competitive against human quality controllers.
Therefore it is killing this point we all have all around the world: how can we meaningfully consider the quality measure of an agent's work by analysing just 0>1%, sometimes less, of the work?
Thanks to Eric
Source: Poll conducted in our LinkedIn Community Sample size – 280 Date: 2022