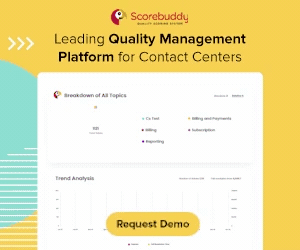 When it comes to building relationships with customers, call centres are key. These centres are the very first impression that customers have of your business.
They are also where loyalties are born. Nearly 77% of customers say that outstanding customer service is the key to repeat business. Every interaction, from greetings to complaints, to resolutions, plays a crucial role in company success.
But, with increased business comes an increased need for data security. If you are dealing with call centre compliance challenges, you are not alone.
Over 96% of call centres report compliance issues at any given time. Identifying issues and incorporating solutions into your call centre compliance training protocol will help you avoid these issues and keep call centres operating smoothly.
Ready to learn more? Here are the three most common call centre compliance pitfalls, and how to avoid them in the first place.
Issue 1. Recording or Monitoring Calls Without Consent
It is crucial to let customers know if you are collecting information. Many companies record calls, but the call centre needs to disclose this information in case a customer wants to opt out. Always make sure you are disclosing when calls are monitored or evaluated.
What are the compliance risks of monitoring calls without consent?
If companies do not comply with monitoring disclosure requirements, risks include class action lawsuits, messy litigation, and severe reputation damage. Some states have even stricter laws than federal ones. Disclosures must be given whenever companies are collecting information.
The solution:
Inform the caller, the agent and any other parties that the conversation is being monitored.
Establish a quality assurance program that trains agents to follow compliance guidelines.
Issue 2. Improper Recording of Payment Information
There are several regulations regarding payment information collection. Payment card regulations, like the Payment Card Industry (PCI) Rule, prohibit call centres from obtaining credit card information like CSV numbers, pin codes and other information. This is to protect consumers from cybersecurity attacks and fraud.
What are the compliance risks if payment information is captured?
Along with regulatory consequences, like fines and fraud charges, failure to follow payment collection processes can mean a reputation hit for your business. Customers will remember those discrepancies and lose trust in your company. This can be devastating.
The solution:
Train agents on best practices, like the need to pause the recording while taking identifiable information.
Create rules to prevent agents from noting down cardholder information on paper.
Use firewalls to prevent data from being misused or stolen.
Issue 3. Violating HIPAA Rules
The United States has quite a few guidelines that prohibit the transfer of private information. These regulations also protect consumers from discriminatory business practices.
Rules like the Health Insurance Portability and Accountability Act (HIPAA) contain obligations for the handling and obtaining of health information. This means that all data related to health information should follow strict HIPAA regulations, including the storage and transfer of the information.
These regulations are not limited to health information. Other U.S. regulatory compliance rules include:
Fair Debt Collection Practice Act (FDCPA): This rule specifies that no threatening language of any kind may be used to collect debt payments from consumers.
The Equal Credit Opportunity Act (ECOA): This rule protects consumers from discriminatory business practices, including denying loans based on gender, race, religion, etc.
Truth in Lending Act: This regulation specifies that businesses must disclose loan information, late fees, term lengths, and interest rates, to all customers.
What are the compliance risks of not following HIPAA rules and other guidelines?
Call centres must not share or transfer customer health information without written consent. In fact, most healthcare organizations will only work with call centres that are following HIPAA rules and guidelines. If the call centre is not compliant, it can be subject to fines, massive lawsuits, and reputation damage.
The solution:
All agents should be aware of the call centre privacy policies and be able to deal with the responsibility of it as calls come in.
Firewalls, proper encryption, and other security measures must be utilized when taking private information.
Understanding call centre compliance risks can feel overwhelming. But with research, best practices, and a robust quality assurance program, you can ensure your call centre is constantly mitigating compliance risk and building trust with customers.
This blog post has been re-published by kind permission of Scorebuddy – View the
Original Article
For more information about Scorebuddy - visit the
Scorebuddy Website