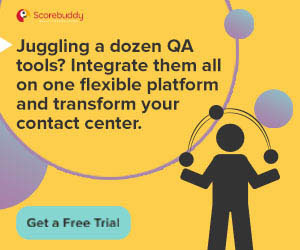 What is Contact Centre Quality Assurance?
Quality Assurance (QA) is a business process that ensures products and services meet an internally agreed standard.
In the contact centre, QA usually refers to monitoring agents' interactions with customers, making sure processes are followed and seeking improvements.
Coaching and Call Monitoring
Staff should be familiar with the criteria they are judged on. A popular coaching method is to invite agents to select calls for training sessions, and then help them to grade themselves from a standard score sheet. This makes the process clear, and demonstrates where grading emphasis is placed. It also gives the coach an insight into the agent's understanding of their own performance level.
Agents should be encouraged to approach grading as a chance to learn, but also to celebrate their achievements in a 'keeps and tweaks' system. Keeps and tweaks involves picking out an equal number of positive and negative aspects of calls. The benefit of this, apart from being motivational, is to instruct staff in which behaviours they should maintain.
Some centres allow agents to send calls to coaches for feedback at any time, without that call affecting their overall quality scores. This is great for QA because it encourages a culture of self-monitoring and openness.
Coaches and managers can also get a 'temperature check' by listening in to live calls, taking notes and approaching the agent afterwards with comments. The success of this is often down to the temperament of the agent, as some may find it off-putting or intrusive.
Coaching sessions can also be spent sitting in on calls with more experienced agents – seeing good practices in action may be more useful than having them explained.
Click here for our Poll – How many calls do you monitor per agent per month? 
QA at the Macro Level
Monitoring call quality is a labour-intensive task. A large number of interactions must be overseen, usually by a relatively small team of coaches and managers.
The volume of contacts makes it impossible to check each one, so QA is dependent on vetting a representative sample.
In many cases this is approached by checking random calls from each agent, on the assumption that they will give a fair understanding of the agent's performance. However, as QA is largely concerned with consistency, coaches may find it more useful to study the 'outlier' calls.
Outlier calls are those which are the furthest from the business's expectations. These might be calls which are very long, repeatedly put on hold or transferred, or placed by a customer with multiple interactions over a short time. Likewise, speech analytics can be incorporated to identify calls containing trigger phrases, both positive and negative.
In order to judge interactions, coaches need clear guidelines for business expectations. These guidelines are usually based on a combination of business and customer needs, factoring in the clarity of communication and the likelihood of further contacts being needed.
The basis for QA should regularly be revisited, based on customer feedback and metrics such as Customer Satisfaction and Net Promoter Score. Post-interaction surveys are a useful tool for getting an up-to-date 'pulse' of customer perceptions.
For further information, have a look at this article on call quality monitoring.
Also how to improve other quality scores.