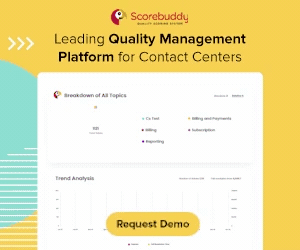 Our expert panel reveal their top strategies for improving quality scores in the contact centre.
1. Spend more time with the agents who need help
Voice of the Customer (VOC) feedback can help you home in on who you should focus your Quality Assurance efforts on.
It is a myth that all agents should be getting an equal amount of time. As per the example below, if a team leader focuses their time on getting the agents in grey up to orange, the impact on NetPromoter Score (NPS) will be significant.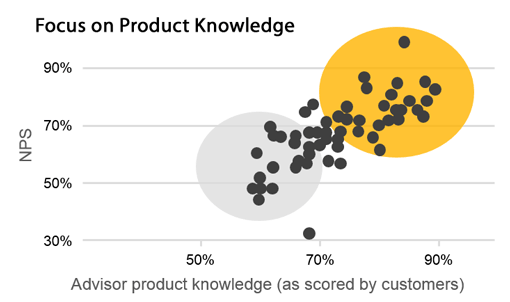 2. Focus coaching sessions on negative customer feedback
Most organisations randomly select 5 calls per month for assessment (a needle in the haystack exercise which is very labour intensive).
However, most VOC tools provide far higher numbers of completed customer feedback surveys. If these surveys can be linked back to the agents, this will enable team managers to focus their assessments only on the calls where customers have left negative feedback.
This approach can help save the management team's time, in both Quality Assurance and preparation for 1-1 meetings, and enable them to provide more effective feedback and coaching.
3. Add real-time VoC data to encourage agents to take ownership
Adding VoC data to quality scorecards is a great way of providing agents with unbiased feedback. CSAT scores and verbatim comments can also be used to drive healthy competition within teams.
This can help agents see in real time how they are performing and give them ownership over the service they are providing. Trying to create a culture of self-correction, where agents take ownership of their own development, should be your long-term goal here.
With thanks to Simon Thorpe at Bright UK
4. Screen recordings synchronised to the phone calls
Use screen recording technology in addition to recording the call itself.
You can then score the call quality while also viewing the synchronised on-screen activity of the agent. This will give you a more comprehensive view of performance.
You'll then be in a much stronger position to understand what needs to happen to take your customer experiences to the next level.
5. Schedule time for regular coaching and training sessions
Make coaching and training sessions a regular scheduled occurrence and a 'normal' part of the working week.
It makes sense to run coaching sessions during quieter times. For example, when you typically experience low connection rates, or when you typically receive fewer incoming calls/chats/email enquiries, etc.
Integrated workforce management tools can help calculate the best times to run training, based on the peaks and troughs within your business.
6. Don't restrict quality management activity to your voice channel alone
Cross-channel performance analytics can handle different media, so don't restrict quality management simply to the voice channel.
Today's contact centre should offer a consistent high-quality experience across all agent interactions – regardless of channel.
With thanks to Mike Donohue at Magnetic North
7. After-call surveys can quickly gather customer insight
Introduce after-call surveys to gather customer feedback that is more immediate than online or paper surveys.
People can complain as soon as they've finished the call – and vent there and then, rather than somewhere public.
Poor score reports also allow managers to sort out issues immediately rather than days later.
8. Route calls directly from your website to the relevant department
Try intelligently routing calls to the right department rather than expecting your customers to navigate an IVR.
This can be based on the website session generating the contact (where possible).
9. Match shift patterns to demand to avoid abandoned calls
Workforce management tools can help you match staff shifts to demand patterns more accurately. This can help you to avoid abandoned calls or slow turnaround on emails and webchat.
You can also try moving agents into different "hunting groups" in real time to match demand. For example, skills-based routing or channel routing (calls/webchat/email).
With thanks to Simon Beeching at Syntec
10. Self-coaching with real-time speech analytics
Real-time speech analytics tools can allow you to start raising performance levels and quality scores immediately.
Using these solutions, you can spot when agents have failed to follow the agreed script or where they have used language that does not meet compliance requirements.
The agents themselves can then instantly take action to rectify the issue, as part of a self-coaching process.
With thanks to Jeremy Payne at Enghouse Interactive
What have you tried to improve quality scores in your contact centre?
Let us know