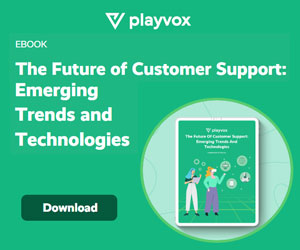 Here are 28 great tips that were sent in by viewers of our industry-leading webinar programme, which may provide some great insights to start your new year on a high.
At the end of each webinar, we present a "winning tip" from each of the ideas that our audience shared with one another.
We hope that you like them and they provide valuable insights for the year ahead.
1. Praise Agents Through Instant Messaging
Use an instant messaging program to send agents a quick note to praise them if you hear them saying something good while they are on a call with a customer.
In the virtual world, you can do this by listening to their call recordings, and then telling the agent that you've just listened to one of their recent calls and saying why it was so good – being as specific as possible!
Thanks to Andy
2. Create a "You Said… We Did" Project With Customers
We introduced a "You said… We did" project, where we actually take suggestions from customers and tell them how we used their feedback to improve.
You Said… We Did…
Customers are happily surprised by this – as it's not something many organizations do – and if we can't act on a customer's suggestion, we let them know exactly why not (where appropriate).
Thanks to Jessica
3. Use Role Plays for Continuous Learning
Role-play with your employees who struggle the most and have them suggest the scenario. This ensures they feel the need for the training before it begins.
Have the agent play the customer and show them how you would handle the situation, so the agent can understand how the conversation feels to the customer.
At the end of the activity, ask the agent to coach you on the interaction to reinforce key learnings.
Thanks to Erica
For lots more activities like this, suitable in a remote-working environment, read our article: 10 Fun Customer Service Activities That Will Make Your Staff Smile
4. Focus on Employee Needs as Well as Customer Needs
Sometimes we spend so much time trying not to lose customers by identifying their needs that we lose focus on keeping the right advisors.
Keeping the right team is so key in providing good service, so make sure you stay focused not only on customer and business needs, but on employee needs too.
Thanks to Mohammed
5. Engage the Planning Team With Home-Based Agents
Availability will often change due to at-home responsibilities, especially for parents of young children who are struggling with child-care.
Regular check-ins with your team members, especially those who are quieter, to query preferences/availability will ensure full engagement during working hours.
Thanks to Toni
This idea is central to resource planning expert Doug Casterton's thinking. You can hear lots of great ideas from Doug in our article: 50 Expert Tips to Improve Contact Centre WFM
6. Have a Specific Purpose Behind Your Chatbots
You have to be incredibly careful how you use chatbots to automate conversations. There is nothing more frustrating when you want to speak to an advisor than being forced to interact with a bot.
We use a simple chatbot to speed up identification and verification (ID&V) processes. To take all account payments we have automated our payment IVR.
Thanks to Chris
7. Set Up Morning Reports for Agents
Agents can follow up with customers who still have questions or had an unsatisfactory experience…
Set up reporting to automatically send Customer Effort Scores (CESs) or CSAT scores coupled with customer comments directly to agents every morning.
If you can do this, agents can follow up with customers who still have questions or had an unsatisfactory experience, while having a nice start to the day when they see lots of other good feedback.
Thanks to Erin
8. Create Collaboration Opportunities
Encouraging agent collaboration is critical to employee satisfaction – especially in times of prolonged remote working.
My software support team members have high individual satisfaction because they have "each other's backs". They tell me this every day.
Thanks to Laurie
9. Build, Measure and Learn
Build
Measure
Learn
Employ techniques to make sure you get insights that will help you to build, measure and learn when testing your contact centre strategies.
By doing this, you allow for agility and can better focus on true customer value delivery.
Thanks to Daniel
10. Measure Customer Handling Time
Measure customer handling time as well as average handling time (AHT). This gives the overall effort time per customer, combining AHT and First Contact Resolution (FCR).
By doing this, you also get a good view of how overall effort is impacted, as if you only concentrate on reducing individual call time, this may result in more repeat calls.
Thanks to Allan
This tip also features in our article: 49 Tips for Reducing Average Handling Time (AHT)
11. Share Video "Top Tips" and Honest Experiences
We've recently started recording interview-style videos where leaders ask team members to share their top tips for remote working and handling customer interactions with the team.
But that's not all. It's great to encourage agents to open up and discuss their honest experiences to help build resilience and see how the team are handling the emotional load of working from home.
Thanks to Neil
12. Send Weekly "Shout Outs"
I send a weekly "shout out" to all teammates listing positive feedback/comments from their customer satisfaction (CSAT) results.
Teammates are inspired not only by the recognition, but by the comments provided. It increases their pride in their work.
Thanks to Amber
13. Change Your Survey Numbering Scale
Many contact centres ask customers to give scores to calculate metrics like Customer Satisfaction, Customer Effort and Net Promoter Scores. They do so on a scale of one to ten.
However, this can confuse some customers – as some will assume that one is the best score, not ten. If you switch to a one-to-nine scale, this will be less likely to happen.
Thanks to Harry
14. Don't Become Overwhelmed by Data and Analysis
While journey tracking is a great way to isolate the best starting point for analytics, don't let it distract your focus from the bigger picture.
It's all too easy to focus on one small issue without looking wider, to get a full view of what is creating that issue and others that the contact centre faces.
Thanks to Alex
For some great advice on how to analyse customer data, read our article: 9 Ways to Analyse Customer Data
15. Launch Weekly Step Competitions
We have provided pedometers for our agents and created a weekly step challenge to help with wellness/stress along with a little "healthy competition".
You may also be able to do this with smartphone apps, and it can work a treat if you have a competitive team who are looking for opportunities to engage with one another.
Thanks to Susan
16. Don't Share Quality Scores With Agents
We no longer share scores with agents and only coach on behaviours.
Scores are still used for helping us recognize learning opportunities, but when you share them with agents, low scores can prove disheartening.
Thanks to Renee
17. Simplify Your IVR Options
Keep your IVR options as simple as possible! We recently moved from giving customers specific options like "for help with signing in, billing questions, etc" to just "for customer service".
The result? We are seeing calls routing to the correct queue more often, while simplifying the customer journey through the contact centre.
Thanks to Laura
For lots more ideas for simplifying the IVR, read our article: Call Centre IVRs – How to Review and Improve Your IVR
18. Make Sure Your Metrics Don't Produce Anxiety for Your Agents
We discarded team and individual metrics to reduce anxiety in our agents. This allowed them to just focus on the customer and FCR.
Thanks to Danielle14
For more on why some contact centres are ditching traditional approaches to contact centre metrics, take a listen to the following episode of The Contact Centre Podcast with Morris Pentel, the Chairman of The Customer Experience Foundation.
The Contact Centre Podcast – Episode 11:
Is It Time To Rethink Your Call Center Metrics?
For more information on this podcast visit Podcast: Is It Time to Rethink Your Call Centre Metrics?
19. Introduce "Sunshine Compliments"
We send out "sunshine compliments" to agents and include the senior leadership team in the compliment email when we receive positive comments from clients about an agent.
We also send 'Spot-On' valued awards for positivity, going the extra distance to provide client support, improving KPIs etc., in order to give additional praise.
 Thanks to Sandra
This tip also features in our article: How to Improve Your Customer Service With Emotional Intelligence
20. Create a Virtual Buddy System
Pair a new hire with a super-agent as a buddy system. The buddy can then provide mentoring, guidance, encouragement, training, and socialization within the team and company.
Giving a new starter time to have a virtual chat with their new buddy helps better introduce them to the company and team – which can be difficult in remote environments.
Thanks to Mark
21. Introduce the Four Pillars of Engagement
We have an engagement committee that is open to the associates. It is divided into four pillars:
The Four Pillars of Engagement
Well-being
Networking
Community
Environment
We also provide a list of virtual volunteer opportunities. Each associate has eight volunteer hours they can use, which can be in increments of one, two, three or four hours.
Thanks to Karen
For lots more ideas on how to improve employee engagement, check out our article: Staff Engagement: How to Motivate Employees – With a Checklist
22. Focus on Why Customers Contact You
By focusing on the top reasons that customers contact you, it becomes easy to identify waste. This can easily be 50-60% of your demand.
Creating metrics scores for FCR and customer effort across the contact reasons can also be another good idea, to identify processes which urgently need to be fixed to benefit a large number of customers.
Thanks to Paul
23. Coach to Behaviours
Coach to the behaviours, not the metric.
This is key in quality assurance (QA). Just make sure that your quality scorecards are monitoring which behaviours drive Customer Satisfaction (CSAT). Only monitor things that are in the agent's control.
Thanks to Jen
24. Make It Easy for Customers to Give Feedback
Give your agents an EASY avenue to escalate customer feedback – whether that is to the development team, team leader etc. – depending on what the feedback is about.
Don't just redirect the customer to another channel to provide the same feedback they just told you (the agent).
Thanks to Laura
25. Biscuit Breaks and Mug Shots
To help engagement, we've introduced a "Biscuit Break" where agents bring in and talk about their favourite biscuit (and whether they dunk it!) in team meetings.
Another idea is "Mug Shots". In this activity, agents bring in their favourite mug and tell me the story about why it's important to them.
They have both worked really well for us!
Thanks to Teresa
This tip also features in our article: 15 Great Ideas to Make Remote Working Fun
26. Focus on Agent Strengths (as Well as Weaknesses!)
Be sure to add positive comments into the feedback, not just the learning opportunities.
If you don't focus equally on these positives, agents can start to think of coaching as a method for you to "catch them out".
Thanks to Scott
27. Get Ready to Embrace the Hybrid Contact Centre
Working from home isn't for everyone. Some individuals require that social interaction.
In the future, many contact centres will likely move to a hybrid model, as it would be great to offer employees the chance to work on-site some days and off-site others, to better fit their preferences and lifestyles.
Thanks to Brittany
28. Listen to Agent Ideas With a "Koi Pond" or "Dragon's Den" Initiative
We use an ongoing "koi pond" (like the US shark tank show, but without the big pitches) forum, in which anyone in the business can suggest an improvement to, for instance, reduce customer effort.
Another similar idea is Dragon's Den – based on the British show.
Very often the most and best ideas come from those working in our contact centre, which helps drive engagement and empower the team.
Thanks to Neil
Thanks to everyone who has watched our webinars this year and contributed with great tips.
For more fun, festive contact centre tips, read our articles: