New year offers contact centres the perfect opportunity to set new targets and spark positive change.
So, why not make a New Year resolution to boost performance? Here are some ideas.
Stop Spending Too Much Time on Email – Switch off Your Email Alert!
Some 2016 research called 'Unlocking the UK's daily savings time' revealed that intra-company emails are a big time-waster. In fact, the study found that:
Less than 60% of the working day is spent on productive activity
Email results in a loss of £1.5 billion a year to UK businesses
Only 14% of emails are crucial to work activity, yet emails take up 50% of the average office worker's time
So, why not spend less time on emails and more time supporting and developing your team?
Treat your emails like any other activity – prioritise them based on urgency and importance. Schedule time during your day to respond to emails and stick to your schedule! Stop checking them as soon as they arrive in your inbox. Switching off your Email Alert will help you to achieve this.
You will be surprised how much time you have gained to spend on more important tasks.
Thanks to Jacqui Turner at Turner Corner Learning Solutions
For more from Jacqui, read our article: Being Super-Busy: The Modern Excuse for Not Coaching Staff
Reassess the Monitoring and Coaching Process
After auditing a number of calls from the contact centre, I have found that if advisors are good on one or two calls they tend to stay good, but if they are mediocre – they stay mediocre.
I have highlighted this in a previous article, and noted how practice does not make perfect; practice makes permanent. So, contact centres should ideally refresh the call quality, monitoring and coaching processes to ensure that advisors continue to learn.
Look again at the entire monitoring and coaching process and ask: is this achieving the results I want for customers? For employees? And for our organisation?
If not, then do the hard work of picking it apart and fixing it.  You'll be glad you did.
Thanks to Daniel Ord at OmniTouch International
Do More to Acknowledge Staff
Happy staff = happy customers may be a bit of an old cliché, but it is generally true. And a key way to boost the morale of the contact centre team is to make sure advisors feel appreciated and that their good work is acknowledged and thanked by the management team.
A good New Year's resolution would be to create an initiative to acknowledge great customer service.

David Appleby
So, a good New Year's resolution would be to create an initiative to acknowledge great customer service, perhaps identified through quality monitoring sessions.
Also, it is key to acknowledge the thoughts of the team about potential changes to people, processes and technology. Let your existing staff know what's happening and that it's being done for their benefit.
The first thought that goes through an advisor's head when an initiative is suggested will be "What am I doing wrong?" The second is "Is my job on the line?" closely followed by "They're going to make us work harder".
Let them know what you're doing and solicit their feedback.
I'll guarantee if you bring a few on board, then two things will happen:
1. The staff WILL see it as a more open process and not a witch hunt.
2. They'll surprise you with their ideas.
Thanks to David Appleby 
Measure and Improve Customer Emotions
How customers feel about interacting with you has a huge impact on their overall experience. It all boils down to the people they deal with and the type of emotions they elicit. This is what they will remember. Even when a situation is bad, the way it is handled will determine how a customer feels about your organisation.
In fact, research from Forrester has found that emotion had a greater impact on the customer experience than effort and success. So, it is a good resolution to start measuring customer emotion, whether that is through sentiment analysis or a survey-based metric.
Once this measurement is in place, the contact centre can begin to try out new things to improve emotions over the course of the year. One such initiative would be asking advisors to mirror a customer's language, e.g. repeat adjectives, so the customer feels more "in tune" with the caller.
Thanks to Amy Scott at Sedulous Consulting
For more on this subject, read our article: How to Improve Your Emotional Connection with Customers
Run Contact Centre "Fitness" Tests
Here are some ideas for making sure that your contact centre is in good shape at the beginning of each day/week.
Start a daily blog with your staff – This can be used to allow advisors to track issues that make life unnecessarily difficult for customers or to share successful customer stories. The blog can also be used to share good customer feedback.
Walk the floor every morning for 15 mins – Say hello to everyone, stop and talk to one person per day for five minutes. You'll be amazed at the effect of being seen to be interested.
Say hello to everyone, stop and talk to one person per day for five minutes. You'll be amazed at the effect of being seen to be interested.

Peter Massey
Do a coffee morning with one team for 15 mins – Once a week, a coffee review meeting can be a good idea to review the advisors' and quality team's schedules as well as contact volume forecasts. This allows the quality team to find free space to add in coaching sessions for specific advisors.
Set up a graffiti wall – Wipe it clean every day, collecting the information and reporting back weekly on what will and won't get done. This is a creative alternative to a suggestion box.
Clear desk, clear mind policy –  Talk to advisors regularly and ask them to tell you what they can't do without on their desks. You'll be surprised by their responses and this is a great way to show interest in the team.
Review Your Metrics
A good initiative the contact centre can run is to make one adaptation to its metrics each month, to perhaps reflect the organisation's change in focus.
Every time a manager changes strategy, ask him/her to sit down and discuss changes to the metrics to go with it. For example, if management wants to increase customer satisfaction, the contact centre could decide to relax the service level and encourage advisors to go the extra mile for the customer.
Or, if metrics aren't changed regularly, compare your metrics set with other contact centres in a similar field. Then consider: are your contact centre's metrics outdated?
Perhaps you still target advisors against Average Handling Time (AHT)? Could this be impacting on their performance, as they rush through calls to meet targets? Take these things into consideration.
Thanks to Peter Massey at Budd
For more guidance on this topic, read our article: Contact Centre Metrics: Are You Measuring the Right Things?
Get Rid of Dumb Processes
A good resolution is to examine the processes, and their supporting systems, that lead to the majority of calls to the contact centre and resolve to remove any that are plainly dumb.
One common process that may be considered dumb is when marketing launches a new offer and sends out emails without informing the contact centre. This results in advisors having to figure out how best to handle the call while on the phone with a customer.
Miscommunication like this can significantly increase call handle times, so perhaps the contact centre should ask to be updated in terms of marketing planning and scheduling.
A good way to find out about broken processes is to ask advisors if they can provide any ideas on improving efficiency. But don't just ask them to bring problems, ask them to see if they can also think of solutions. Listening and acting on advisor feedback will improve their engagement and morale.
Thanks to Richard Snow at Vertana Research
Focus on First Contact Resolution
A better understanding of the customer's problem will often improve the 'value' of the service you ultimately provide.

Steve Norman
If you're wondering why customers make repeat calls after saying they are happy with the way their last call was handled, it could well be because you're failing to fully understand why they're calling in the first place.
The answer is often to spend more time listening to customers. A better understanding of the customer's problem will often improve the 'value' of the service you ultimately provide – and could suggest valuable cross- and up-sell opportunities.
So, consider creating initiatives to improve First Contact Resolution (FCR) and running them throughout the new year. These could include: reviewing repeat contacts to understand what could be done differently, stop targeting AHT and improving advisor soft skills.
Thanks to Steve Norman
For more ideas like this, read our article: 22 Ways to Improve First Contact Resolution
Place More Focus on the Back Office
Organisations will start to look at how they can apply the rigour of call centre processes to increase efficiency in the back office.
Measuring and regulating back-office activity will allow businesses to ensure that call centre advisors are properly supported by swiftly delivering on customer promises and so building customer satisfaction and loyalty in what's likely to be a tough year for many of us.
So, make sure you bring service-based metrics, such as service level, to the back office. This is important, as one contact centre failed to measure service level in the back office and drafted in staff when the contact centre was busy. This meant that many contacts reaching the back office were being neglected and started to bounce onto the contact centre floor, irritating customers and increasing overall contact numbers.
Think About Call Blending and Improving Productivity
As an industry, we've been getting to grips with inbound–outbound call blending over recent years, but still almost half of contact centres keep mainstream channels separate, as highlighted below.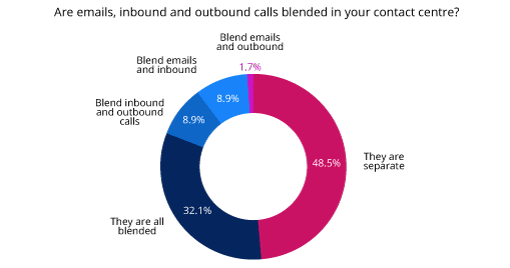 [This poll was taken from our survey: What Contact Centres Are Doing Right Now (2017 Edition)]
Getting advisors to deal with other customer media, while still being available to handle the immediate demands of telephone calls, will optimise contact centre productivity.
Also, advisors getting more variety in their role as they handle differing contact types may also take away some of the repetitiveness of the job. This can help to boost morale, too.
Thanks to Ken Reid from Rostrvm Solutions
Re-evaluate Training
Review the training given to front-line customer service and sales advisors. Does your training deliver awareness of the brand(s) advisors are representing? Does it cover market background for the industry you work in, e.g. competitors, customer profile, market conditions?
For training that covers rules and regulations, make sure it includes why the rules exist and what they are designed to achieve.  A little bit of extra knowledge generates employees with buy-in and confidence who are advocates for your company or its clients, the brand(s) and the product.
Get it right and service, sales performance and productivity will improve and, the icing on the cake, you'll reduce your attrition.
Thanks to Janette Coulthard
For more tips like this, read our article: Top 20 Ways to Reduce Attrition in Your Contact Centre
Use Technology to Its Full Potential
It's not rare for contact centres, just like any other business, to implement new technologies and fail to utilise them to their full potential.
For example, a workforce management (WFM) system does not only allow contact centres to forecast and schedule their workforce more accurately, it can also be used to improve overall employee and customer engagement as well as reduce employee attrition.
The main reason why new technologies are not utilised to their full potential is that not enough time has been dedicated to sufficiently training those who will be making use of it.
In the case of WFM, it is important that workforce planners are trained in all aspects of the technology, so they can fulfil the contact centre's current requirements as well as be aware of additional features that could benefit the business.
Spending time mastering the technology will allow contact centres not only to save time and work more efficiently, but also to stay clued up with current industry trends.
Thanks to Jasveer Matharu at Business Systems
Aim to Offer Advisors More Diverse Qualifications
It is essential that we endeavour to equip our staff with relevant on-the-job training that enables them to learn cross-departmental skills, giving them hope of career progression within the organisation.
Providing advisors with a clear progression pathway makes sure they are aware of future opportunities. This could result in increased motivation in the role.

Shaz Rashid
Providing advisors with a clear progression pathway makes sure they are aware of future opportunities. This could result in increased motivation in the role, while it may also lower absenteeism and attrition.
In addition, multiskilling advisors can ensure optimum utilisation of our human resources and assist in saving our staffing cost.
It is always advantageous for employers to have individuals who are competent to share responsibilities across teams and perform more than just a few essential key responsibility areas (KRAs).
Thanks to Shaz Rashid
Focus on Getting a "Friend Response" From Customers
Lots of in-depth science has shown that evolution has hard-wired our brains to make us behave in a certain way. This depends on the signals that we receive – and the signals we give off. Our brain automatically (and very quickly) works out if someone is a 'friend' or a 'foe'. This is a deeply ingrained survival mechanism.
So, if we give off a 'friend' signal, the brain says …. "This is good, it's OK to approach." But the reverse is also true. If we give off a 'foe' signal, the brain says …. "This is bad, I must avoid."
So, my suggestion for a 2018 resolution is to make sure you identify the words, phrases and spoken tones that trigger a friend or foe response. This is easily achieved if your contact centre has an interaction analytics system, or you could provide advisors with a list, like the following: Top 25 Positive Words, Phrases and Empathy Statements
Thanks to Frank Sherlock at CallMiner
Don't Forget About YOUR Development
Too much of already scarce training budgets is focused on agents.  Yet, contact centre managers and support staff who have key roles to play receive little or no attention.
Development can take the form of formal training, coaching, workshops, webinars, seminars, conferences and networking events.
Every day, we meet and talk to contact centre professionals who demonstrate the effect that sharing best practice can have on operational efficiency and the customer experience.  Take the time today to plan your development next year.
Thanks to Steve Woosey 
Improve Customer Satisfaction to Reduce Churn
In order to ensure outstanding customer service, many contact centres resolve to find a quantitative and reliable means of measuring their existing service levels. Automated customer satisfaction surveys can be an effective means of achieving this.
With rules in place to determine which callers are offered the survey, and the ability to ensure that advisors remain unaware as to which calls are surveyed, these solutions can remove advisor bias from the process and ensure more accurate results.
Other strategies to improve customer satisfaction that you may wish to implement in the New Year include: coaching to the customer's cognitive biases, increasing social engagement and training advisors to take the complexity out of customer–advisor interactions.
Thanks to Dave Paulding at Genesys
To find out more about the strategies listed above, read our article: 9 Strategies to Improve Customer Satisfaction
Take a Good Look at the Company Website
The company website is one of the most powerful customer service tools at your disposal.  If used correctly, web self-service capabilities can support contact centre staff by deflecting enquiries and increasing overall service capacity.
The key is to provide customers with everything they need to resolve common enquiries quickly and easily, and make a smooth transition to assisted service for those customers who need more help.
So, review and update your website's Frequently Asked Questions (FAQs), while ensuring that website navigation is as simple as possible. Talk to the contact centre team and ask them if customers struggle to find anything on the website and end up "bouncing" into the contact centre.  This can help to pinpoint areas of the website that may need improving.
Thanks to Charlie Isaacs
Do you have any New Year's resolutions in your contact centre?
If so, we would like to hear them! So, please leave your thoughts in an email to Call Centre Helper.
Originally published in January 2009. Updated this year with latest contributions.