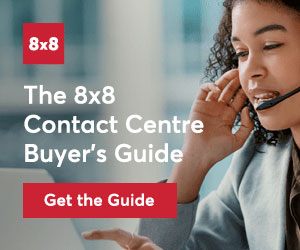 Conversational AI Strengthens Self-Service to Reduce Friction
Self-service continues to be a point of contention in the contact centre. Ineffective menus, limited options, and/or being forced to connect with a live agent—only to have to repeat personal information all over again—are just a few examples of why self-service has developed such a bad rap amongst consumers.
The good news is that conversational AI is able to strengthen these interactions and reduce friction. Contact centres are on the precipice of a critical tipping point, and as a result, customers are starting to change their tune about self-service.
Why? Because AI is able to deliver the convenience, consistency, and interaction simplicity that customers demand. And the payoffs for the contact centre are enormous. According to Gartner, labor can represent up to 95% of contact centre costs.
At the same time, conversational AI makes agents more efficient, thereby reducing costs, while improving the customer experience. This technology is improving every day, and as a result, consumer preferences are shifting. Self-service is obviously here to stay.
So let's look at ways you can maximize your investment in self-service and be on the receiving end of happy customers, increased revenue, and agent productivity.
4 Tips to Create Successful Self-Service Experiences
1. Think Beyond Voice and Appeal to Changing Preferences.
Channel flexibility is critical. For the vast majority of customers, mobile-enabled, digital self-service is preferred.
So for contact centres, it's imperative to think about how to best address and incorporate web chat and SMS into your self-service channel approach to deliver a personalized, frictionless experience. Remember, today's customers demand consistent, "always-on" service, so it is up to you to meet their expectations.
Having a multi-faceted approach will also help address the variety of preferences among your customer base.
According to an industry review of chatbots, 56% of companies say conversational bots are driving disruption in their industry, and 43% report their competitors are already implementing the technology.
Self-service and digital channels are growing in popularity somewhat in tandem, meaning your business can make enhancements to both simultaneously to actively consider how to match new demands.
2. Customize Their Experience.
Design is critical to any customer journey, whether it be voice, web chat, or SMS. Think about how your customers interact with each of these channels. Each of these experiences may be different, depending on their journey, so it is up to you to optimize each channel and each path.
Take, for example, how a consumer may interact with a web chatbot; multitasking, responding quickly to some questions, taking time on others. Consider how this may differ slightly from the messaging bot experience – some consumers may take even longer to respond via SMS.
These interactions can often take place over the course of several hours or even days as an SMS does not expire in the same way a web chatbot might. And of course, the voicebot is one in which speed is of the utmost importance.
Understanding where to meet your customers – that is which channel and how many channels – is key to customizing self-service experiences.
Acknowledging where your customer is in the moment (In the car? Working from home with a desktop computer? In the field, using a laptop?) will also impact channel choice and expectations. Analyzing and making accommodations for these situations will help you stay on top of consumer expectations.
3. ABT: Always Be Tuning.
Self-service will always be a work in progress. The self-service journey that you offer your customers is a living, breathing system that is constantly evolving.
Analytics will be key to your long-term understanding of what's working, what's not, and where adjustments are needed. Voice of Customer (VoC) surveys and ongoing, daily analysis of how your customers are interacting with these self-service experiences will help ensure long-term success.
4. When Live Assistance Is Required, Make the Handoff to the Agent as Seamless as Possible.
In some cases, it may be necessary for the customer to speak to a live agent. At this point their needs have escalated beyond the bot's capabilities, and the agent will be engaged for more high-touch service.
Nothing is worse than experiencing a handoff in which the customer is forced to repeat information. In order to avoid this, you must present the agent with the necessary context in order to effectively resolve the customer's issue.
Whether that context is available in the form of journey analytics, CRM data, or KB insights, the system must provide these details in order to make this a seamless handoff for a successful interaction.
When the agent has been presented with context prior to connecting with a customer, this helps speed up the interaction and avoid unnecessary friction.
Additionally, your customers will feel an element of personalization as you have all the necessary details available to assist them in the most timely manner possible.
In Summary: It's Time to Get Creative With Customer Self-Service
Self-service will never be a one-size-fits-all approach. Today, contact center leaders must consider speech recognition, Natural Language Processing (NLP), Natural Language Understanding (NLU), digital, and biometrics. For CC/CX leaders, the options appear to be limitless, and the stakes are high. So where do you start?
We suggest that self-service, for the foreseeable future, is a work in progress. For today, it is important to have a solution that allows you to quickly set up, design, deliver, and adapt experiences that meet customer expectations.
This landscape is moving quickly, and without the right tools you will miss out on the ability to quickly adjust workflows in response to customer expectations–without IT and programmer expertise.
As CC/CX leaders, intelligent self-service and assistance is perhaps the important conversation we can have. Consumer preferences are changing every day and the technology at our disposal is advancing every day.
This blog post has been re-published by kind permission of 8x8 – View the
Original Article
For more information about 8x8 - visit the
8x8 Website