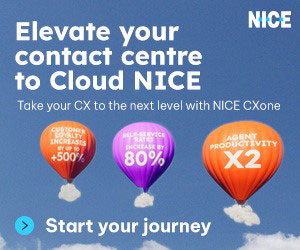 Chris Bauserman at NICE CXone explores personalized customer experience and how companies can create great customer service with what 60% of customers expect.
A couple of years ago, my wife, two daughters, and I took to the high seas aboard a Disney Cruise along with Elsa, Mickey, and all the other who's-who of Disney favorite characters.
Disney's entire business model revolves around the customer experience. It's even reflected in the terms they use to refer to employees and customers: "cast members" and "guests." But, Disney doesn't own the market for delivering great customer experiences; it has become a business imperative for all companies that want to succeed in the experience economy.
For contact centres, a great customer experience isn't limited to resolving issues quickly and accurately; it also means fully aligning with the customer needs to provide personalized interactions.
Recent Salesforce research revealed that 59% of customers expect tailored engagement based on past interactions. And businesses are feeling the demand: Oracle found that 84% of enterprises surveyed say their organization has experienced a trend toward customers wanting a more individualized experience.
Contact centres are no longer a single "break-fix" stop in the customer journey. Instead, they're a hub transforming every experience into a lasting relationship with customers. Providing exceptional CX is a top way for businesses to differentiate themselves from competitors with heightened customer experiences.
Holding the keys to business success is a significant responsibility, but with the right focus, approach, and tools, contact centres will be up for the task.
What Is Personalization and Why Does It Matter to Your Business?
Personalization requires you to thoroughly know your customers, including their needs and behaviors. Gaining this level of understanding makes it necessary for organizations to analyze comprehensive customer history and past interactions, and then use the insights to tailor experiences for each individual customer.
A fairly familiar example of personalization is the tailored recommendations Netflix provides based on movies or shows you've watched previously. Recent research by Epsilon revealed that 80% of consumers are more likely to purchase when they receive a personalized experience. Successful companies like Netflix know this and are reaping the rewards.
Hyper-personalization is personalization on steroids. Hyper-personalization can occur when a business knows its customers so well that it can predict and respond to their needs before or at the moment they occur. Nike is a company that has mastered hyper-personalization. Using data and customer input, they create personalized experiences based on the type of athlete each customer wants to be.
What's the Contact Centre's Role in Personalizing Customer Experience?
Given the elevated customer expectations for personalized experiences, contact centres need to pull out all the stops. Fortunately, there are several actions leadership can take to create a foundation capable of delivering.
AI-Powered Predictive Routing Sets Contact Centres Apart From the Pack
Imagine you're calling customer service regarding an issue with your brand-new lawnmower. The IVR collects some information from you, including the nature of your issue. In Scenario 1, you're routed to Adam, who clearly knows what he's doing.
You crack a couple of jokes during the conversation, but Adam doesn't respond, making you feel a little awkward. In Scenario 2, Christa, who's also highly skilled, laughs at your jokes and even fires one back at you.
Both of these scenarios result in a resolved issue, but which one feels better to you? This is the difference between skills-based routing and AI-powered routing. Artificial intelligence can enable ACDs to route not only based on the nature of the customer's issue, but also according to her personality, preferences, and current emotions.
Matching customers to agents they'll click with is hyper-personalization at its best and results in more satisfying and personalized customer experiences.
Empowering Employees Helps Anticipate Customer Needs
Agents play a pivotal role in personalizing interactions, so they should be supported with customer-centric training, tools, processes, and policies.
It was clear from my Disney experience that cast members had everything they needed to make my family's vacation an experience tailored just for us. contact centres can similarly support the agents who are responsible for making every conversation special.
As Walt Disney himself said, "You can dream, create, design, and build the most wonderful place in the world… but it requires people to make the dream a reality."
Here are some things you can do to help make your agents successful:
Integrate customer data to provide the history and context needed to tailor conversations to build rapport with customers, an important element of personalization, while also competently resolving their issues.
Provide new hire and ongoing training to keep agents' soft skills and problem-solving abilities sharp. Personalizing interactions may take extra time and agents shouldn't be penalized for increased handle times.
Ensure KPIs support the extra time and effort needed to provide good customer experiences.
Empower agents to make decisions about matters that are important to customers.
Implement technology that coaches agents on soft skills that will impact personalization and improve the likelihood of customer/agent compatibility.
With so many consumers still using agent assistance for issue resolution, training agents and providing them with effective tools and agency is essential to your contact centre's personalization success.
Implementing a Diverse Channel Choice Leads to Great Customer Experiences
An important component of personalization is fulfilling customers' preferences, including methods of communication. People want to choose support channels that are convenient and well-suited to their specific issue. As you can see from the chart below, different types of interactions result in different types of preferred contact methods.
Contact centres need to take an omnichannel approach when offering multiple channels to ensure adding channels improves CX instead of degrading it.
If a company's branding includes a promise of quality, every touchpoint should be consistent with that promise. Additionally, customers should be able to move seamlessly across channels within the same transaction.
For example, if a customer begins a transaction in a chat session and switches to voice, the phone agent will have access to everything that happened during the chat. Customers expect this. Our consumer research revealed that 96% expect companies to make it easy [to switch channels] without the need to repeat information.
Self-Service Provides an Enhanced Digital Customer Experience
It might surprise you to know that most of your customers use search engines or your website to look for answers before contacting customer service.
Companies should respond to this preference for DIY solutions by offering self-service tools such as knowledge bases and chatbots that can enhance the digital customer experience.
Chatbots in particular can access all available data sources to provide consistently personalized customer experiences. And the data they gather is a valuable addition to the enterprise's collection of customer information.
Understanding Customer Preferences Creates Personalized Interactions
contact centres are a gold mine of customer data, but they need the right tools to mine it and transform the data into useful insights. Solutions such as interaction analytics software can analyze all contacts from all channels to build more comprehensive customer profiles.
Contact centres can then share these insights with the rest of the organization so they can better understand customer preferences. As an example, contact centres know which channels customers prefer based on actual usage. Marketers can use this information to engage customers in their channel of choice.
How to Create a Personalized Customer Experience Within the Contact Centre
Personalizing Search Queries Based on Data
As customers progress through their support journey, organizations should use their data to customize responses. For instance, if a customer searches, "how to fix my washing machine" in your online knowledge base, respond with answers about his specific make and model.
Similarly, if after the query he engages your online chatbot, the bot should know that he's been asking about how to fix his washing machine so that it can begin the conversation with, "Do you need help fixing your Acme Super Clean washing machine?"
Tailoring responses will give customers confidence that you understand their issues and that resolutions are imminent.
Recommendations and Retargeting for a Personalized Customer Experience
Personalization builds trust, especially when a customer is interacting with an agent who is skilled at building rapport. This puts agents in a unique position to successfully recommend products, but they need access to customer data, such as purchase history, to make informed recommendations.
For example, if an agent sees that a customer recently bought a leaf blower, the agent could tell the customer about the special sale they're having on rakes and yard waste bags. Giving agents access to online data will empower them to take specific actions, like commenting on items left in the customer's shopping cart and helping them check out, if needed.
Using Customer Data to Help Predict Needs
An organization that is skilled at personalization knows its customers so well that it can predict what customers need when they call customer service. The right use of data can identify if a customer might be calling about an overdue bill, activating a new phone, or discussing an open service ticket.
This insight could be used to proactively route customers to agents with relevant skills, and it gives agents the information they need to construct more meaningful and personalized customer experiences.
How to Approach Personalization at Scale
Even before setting sail on our cruise, Disney was working behind the scenes to make our experience as memorable as possible. Our kids received a personalized welcome phone call from Mickey himself, as well as the crew, telling us how excited they were for the voyage. Needless to say, this made the whole experience that much more magical.
Personalization can be a meaningful business differentiator, and like all significant business initiatives, it requires investment. Contact centres need modern technology to analyze vast quantities of customer data in real-time and provide the omnichannel capabilities required for seamless digital customer experiences.
Artificial intelligence is uniquely suited to help organizations scale their personalization efforts. AI tools are specifically made to consume huge amounts of data and make predictions based on the patterns it identifies. Effectively scaling personalization without AI would be impossible.
Delivering personalized customer experiences in the contact centre is easier with a robust and flexible cloud platform. Personalization done right takes a significant amount of computing power, which a cloud vendor can provide at scale.
And tailoring customer interactions requires your contact centre software to be integrated with other systems such as CRM applications.
Step Up Your Digital Customer Experience Game
Customers expect personalization to such a degree that it's now ingrained in daily contact centre operations and strategies.
Today's consumers are fickle and demanding – it's reported that nearly 80% of buyers will switch suppliers/retailers following a bad experience.
To answer customer demands for tailored experiences and nearly instant resolutions, 47% of businesses are stepping up their game by using AI-powered solutions such as virtual agents and chatbots.
This blog post has been re-published by kind permission of NICE CXone – View the
Original Article
For more information about NICE CXone - visit the
NICE CXone Website