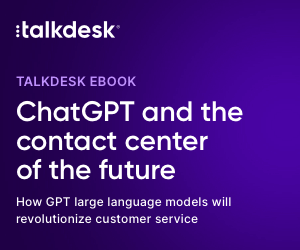 Dan Shamouilian of Talkdesk shares three predictions for how COVID-19 will change the customer experience industry.
For many of us, at this point in 2020, it still may be tough to see the light at the end of the tunnel.
Re-openings, followed by re-instituted restrictions, have see-sawed our economy and created consumers with highly unpredictable spending habits.
For many industries, planning during the pandemic can be a highly complex exercise. While that may be true, planning for a post-pandemic world doesn't need to be.
To prepare, customer experience (CX) leaders need to answer two key questions:
What shifts in consumer behaviour can we anticipate after the pandemic?
Which new trends brought on by the pandemic are here to stay?
While the answers to these questions may largely depend on the industry your CX team serves, through a broader lens, here are three key predictions likely to impact the CX industry as a whole:
1. Hybrid Work Environments Will Be the New Norm
To help promote safe workplaces, a hybrid agent schedule, trading between days working on-site and working from home will likely become commonplace.
To account for this, CX leaders may consider hiring agents as "gig-workers", offering customizable schedules and work-from-home flexibility to reduce the number of workers in their centres.
To back this up, in Talkdesk's 2020 Business Continuity Survey, we asked our customers this very question: 'How long does your company intend to have agents working from home?'
In response, over 24% of our respondents answered: We intend to support a blend of office and work-from-home settings once it is safe to return to an office.
2. Some Consumers Who Have Been Conditioned to Purchase More Online Will Remain That Way
Mobile commerce, grocery delivery, and the shift from brick and mortar are here to stay. To that end, with customers ordering more on their mobile devices, CX leaders in retail need to emphasize digital, mobile-friendly support channels now more than ever.
That means investing in SMS, WhatsApp, and social media messaging – creating a support experience that's consistent with their customers' buying experience.
3. Contact Centre Fraud Will Continue to Rise
With agents working from home as the new norm, access control, caller verification, and anomaly detection will become more important than ever.
If they haven't already, CX leaders need to be partnering with their security teams to develop systems and adopt tools to prevent against the increase in fraud brought on by the pandemic.
Practical predictions and assumptions like these will help ensure that as a CX community, we're more than ready to tackle the long road ahead.
This blog post has been re-published by kind permission of Talkdesk – View the
Original Article
For more information about Talkdesk - visit the
Talkdesk Website