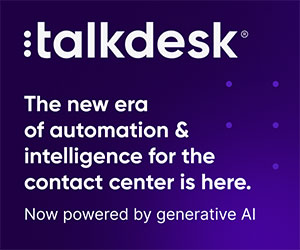 Nuno Brito at Talkdesk explains what customer experience is and why it matters in your contact centre.
A Positive Customer Experience is Vital to the Success of Your Organization.
Customers who are satisfied with their interactions with a brand are more likely to become loyal customers than those who have a poor experience. To paraphrase the author Maya Angelou, customers will forget what is said, and they will forget what you did, but they will never forget how they felt.
But what is customer experience (CX), and how can the contact centre's role improve it?
"Customer service is what a brand provides, and customer experience is what the customer walks away with."
What is Customer Experience?
Customer experience is the culmination of all the interactions a customer has with a brand during the buyer's journey. It is their view of a brand and can have a great impact on a brand's bottom line.
In essence, customer service is what a brand provides, and customer experience is what the customer walks away with.
The two main influencers of customer experience are a brand's product or service and its people. If a product does not work as advertised or a service is not up to par with customer expectations, that is a failure that will result in a poor customer experience.
Similarly, if a loyal customer reaches out to a contact centre to make a purchase or similar inquiry and is connected to an agent that is unable to help or has a poor attitude, that too would result in a poor customer experience.
On the other hand, if a loyal customer purchases a product that does not function properly and the contact centre agent is friendly, empathetic, and able to resolve the issue, it might still leave the customer with a positive experience.
Contact centre agents can often turn around a poor product experience with the right set of skills, empathy, and training.
Why is Customer Experience Important?
Loyal customers are the lifeblood of all businesses, and those who have had a positive experience are likely to become loyal to a brand. With so many options available at the click of a mouse, brands that invest in ensuring a positive customer experience will see the resulting benefits to their bottom line.
Every day customers who have consistently had positive experiences also tend to become advocates for their preferred brands.
Amazon founder Jeff Bezos once said: "If you make customers unhappy in the physical world, they might each tell six friends. If you make customers unhappy on the Internet they can each tell 6,000 friends with one message …
If you make them really happy, they can tell 6,000 people about that. You want every customer to become an evangelist for you."
Today, with social media, there are more channels than ever for customers to engage with their favorite brands. This customer advocacy is a free—and priceless—nonfinancial brand benefit.
What is the Role of Contact Centres in Customer Experience?
During 2020 and early 2021, contact centre agents were the face of many brands. With physical stores and offices largely closed, customers could no longer rely on a knowledgeable sales clerk or helpful service desk employee for assistance in real life.
Nearly every aspect of the customer experience went digital during the pandemic, and the contact centre stepped up to handle these formerly in-person interactions.
Just as a sloppily organized store or a less-than-clean restaurant would give a poor customer experience, so too can a lengthy and frustrating contact centre interaction.
Contact centre agents who are not properly trained or equipped to deal with customer issues, lack empathy, or have a poor attitude are the recipe for customer experience disaster. Nothing sinks a positive shopping experience than a surly store clerk—or contact centre agent.
How Contact Centres can Improve Customer Experience.
With so much about customer experience sitting squarely on the agent's shoulders, how can contact centres improve the customer experience? Here are five recommendations:
1. Meet the Customer Where They Are.
This point is twofold. One, contact centres need to ensure that customers can reach out on their preferred channel, whether via phone call, SMS, online chat, or other methods.
Second, where is the customer in the buying journey? Some engaging in an online chat session might be loyal customers with a quick question, while others might be in the initial phases of researching a purchase.
The approach taken with each of these customers needs to be personalized to their specific stage of the buying journey.
2. Make it Easy for the Customer.
Today's customers are accustomed to one-click purchases, immediate online customer service, and next-day (even same day!) shipping.
Contact centres need to take a similarly frictionless approach to customer service. The less the customer is required to do to buy something or fix an issue, the better.
Contact centre agents can do this by assuring the customer that the agent understands the issue, and is able to assist them, offering to call the customer back if the call is disconnected for any reason and providing helpful follow-up information post-contact.
Of course, the best way to make things easier for the customer is to solve their issue on the first try.
3. Leverage Contact Centre Data.
Contact centres harbor a wealth of customer data; turn that data into insights that agents can leverage to personalize each customer interaction.
Deploy a contact centre solution that allows access and analysis for each and every customer interaction. This can give agents and contact centre managers insight into emerging trends, customer sentiment, and intent, allowing them to take proactive action to provide great customer experiences.
4. Train and Empower the Agent.
Instilling a culture of constant learning and improvement is a great way to ensure agents remain equipped with the latest skills, information, and capabilities to solve customers problems and ensure a positive customer experience.
While many contact centres focus on agent onboarding to bring them up to speed, agent training is not a one-and-done affair.
Today's contact centre platforms enable supervisors and managers to listen to agent interactions and jump in immediately to provide in-the-moment coaching—when it is most likely to be retained.
Formal classroom training is nice, but ongoing online training and coaching can be effective as well.
5. Gather Customer Feedback.
Customer feedback is also a great way to determine how positive (or negative) a brand's customer experience is.
This feedback can come in many forms—from post-call robo-surveys and online and email surveys to reviews on the company website and social media platforms all serve as good methods for gauging the customer experience.
If the overall experience is great, reward the agents who consistently go over and above customer expectations.
When the experience is reported to be not so great, take that feedback under consideration when next reviewing policies, training, and other practices.
Having a positive customer experience is vital to an organization's ability to thrive financially. Knowing where your customer experience shines—and where it might be tarnishing your reputation and hurting sales—is something every business should want to know.
This blog post has been re-published by kind permission of Talkdesk – View the
Original Article
For more information about Talkdesk - visit the
Talkdesk Website