We suggest 25 ways of obtaining positive customer feedback, with plenty of real-life examples along the way.
1. IVR Surveys
Contact centres love asking customers questions like: "On a scale of 1–10, how satisfied were you with our service today?" to gather the necessary feedback to calculate a Customer Satisfaction (CSat) score.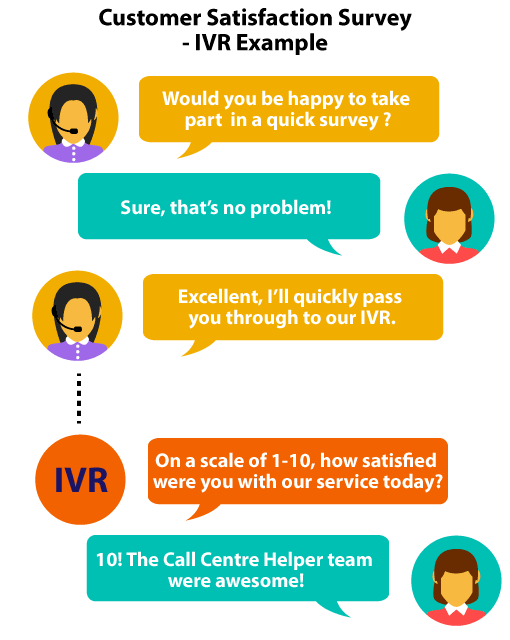 To do this, contact centres sometimes ask advisors to pose the question to the customer at the end of the call. However, while you will gather lots of feedback from doing this, it will likely be biased, as the customer may not want to give negative feedback directly to the advisor who handled their call.
So, if you can pass the customer through to the IVR at the end of the call to answer the question, you can gather more accurate insights for your organisation.
2. SMS Surveys
Some contact centres choose to give customers more time to reflect on their interaction before asking for feedback. Those that do this often use SMS messages.
Just take a look at how BT follow up on customer conversations, messaging their customers a few days after their interaction, firstly with a question designed to calculate a Net Promoter Score (NPS) and then – if the customer responds – following up with a question to calculate a CSat Score.
AO's contact centre in Bolton also use SMS messages as a way to collect feedback, asking their customers post-interaction to describe the advisor who handled their interaction in just one word.
This good customer feedback example allows AO to categorise responses and track customer emotion.
3. Ask for Feedback on Receipts
One more subtle approach is to ask for feedback on customer receipts, which the customer receives once they have completed a transaction, just as the Post Office do – as shown below.
While this approach won't provide you with the same response rates as an IVR or SMS survey, it is less invasive and covers blank space on your customer receipts which would otherwise be wasted.
Quite simply, this is an easy way to further promote your feedback mechanisms, as you direct customers to the most convenient place to share their thoughts.
4. Specialised Customer Support Accounts
Many large companies have two main social media accounts, one for general marketing purposes and another for customer service.
For example, alongside their general Twitter page, which has 8.55 million followers (as of April 2019), Microsoft also have a "Microsoft Support" channel that has 366k followers, as seen below.
While this provides the ideal space to publish "how to…" videos, this account also offers the opportunity to gather open feedback that can improve the business.
In addition, by creating a separate account – with far fewer followers – Microsoft can take the negative customer queries away from their main page, so it becomes a far friendlier place.
5. Social Media Polls
Social media offers the ideal opportunity to crowdsource ideas and run your own ideas past your customers, in order to gauge how well they will take to them.
While polls are often just used to drive traffic back to your website, show off your product range (especially on Instagram stories) or simply for fun, they can be great for customer research. Take the post below from fashion retailer Nordstrom as a good customer feedback example.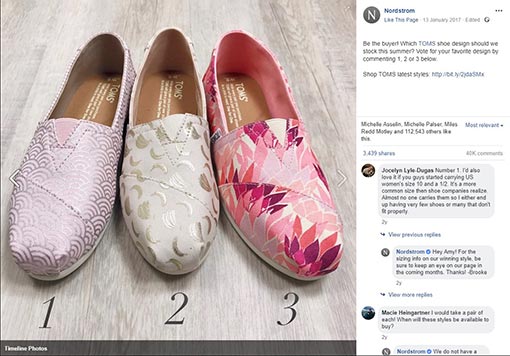 This Facebook poll has 40k comments and well over 3.4k comments, demonstrating how Nordstrom were able to engage customers with their product range while gathering valuable customer feedback to make business decisions over which shoes to stock.
6. Customer Focus Groups
Identify your focus and ideally target people who have previously left a mix of positive, mediocre and negative feedback on the subject matter that you're putting under the spotlight. This will enable you to get a range of perspectives.
Alternatively, you could host the focus group on social media, so the people with the most passionate opinions immediately come to the fore.
Yorkshire Housing were just one company to host an online customer focus group on Facebook, promoting it on social media to clearly highlight the main topic of conversation – as shown below.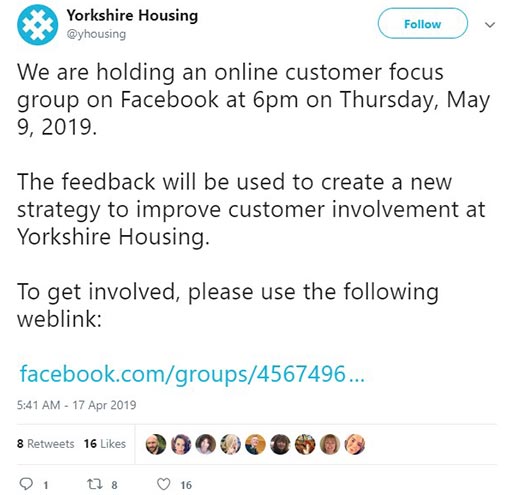 By holding focus groups on Facebook, you can also assess how popular your customers' opinions are with the comment and like functionality.
7. Contact Centre Advisors
Customers tell advisors their main service frustrations day-in and day-out, so customer service teams will likely hold a whole host of interesting perspectives, fed to them directly from customers.
So, as you would hold focus groups for customers, do so for advisors – listening out for the most popular and most passionately articulated opinions.
Sky's contact centre in Stockport does this really well, running monthly "think tanks" with 12 advisors who alternate each month. While this is mostly about developing ideas to improve contact centre culture, ideas to improve customer service are also discussed.
For more on the topic of using advisor feedback within your organisation, read our article: Involve Agents in Operations and Strategy
8. Email Signature Feedback Mechanism
Instead of bombarding customers with emails begging for feedback, a better, non-intrusive method of asking for feedback via email is to include a link to a customer survey in your signature.
By having this link ever present in your customer service emails, you can capture feedback at different stages of the customer journey – which helps you to identify key "friction points".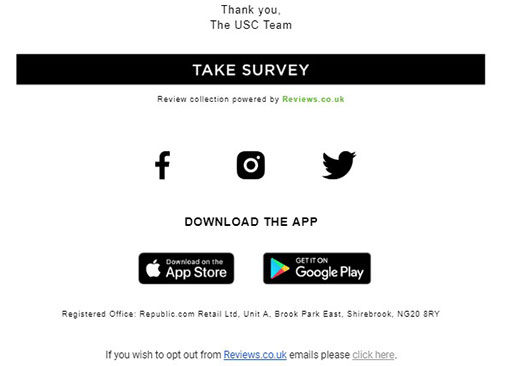 Take a look at the good customer service feedback example above from fashion retailer USC, who include a link to their survey after their "sign-off", while also promoting their social media profiles. This would likely increase their numbers of followers while signposting other means of giving feedback.
9. Ask for Feedback Post-Purchase
An ideal stage of the customer journey to collect feedback is at the end, so the customer can assess their entire experience and share more informed perspectives.
With this in mind, many companies look to include a survey in their order confirmation, when the customer is likely feeling particularly strong emotions.
An example of how to do this is in the following confirmation email from British Airways, with a nice visual scale for their NPS question.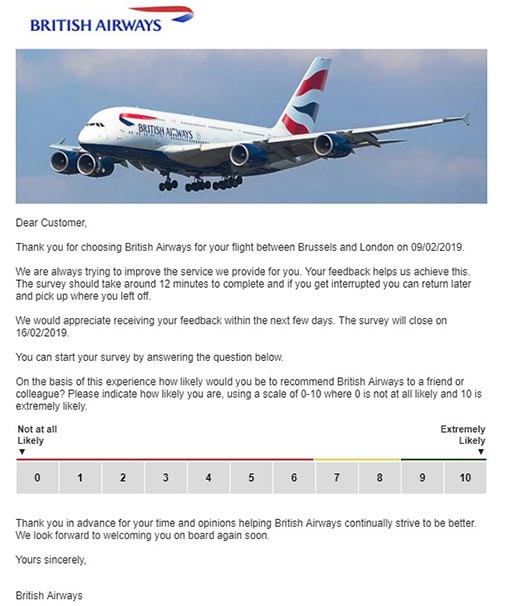 However, they also have a link to a survey that they say will take 12 minutes to complete. 12 minutes! Way to turn any post-purchase glee into boredom.
10. Independent Pollsters
One way of obtaining feedback is to bring in an independent body to conduct customer surveys for you to get a third-party view of your processes.
Often, outsiders have the "freshest" perspectives, as they haven't yet developed routines that have led them to become overly attached to certain processes and procedures that need to change.
Also, when dealing with independent companies, customers and prospects are more likely to share their honest opinions, while the third party will likely guarantee a certain number of responses.
But, just as a warning, as you are bringing in a third party that will likely come with a hefty price tag.
11. Social Listening
Social listening involves employing a technology that allows you to find and filter your social media conversations, to give you an outside-in perspective of your business.
These technologies – which include Hootsuite and SproutSocial – have analytics dashboards that spread across each of your social media platforms, enabling you to quickly gather feedback around a certain topic.
Just don't use social listening to find and remove any negative comments from your social profiles, as this will irritate customers more.
Also, when responding to negative feedback that you find using this tool, make sure that you don't respond in an extremely "templated" way, as then everyone can see that you're not being genuine.
12. Pop-Up Widgets
Another place to ask for feedback is through pop-ups that appear on your website, usually asking visitors to fill in a survey.
The trouble with these pop-ups is that, while they'll get a lot of views, they can be irritating – as I personally found BBC iPlayer's attempt, which is shown below.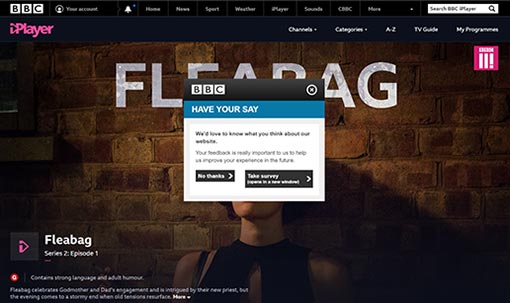 So, if you're going to use pop-ups, make them visually alluring with animation and a clear call to action, while offering an easy-to-find "opt-out" option.
Other pop-up survey best practices may include: offering an incentive, targeting campaigns for different devices (e.g. mobile, desktop and tablet) and even triggering the pop-up as the customer's mouse heads toward the "close window" button.
13. Ask For Feedback With Deliveries
When opening a delivery, you will often find a receipt and sometimes there will be a little piece of paper asking for customers to share their feedback.
Alternatively, you could ask the delivery driver to fill in a quick survey on behalf of the customer at their doorstep, as it's more difficult to ignore a person than a piece of paper.
But, just be wary of this, because delivery drivers could only choose to offer the survey to customers who have had a good experience, leading to biased results.
14. Customer Panels
To set up a customer panel, you need to look for volunteers from your customer base who have agreed to answer a few questions every few months/year.
Ideally, you'd like a mixture of people who have previously left positive or negative feedback, paying special attention to the latter, as they are the people who would like you to do things better.
According to our article "9 Ways to Encourage Customers to Give Feedback", this is a method used by Canadian retailer Indigo, while other companies on this side of the pond also seem to be taking to the idea. Just look at Riverside Group's tweet below.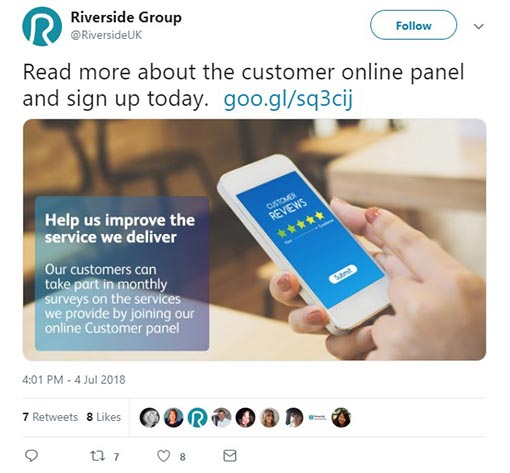 However, remember to keep in mind that you need to offer incentives – like simple discounts – to those on the customer panel. There needs to be something in it for them, otherwise you are just continually hassling and endangering previously loyal customers.
15. Call Low-Satisfaction Customers
Instead of focusing on gaining small bits of feedback from as many customers as possible, we often forget about the value of open, more extensive feedback from certain customers.
In most cases, it is customers who have the lowest satisfaction that have the most insights to give. So, call them back and find out what went wrong.
By doing this, you'll obtain more insight into where your processes and procedures went wrong than any score that a metric-based survey will give you.
Also, by calling back upset customer and asking for feedback, you prove that their opinions are of value to you and you have an opportunity to turn a negative experience around. This would likely improve customer retention.
16. Feedback From Third-Party Sites
It's not only on your website, social media platforms and other contact centre channels that customers leave their feedback, but on third-party websites also. These include sites such as TripAdvisor, Trustpilot and Yelp.
So, find out those that are relevant to you and take a look through the reviews, identifying common themes and those that have received lots of attention on third-party sites.
The importance of these third-party site is growing, as customers look to identify organisations that they can trust. One Harvard Business Review report even suggested that a drop by one star in your Yelp rating can impact your revenue by as much as nine percent.
So, pay close attention to your brand's reputation on these sites, while also making use of the feedback customers give as well.
17. Survey Customers at Events
Industry events or, if you are a well-known brand, public events can be a simple way to gather feedback, as most people don't like saying "no" to someone in a face-to-face scenario.
So carry around a tablet and smile at customers, asking them to fill in a quick survey. This can be a nice tactic for obtaining feedback from those who would not ordinarily – otherwise known as the "silent majority".
Those of you who travel a lot may also know this as a tactic that many airports use, having a representative walking around and asking passengers questions like:
How does the airport lounge compare to other airports you've visited?
How did you arrive at the airport today?
How clean did you find the airport's toilets?
For more advice for gaining feedback from those that ordinarily wouldn't, read our article: How to Get the Silent Majority to Respond to a Customer Survey
18. Emotion Gauge
By an emotion gauge we mean a visual scale of happiness, just as in the image below, where a customer presses the button that most accurately depicts how they feel.
These emotion gauges are often found when a passenger goes through security in an airport, when a customer finishes using the bathroom or when a customer leaves a store.
With all the hype around measuring customer emotion, this is a simple way of measuring it in a "bricks and mortar" environment. In the contact centre, however, you'll likely have to use more complicated means such as sentiment analysis.
To find out more about using sentiment analysis, read our article: How to Measure Customer Emotion
19. Feedback Forms
Instead of directing customers to give their feedback online, having physical feedback forms may increase survey participation – if given to customers at the ideal moment. For example, hotels often give customers a feedback form as they check out.
Just remember that in spite of the fact that we're moving through a new "digital evolution", this doesn't mean that some of the old systems don't work!
Even then, you can still find ways to modernise these forms, as many restaurants have when they use mobile EPOS systems to help guide customers through their feedback forms.
20. Following Up After Experiences
Many companies now reward loyal customers with experiences as opposed to material gifts in the hope that they help customers to form positive memories which will be forever associated with their organisation.
While this can be a good idea, it's important to follow up with customers after their experiences, to ensure that the reward was completely relevant and that you've created a loyal customer.
Also, if your business revolves around the idea of creating experiences, it can be important that you assess customer happiness soon after their customer journey has come to a close.
With these two cases in mind, a follow-up email with a quick survey can be a helpful, timely idea.
21. Product Star Ratings and Comments Section
Some organisations have star ratings and comments sections next to each of their products, just like John Lewis do, as evident in the picture below.
Employing this method provides organisations with lots of useful feedback which is directly relevant to specific products. This is particularly useful for departments such as marketing and design. It also helps customers to make better informed buying decisions.
However, having ratings and reviews on your website may discourage customers from buying products with low star ratings, so think this one through carefully.
22. In-App Feedback
With the rise of customers using apps to self-serve, many companies now use apps as an additional channel to collect feedback.
The growth in the popularity of apps reflects the principle that mobile is the new channel of choice, with companies striving to design apps that are visually friendly and easy to navigate. How you collect feedback via your app should reflect this goal.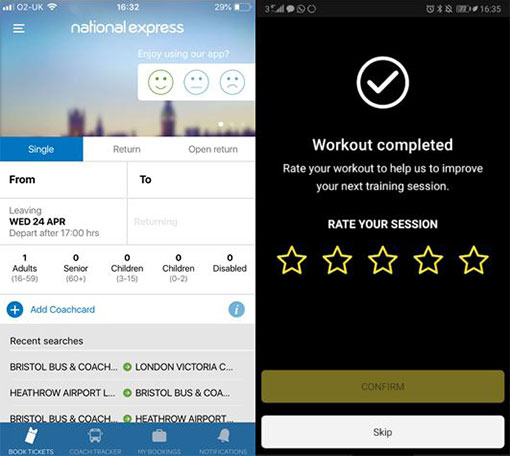 Take the good customer feedback examples above. The screenshot to the left is of the National Express app, which has a simple emotion gauge in the top right corner to capture quick bits of feedback. While the screenshot on the right is of the My Wellness app, which has a handy star-rating pop-up system.
23. Customer Feedback Portals
Customer feedback portals are designated spaces for customers to give their feedback. They should be easy for customers to find via your company website, app and/or social platforms.
Having this central point of feedback makes assessing what your customers are saying easier for many departments.
Take the feedback portal for The Hard Rock Café. It asks the customer to enter a date and their server's name before they share their thoughts.
By asking for a receipt date, marketing can see if their new offers have had any impact on customer satisfaction and, by also asking for the employee's name, customer service can track performance.
These are just some of the benefits of having a customer portal as a central point of feedback, although other options, where customers can leave a quick comment, may also be necessary.
24. Customer Feedback Tools
Customer feedback tools not only help you to design the surveys that are sent to your customer base, but also use customer journey analytics to determine the best time to send the survey to the customer.
These tools were designed as an upgrade of SurveyMonkey, as they can be integrated with contact centre systems to ask the most relevant questions to customers, based on their "buying stage".
However, unlike SurveyMonkey, these tools come at a cost. So, you'll likely need to have a clear focus on what you want to use the feedback for, to justify the costs.
25. Online Community Groups
Whether using Facebook, Google+ Communities or LinkedIn, you can create customer communities to ask a whole lot of questions and even pick up new product ideas.
This is a tactic that we at Call Centre Helper use ourselves. Just take a look at the question that I recently posed to our LinkedIn community group of almost 25,000 members.
From the responses to this post I was able to gain permissions from some of the "commenters" and put together the following article for our site: What Is the Difference Between Measuring Repeat Calls and First Contact Resolution?
So, it can be useful to create an online community, but – from our experience – the key is to keep a careful eye on it and quickly remove any misuse.
It is also good to keep the conversation going when you're not looking for feedback by treating the community like any other social platform, to keep your community's attention.
For more advice on obtaining and applying customer feedback, read our articles: