Quick Overview
If used correctly, customer feedback can help boost operations and service, not only in the contact centre, but across the wider business.  There are several great ways to encourage customers to give feedback, including:
Set up a Customer Panel
Offer Incentives
Give a Time Guarantee on Surveys
In this article we explain nine ways that an organisation can encourage more customers into giving their feedback.
---
How to Encourage Customers to Provide Feedback
Customer feedback can greatly impact the quality of the service contact centres provide as it allows them to identify pain points, as well as areas where they provide great service, so they can look to improve their service.
Here are 9 ways contact centres can encourage customers to give feedback:
1. Set up a Customer Panel
To gain immediate customer feedback, some brands set up a customer panel, which customers who have previously chosen to give detailed feedback are asked to join.
Once customers agree to volunteer, the company has their permission to send them a few questions each year. The volunteers would then answer these to provide their feedback.
The customers included are a mix of those who offered praise and those who gave more negative feedback, with the latter being the most actively solicited, as they are the customers who want things to be better.
The customers included are a mix of those who offered praise and those who gave more negative feedback
Indigo.ca use this method to gain customer feedback, and its former VP of Customer Experience, Digital Channels, Renee Racine, who once oversaw the process, strongly recommends it to similar organisations.
However, Renee Racine does highlight one danger when an organisation offers incentives to those who join the panel, saying: "I want customers to just be willing, because I can't say I'm going to contact them every month, I don't know.
"It just really depends on what's going on that year. So, we say it's volunteer."
However, Renee says that it can be a good idea to offer one-off prizes, revealing: "Every once in a while, we just do a surprise and delight just for the panel.
"So, we'll send out a 10% off before the holidays come or the ability to try things first, which is an incentive on its own."
[For more of Renee Racine's insights into setting up a customer panel, click here]
2. Offer Incentives
A classic method to encourage customer feedback is to offer an award for doing so, either offering a chance to win a big prize or guaranteeing a small reward.
It is a good idea to choose a prize that is relevant to your organisation, so that its incentives are likely to increase customer responses.
In fact, PeoplePulse reported a general increase of 10-15% in customer responses when an incentive is offered. So, it is no wonder that many companies, such as Aldi, Chili's and Matalan, have all adopted this strategy.
Yet, Ian Williams, Director at Jericho, spots an issue with incentivising feedback, saying that it is "dangerous" because it encourages positive bias to the feedback process.
"If you are, to all intents and purposes, 'paying' someone to give you feedback, they will be inclined to make it positive.
"Why would you give negative feedback to someone who is giving you money for your opinion?"
[For more on incentives issues and the call centre, read our article: Seven Examples of When Contact Centre Incentives Fail]
3. Give a Time Guarantee on Surveys
Customers want organisations to value their time and appreciate it when those who work in customer service handle their query efficiently.
However, offering customers the chance to complete a survey to gain feedback – whether on the phone or online – opposes this message of time-effectiveness.
So, when asking for feedback from a customer, it is advisable to set a time guarantee. This is because acknowledging the fact that it will take some of the customer's time will demonstrate that the company understands its value.
4. Explain How the Feedback Will Be Used
One way to encourage customers to give feedback, whether on the phone or online, is a short, sharp sentence explaining how the customer's feedback is going to be used to improve the business.
This is according to Ian Williams, who says that "There is nothing worse than giving feedback that is not utilised, which is why people stop giving it.
"But letting them know that their feedback is essential for the business to improve its performance, and even promising to let the customer know how their feedback was used, will encourage them to provide it.
"Of course, you have to follow up on that promise, or you will dis-incentivise the customer even further when it comes to future requests."
Yet, even a simple line explaining what will be done with a customer's feedback can be effective. Just take a look at the following survey for M&M's World.

While this can be a nice feature, other brands simply choose to say to a customer that: "Your feedback is very important to us." Such brands include Michael Kors, Macy's and Canon.
5. Ask the Company's Online Communities (e.g. Facebook Group)
When customers join a company's online community, it is in indication that their relationship is more than just transactional.
So this is a group of customers who are more likely to offer feedback than others, making online communities the ideal place to share surveys or to create polls.
Also, social media pages offer an audience to showcase how feedback is being used. As Tema Frank, a best selling Customer Experience Author says: "The most important thing is to let them know you really care and will act on their input.
"The way to prove that is by getting back to them both individually and as a group, on your social media pages, about how a particular piece of customer input has helped you improve."
However, it is worth remembering that while social media can be a great place to harness the voice of the customer, responses may be biased and polarised, with customers either loving or loathing the product/service.
6. Respond to Everyday Feedback
When a customer makes a comment to an advisor in the contact centre or someone leaves a comment on an online platform, this can be considered feedback, which could perhaps be categorised.
In these situations, the contact centre could direct customers to a survey or possibly categorise each bit of feedback into detractor or promoter categories, before adding them to a Net Promoter Score (NPS).
Ian Williams also recommends following up on any piece of feedback given to the organisation to complete the "feedback loop".
"This means that you follow up with individual customers when they provide positive or negative feedback, the customer will understand that their feedback has been important to you."
By doing this, the organisation may to encourage more customer feedback in the future.
7. Clearly Signpost the Company Website
Methods of obtaining customer feedback are often tricky to find on certain companies' websites. To get around this, many companies clearly display a "contact us" style section on their website's homepage and include links to their social media pages to encourage customer feedback.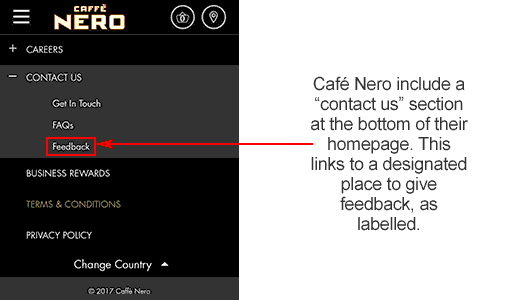 This clear signposting is sure to encourage more feedback and reduce frustration, as customers are more likely be aware of where to go to voice their concerns.
Another way to gather feedback would be to have tickbox questions dotted around the website that customers can answer at their will.
8. Ask for One-Word Feedback
Contact centres are often hesitant to ask for feedback after a customer–advisor interaction as it will increase Average Handling Time (AHT). So many contact centres send a follow-up message or email asking for feedback.
While this may be a good idea in terms of customer satisfaction, as the contact centre is not asking for more of their time, response rates are likely to be much lower because customers will find it easier to ignore a message than to reject an advisor over the phone.
To strike the balance, AO ask for feedback via text message, but lower customer effort by only asking for a one-word response.
The text message asks customers to describe the advisor who handled their request in just one word.
Responses are then categorised as negative, neutral or positive.
While AO's contact centre use this tactic to highlight which advisors may need additional coaching and those who deserve reward, it is a method that can be used to gain wider feedback.
For example, the question can be modified to read: "In one word, how would you describe our customer service?"
[Find out more from AO in our article:  17 Things You Can Learn From the AO Contact Centre]
9. Create Customer Feedback Portals
Customer feedback portals – which can be advertised on a company's website, social media and other platforms – designate a 24/7 area for customers to relay their concerns, suggestions and other ideas to the company.
These portals are often linked to the company website and offer a place for customers to refer back to if they wish to give more feedback.
Having such a portal also offers the company a central point of feedback, which can benefit many departments in the organisation.
For example, if they employ a new technology, the contact centre can view responses in the portal to gauge if customers note a difference in their experience. And the marketing department can also see the change in feedback when a new offer goes live, and so on.
For more on the topic on creating the best possible customer feedback plan for your contact centre, read our articles: