We share a four-step process for how to increase customer survey participation.
Why Do You Have Low Survey Responses?
Customers currently have a huge level of apathy and survey overload, because everyone's asking for surveys, everyone's asking for feedback and everyone is doing it in a very formulaic way.
This is according to Guy Arnold, Founder of Slow Selling, who says: "Very few customer organisations are asking for feedback in a way that genuinely engages the customer. So, you tend to get low response rates and miss the silent majority."
Guy's assertion that very few organisations are engaging customers with their surveys is reflected in our research, which found that more than half of contact centres have a survey completion rate of less than 10%.
This research may reflect that contact centres treat customer feedback as an afterthought, meaning that they ask for surveys to be completed in a generic way. This means that organisations are not gathering the thoughts of the silent majority of the company's customer base.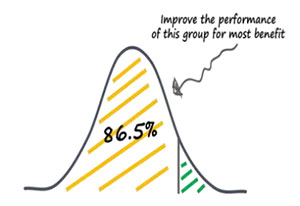 Yet, the silent majority are the customers who really can help you. Take a look at the graph. The section of your customer base highlighted in the middle section of the graph, are the ones who need to be listened to and engaged with most.
As Guy says: "These are the customers who will help you drive your business forward. If you focus on the ones who already love you, you will be left with little constructive feedback. Whereas, the ones who already hate you will need saving individually and are probably already gone."
"So, why not take the path less travelled and use the Voice of the Customer (VoC) as a key business driver? Businesses that use feedback as an intrinsic part of their business are often successful."
4 Steps to Increasing Feedback from the Silent Majority
It is all well and good to say make customer feedback a central part of your business processes, but how can you do this?
Here is a four-step plan for doing so and, consequently, increasing survey responses from the silent majority.
1. Stop Looking at the Feedback Process as an Add-On
Change the beliefs in either your team or your organisation. Stop looking at your VoC programme as "something that we should do". Instead, use it as a main business driver.
Understand that there is no quick fix. Take Virgin Wines as an example. The reason why they get massive amounts of feedback is because it's an intrinsic part of the whole business.
So, as Guy Arnold says, "If you want to improve survey responses, stop looking at the feedback process as an 'add-on'. If it's only an add-on to you, it provokes an 'I can't be bothered attitude' from the customer as well."
If you want to improve survey responses, stop looking at the feedback process as an 'add-on'.

Guy Arnold
"Look at your business and ask 'how can we get closer to our customers?' If we design all of our systems around those sorts of beliefs, then we are going to get much higher completion rates, because customers respond well to businesses that really mean it."
2. Look for Emotional Responses in the Feedback
Once you have made the effort to change contact centre attitudes towards feedback, start looking at your current feedback. Think about what your customers are really saying to you, what is between the lines? What emotions are being fed back to you?
As Guy says: "The words that you use are only a tiny part of it. It's also about how they are used, when they're used, how passionately they're used and in what context."
"So analyse that, look for patterns in your survey responses and start working out how customers are emotionally engaging with what their real issues are and what they really want."
3. Develop 'Open Feedback' Systems
When you have analysed current feedback, start looking at developing open feedback systems. These, according to Guy, "are systems that empower the customer to give you feedback and to make sure that you hear it."
Open feedback systems differ from "closed feedback" systems that include certain surveys, which ask closed questions.
While contact centres will certainly be tempted ask a closed question, like the NPS question, for example, Guy says: "This should only be part of the process. However, it does have its benefits. Having a score that you can track over time can be extremely useful."
Customer panels are one way to ask open questions to the silent majority. They involve sending annual open surveys to customers who have agreed to be part of the panel.
To find out more about customer panels, read our article: 9 Ways to Encourage Customers to Give Feedback
4. Respond to Customers – Directly and Indirectly
So, now you have your survey responses, how are you going to get the best out of them? Guy's suggestion here is to respond to the customer in two ways: directly and indirectly.
Indirect responses are about having continual feedback systems. As a business, look for learnings that can be taken from the VoC which can be used to continually improve the organisation, at all levels. Take small steps every week.
Then, indirectly feedback to the customers on how you have listened to them and what you did. According to Guy: "Customers will love that because it means they feel appreciated and they feel listened to. This done well is extremely rare."
While indirect responses involve informing customers of how your organisation has benefited from their open feedback over time, direct responses involve directly addressing comments that the customer has made in their feedback.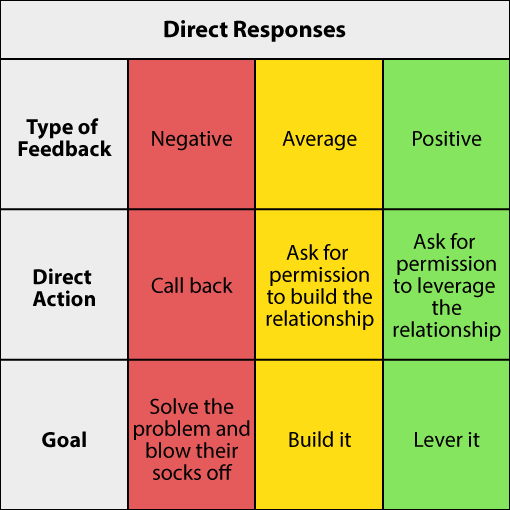 As in the graphic above, with customers who leave negative feedback, try to contact them immediately. Solve the problem and attempt to blow their socks off systematically.
With customers who leave positive feedback, ask for permission to leverage the relationship and lever it. These customers are great at helping to improve sales through service.
Customers who leave average feedback are likely the most reluctant to give feedback and are usually the silent majority. With these customers it's important to ask for permission to build the relationship and then building it.
Feedback systems have got to be more innovative, exciting and engaging than the bulk standard customer loyalty systems, which are dull and used by everyone else.

Guy Arnold
To do this, Guy says that: "Feedback systems have got to be more innovative, exciting and engaging than the bulk standard customer loyalty systems, which are dull and used by everyone else." This is where systems like customer panels can work well.
What Is the Long-Term Purpose of Listening to Your Customers?
According to Guy Arnold:"All too often, contact centres solely listen to customers with the purpose of either generating a high NPS score or fixing a problem."
"In actuality, the main purposes of listening to customers should be to learn what needs to be done to continuously improve, as well driving long-term reputation, improvement, loyalty and more sales."
So, listening to the customer should be more than checking the quality of what you are doing. Instead, you should listen to customer feedback to continually improve not only the contact centre, but the larger business as well.
If the larger business sees the contact centre as a cost centre, then the organisation will look to minimise those costs and contact centre spending at every turn. Therefore, it is becoming increasingly important for the contact centre to showcase its value.
To do this, it is advisable to harness customer feedback and demonstrate how it can be used to improve reputations, loyalty and referrals.