The performance of a contact centre is often measured by the outcomes of the service, including metrics such as percentage of calls handled, customer satisfaction and others.
Whilst these are good measures to have and indicators of performance, it is often the case that they represent the overall company-wide performance rather than that of the contact centre.
In this article Martin Jukes discusses how the contact centre is often reacting to demand generated through positive and negative performance of other teams and the business overall.
In over 20 years of being a consultant, I have lost count of how many contact centres that I have been asked to review due to them performing poorly.
Typically, KPIs are being missed, customers are complaining and enquiries are not being resolved or are taking too long to deal with. What I have frequently found is that the poor performance is a representation of organizational problems rather than the contact centre itself.
For many organizations the performance of a contact centre is measured by KPIs such as
Read our article 32 Contact Centre KPIs That You Need to Track (And Why!) to find out what KPIs you should be tracking.
In theory, these should provide an effective overview of contact centre performance. However, there are often external factors and conditions that can cause the contact centre to appear to be struggling to achieve targets.
In fact, I often discover that contact centre performance metrics/KPIs are more representative of the overall business performance than they are of the contact centre. In reality, many situations that are regarded as being contact centre performance issues are due to other factors such as:
Service issues/failures causing increased volume of enquiries
Lack of information sharing with contact centre
Lack of appreciation of the role of the contact centre
Organizations not being joined up or customer focused
Technology not functioning correctly
Promises not being met (calls returned etc.).
Contact centres are an easy target for blame, but we all know that these other factors play a major part. It is time for many organizations to take a look at where the responsibility for poor performance actually lies. We don't blame the Finance department if income is lower than expected.
It is also worrying that I often encounter senior management who are attempting to fix the problem without having a clear understanding of the issues. I have encountered many directors who have focused on reducing call durations.
This in turn can often lead to contacts being rushed to adhere to new targets, which in turn leads to repeat contacts and customer dissatisfaction. When looking at poor performance, it is essential to look at the whole picture, which includes the whole end-to-end customer experience.
To demonstrate this, I often use a very simple image that highlights the interdependency in service delivery. There are two real inputs, customer demand and resources to deal with that demand that will deliver an output. Changing either input will influence the output.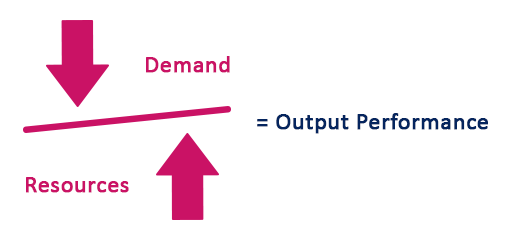 Or put another way, the performance of a contact centre (output) is reliant upon having the correct resources to deal with a known customer demand (input). The variables are of course the input and the resources.
To be able to meet performance you have to balance the demand with people and systems and ensure that they are in the right place at the right time.
So, when looking at poor performance issues, it is essential to look at trends and expectations. When volumes are increasing, identify the cause. When durations are extending, understand why.
At all times, the priority should be on managing customer demand and not trying to do the best that we can with limited space, time or systems.
Ensuring that you have the right resources to deliver the output performance required is a balancing act and something that needs continual monitoring and understanding.
The starting point in these calculations should be the output; what level of performance do we want to provide to our customers?
Once we know this, we can then start to analyse the input and determine how it varies. As described earlier, this is heavily dependent on other factors such as marketing activity, sales, service issues, etc. But once these are known, they can then be used to calculate resource requirements in terms of people requirements at different times.
However, it is not just people. People need systems, process and somewhere to work. I have worked with clients who have calculated the number of people they can have working at any one time based upon the number of licences they have or the number of desks!
At all times, the priority should be on managing customer demand and not trying to do the best that we can with limited space, time or systems.
So, if you are a contact centre manager who is in this situation, what do you do? How do you switch the focus from the contact centre?
There are a number of ways but most of them involve presenting the data in the correct way.
Use trend analysis to show how demand is changing (volumes, durations, channels)
Highlight emerging contact types and reasons
Communicate which contact durations take the longest time and why
Focus on continuous improvement in the end-to-end journey and involve the relevant stakeholders
Produce effective reports and management information
Use data in a positive manner, i.e., instead of reporting an abandoned rate, report on answer rates and include the number of contacts answered
Develop a business case for improving performance.
Finally, if you need additional help, engage with an experienced consultant who can present from an independent perspective. We are here to help.
Thanks to Martin Jukes at Mpathy Plus for this great article.
To find out more about performance and metrics in the contact centre, read these articles next: