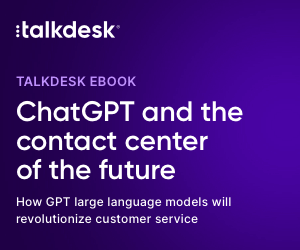 Justin Robbins of Talkdesk explores what happens to things like frontline engagement, productivity and trust when the contact centre experiences an outage.
What's been your experience with how employees react to unplanned outages?
Over the last twenty years, I've held both frontline and leadership roles in the contact centre and often encounter mixed feelings about the impact of an outage on employees.
For some, the unexpected (albeit temporary) relief from answering inbound customer contacts is viewed as a blessing in disguise. Most frequently, this is in environments where customers are regularly abusive or employee workloads are teetering on the brink of burnout.
In other words, the contact centres that get excited about unplanned outages are, to be blunt, dysfunctional.
The typical employee doesn't appreciate it when downtime affects their ability to do their job. Believe it or not, but most contact centre employees genuinely want to help the people that contact them. They count on the underlying systems to have reliable accessibility and need tools and processes that simplify their workflows.
The employee impact of an outage is not just about the frustration of the system going down, and the best-in-class organisations understand that downtime can lead to deeper, more complicated problems.
Lost productivity is the negative effect of downtime that is perhaps most often thought of when considering the impacts on employees. A business can't recover the unproductive time that employees spend waiting for the outage to be restored.
Those expenses alone can be quite costly, but the lost productivity doesn't end there. The disruption of an outage often leads to employee complaints about unreliable systems, which results in leaders spending unplanned time addressing people problems. Suddenly the costs of lost productivity are exponentially larger.
If system outages or latency happen often enough, they'll also be a contributing factor to employee disengagement.
In 2015, I spent a series of weeks interviewing hundreds of contact centre agents to gain insight on what contributes to their success and engagement at work.
The second most important factor was whether or not they had reliable tools and systems. It makes sense—agents expect to have what they need to do their job effectively. Who wouldn't?
For this reason, agents need to understand why an outage happened and if or how it can be prevented in the future.
If they're told to "deal with it" or something similarly dismissive, it's the equivalent of telling them that you don't care whether or not they can do their job. You may not mean it but, over time, these statements lead employees down a path of disengagement and contribute to distrust in leadership.
A positive dynamic between a frontline team and its leader is critical for the success of any organisation.
In the contact centre, frontline employees need to feel that they are supported in their success. The leaders of these teams need customer-facing employees who are willing to be open and honest about sharing their challenges, ideas and insights.
It's a seemingly easy concept in theory. So why do many organisations struggle with leadership distrust?
Something creates a gap between the intentions and the actions of leaders, and we believe that a willingness to be transparent about system shortcomings is one of those "somethings".
In the case of system downtime, employees are most concerned with how it's being addressed and prevented in the future.
It's in these instances where they're seeking clarity and guidance. It's not a matter of having all of the answers—or even making excuses for why it happened in the first place.
Employees just want to know that their leaders understand the negative effects of the situation and are actively working toward a sustainable solution.