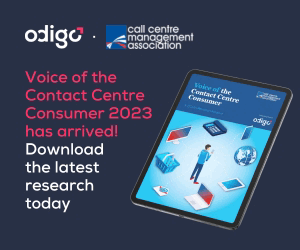 Jake Gardiner at Odigo explains that with the arrival of e-commerce, retailers face a new challenge, staying connected to consumers who largely purchase through a screen.
The reduction of brick-and-mortar shops has made it harder to ensure brand loyalty and deliver timely, appropriate customer service. Read on to find out how Contact Centre as a Service (CCaaS) solutions can keep retailers connected to their e-customers.
E-commerce might have been changing the face of retail for over a decade, but the COVID-19 pandemic turned an evolution into a revolution. As a result, the impact of e-commerce on retailers has left them scrambling to stay connected to their consumers while pivoting to a digital offering.
In an increasingly physically disconnected world, how can brands offer a customer support strategy which delivers the experiences demanded by customers?
Customer experience (CX) is one of the key levers for value a business can pull; keeping customers engaged and satisfied generates repeat business and boosts brand reputation. It's no secret that the impact of e-commerce on retailers has grown exponentially since the start of the global pandemic.
Brick-and-mortar shops have been forced to close and customers have turned to online retail first by necessity and then by convenience. This acceleration offers both challenges and opportunities for retailers.
While in-person service within retail outlets will remain a key piece in the overall CX mix, customers are increasingly conducting part of their shopping online and this looks set to continue beyond the pressures of the pandemic.
Cushioning the Impact of E-Commerce on Retailers Through the Contact Centre
So how do you maintain connection and attention in a digital environment? Back in 2018, Barclaycard estimated that businesses were losing out on £18 billion of lost sales each year as a result of abandoned online shopping baskets.
This surf-n-turf approach to internet shopping is a testament to how disconnected customers are from the retailers they interact with. Furthermore in June 2021 a survey reported that one-third of UK customers abandoned baskets out of frustration with digital services.
Unfortunately, customer frustration can be compounded when disruptions do happen, stocking and supply chain issues, for example, as these issues tend to highlight gaps or problems in service provisions.
Findings like this begin to paint a clearer picture. Retailers must not only attract attention with their products but keep it and convert it into sales by prioritising the improvement of their digital services with both customer satisfaction and customer effort scores in mind.
So where does the contact centre fit into this? Embracing a new mindset can lessen the impact of e-commerce on retailers by turning contact centres into hubs of communication and connection.
Traditionally customer service has always been more reactive, but in the sphere of e-commerce customers move rapidly from site to site, which presents a massive potential loss of revenue.
Even if you offer the best post-purchase customer service on the market you are limiting your potential income if you fail to engage customers proactively. Companies can proactively initiate conversations by reaching out to engage customers and captivate their attention.
One example of this would be to utilise the full range of channels to bridge the gap left by physical touchpoints and use video chat and co-browsing so agents and customers can navigate the shopping experience side-by-side.
With these things, and changes in customer expectations, in mind, an increasingly complex number of drivers on contact centre services can be seen. Traditional customer services need to evolve with goals such as proactive outreach, personalisation and convenience in mind.
But how can this all be orchestrated into a coordinated channel-less strategy?
Connecting the E-commerce Dots Has a Positive Impact on Customers and Retailers
When you consider the complexity of delivering this type of service it becomes clear that part of the solution lies with technology. Imagine if a contact centre tried to institute such a policy of outreach and engagement in the high-speed online environment with outgoing calls.
Old solutions to new problems won't work; the number of agents, the cost and the overstressed supervisors trying to coordinate it all would be an impossibly huge task.
This is where Contact Centre as a Service (CCaaS) solutions come in. With a strong sense of brand identity and company direction, retailers can lessen the impact of e-commerce on their business with consistent messages rolled out across numerous channels.
Crucially, CCaaS solutions also enable retailers to bypass the customer frustration of repeating information, by integrating all these touchpoints into a single channel-less conversation.
This continuity means customers can swap devices during transactions and agents have complete visibility of customer histories so they can interact with agility, accuracy and insight.
Social media and instant messaging represent newer areas for retailers to explore as they are increasingly used by younger generations to communicate and express opinion on the services of online retailers.
As such this can be utilised to counteract the impact of e-commerce on retailers by creating interactive one-to-one connections and meeting customers on their terms. Importantly it also enables a quick reaction to customer complaints in an arena where others can see, and judge, these efforts.
The high visibility of these interactions and the way they can be further shared is another reason why a strong brand identity is needed to temper reactions into measured consistent responses.
Leveraging Attention to Grow Connection
As e-commerce continues to expand and competition for customer attention grows, retailers need to pull out all the stops to stay connected. It may well become the case that for an increasing number of retailers brand image and the quality of customer experiences will be more important than the product itself.
To rise to this new challenge and moderate the impact of e-commerce on retailers CCaaS solutions can be leveraged to help deliver a new level of customer connection.
This blog post has been re-published by kind permission of Odigo – View the
Original Article
For more information about Odigo - visit the
Odigo Website