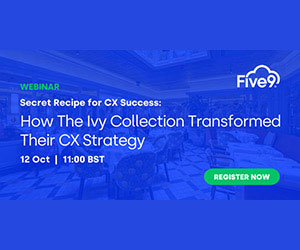 Natalie Mackay at Five9 explains how enterprises drive success using gamification and performance management.
Companies of all sizes have incorporated hybrid work over the past few years. With thousands of agents across the world, enterprise companies find that traditional ways of incentivizing agents are no longer valid. Pizza parties or free lunches in the office don't entice agents working in a hybrid environment.
Most contact centres are adopting a gamification strategy to maintain agent productivity and drive high performance in their contact centre.
89% of employees believe they'd be more productive if their work was more gamified, according to an article by Review42.
Let's look at how enterprise contact centres can increase agent camaraderie and performance, keep a pulse on performance, use gamification for knowledge retention, and provide agent autonomy.
Increase Agent Camaraderie and Performance
Gamification is a great way to bring contact centre agents together no matter where they work. Strong social connections make people happier and physically healthier, which can translate into better work performance, according to an article by Forbes.
Through Gamification, agents can challenge each other and compete in customized games, helping the team reach critical KPIs. Challenges and games encourage agents to invite their peers to participate in friendly competition.
By gamifying performance and allowing agents to face-off against one another, their performance and effort contribute directly to their team's goals while also allowing them to connect with fellow employees.
Keep a Pulse on Performance at Scale
With such large teams, it can be difficult for enterprise contact centre supervisors to monitor and reward so many agents at once.
As agents engage in multiple games and challenges, the need for a streamlined way of managing performance and rewards becomes a necessity.
With a Performance Dashboard, contact centre supervisors can watch their agents' competitive drive transform into real results. Agents are automatically rewarded via coins, experience points and more for reaching pre-set KPIs.
And if performance slips for any reason, supervisors can see in real-time and adjust to get back on track. A Performance Dashboard enables enterprise contact centres to always have a pulse on their agents' performance no matter how large the team.
Use Gamification to Drive Knowledge Retention
Being a new agent at a contact centre is tough. Being a new agent on a large, enterprise team working remotely is even harder.
Although supervisors do make time to onboard and train new agents, it can be challenging to get agents ramped along with all the other tasks involved in running a large team. So how can supervisors balance onboarding new agents with their daily operations?
Gamification serves as a great way to help with onboarding and training. By gamifying the onboarding process, supervisors can teach new agents' key information in a more fun and engaging way.
Create games that help new agents explore their everyday tasks, helping them stay motivated and supported. Supplement your dedicated training with these fun games to get agents up and running faster, no PowerPoint presentations required.
Provide a Flexible Work Environment without Losing Connection
Let's face it – for most organizations, remote or hybrid work is here to stay. This means, to retain and attract talent, enterprise contact centres must offer flexible work. But flexible work shouldn't come at the cost of losing connection with your team.
Gamification provides the perfect balance between enabling agent autonomy while keeping them connected to one another. Group competitions and games bring dispersed teams together to celebrate wins even if they're far apart.
With virtual wallboards and performance dashboards, contact centre teams can easily see their goals and hold each other accountable.
Agents can keep an eye on where they stand against team ratings as well as push each other to reach KPIs as a team.
This blog post has been re-published by kind permission of Five9 – View the
Original Article
For more information about Five9 - visit the
Five9 Website