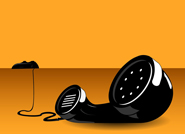 A new report has outlined a multi-pronged attack on nuisance calls.
The Nuisance Calls and Texts Task Force on Consent and Lead Generation was released on Monday 8th December 2014, following the publication of the DCMS Nuisance Calls Action Plan in March 2014.
The report, convened by Which?, has outlined a multi-pronged approach to tackling the issue of nuisance calls, calling on businesses to improve their direct marketing practices while also urging further action by the regulators and government.
It has also redefined the term 'consent' in regard to the receipt of nuisance phone calls and texts – including the fact that "third party consent will not be sufficient to override Telephone Preference Service (TPS) registration".
Key points include:
Businesses carrying out marketing activity should view the ICO guidance on a six-month time limit for third party consent as a minimum standard.
Ofcom should assess the current level of consumer awareness and understanding of the TPS, for both fixed and mobile phone users.
The ICO should undertake regular reviews of marketing organisations' practices, including by mystery shopping, and conduct further analysis of complaints data to ensure compliance with their rules and guidance.
Senior executives will be held to account for the behaviour of their company.
Click here to read the full report
The action plan has been welcomed by members of the contact centre industry.
"We think the new guidelines are excellent. This is a multifaceted issue which will need to be tackled from multiple angles, as outlined," said Martyn King at Nexbridge. "Bad practice in terms of exchanging marketing data is one of the key issues, and the report describes the best ways to ensure businesses handle their data as they should, and how consumers can be made more aware of their rights and the effects of opting-in."
"For many years the UK has led the world in setting out legislation to protect consumers from nuisance calls. But we have fallen short, over the years, in getting effective enforcement of rules, especially for diallers and TPS registration," said Michael McKinlay at Sytel. "The report completed by the DCMS in March and the announcement by the Nuisance Calls Taskforce suggests this may be about to change. This is very much to be welcomed and will help the UK to reassert itself as the standard bearer for best call centre practice in the world."
Only individual regulators can make a real difference
However, campaigners believe that any real change will only come from individual regulators taking serious action. For example, prohibiting the use of telemarketing in certain sectors and stopping the sale of overseas telemarketing leads.
"Unfortunately, the ICO remains a largely constrained body, as they lack the power to put offending companies out of business, whereas individual regulators such as the Claims Management Regulator are able to withdraw business licences – even during an investigation – and can also prohibit the use of telesales in certain sectors," said David Hickson of The Fair Telecoms Campaign. "While we'll never be able to stamp out the problem completely, a stronger campaign of behalf of such regulators could help to eliminate PPI calls (and similar) from the marketplace and mark a positive step forward in the battle against nuisance calls."
---