Panellists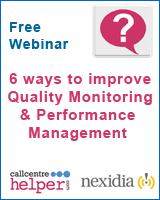 The Webinar Contents
Performance management and quality monitoring are both key to driving up customer satisfaction levels.
But how can you improve them in a way that both raises customer satisfaction and keeps agents happy?
We have put together a webinar where we discussed these issues, as well as providing practical solutions about how they can be solved.  The webinar is fully interactive, allowing you to participate, as well as share your ideas.

Agenda
Introductions – Jonty Pearce, Call Centre Helper
6 ways to improve Quality Monitoring & Performance Management – Martin Hill-Wilson, Brainfood Extra
Multi-Channel Performance Management – Larry Skowronek, Nexidia
Tips from the audience – All the tips from the audience have now been turned into an article 59 tips to improve quality monitoring and performance management
Winning tip; The main secret to success in changing the micro-behaviours is collaboratively coaching those individuals in a way where they are totally bought in to why this will benefit them, and exactly how they can make that change.  Laura Anderson
59 tips to improve quality monitoring and performance management article written from tips sent in during this webinar
Interactive Q&A – Live questions from the audience
Topics to be discussed
Top tips for quality monitoring
Carrying out agent evaluations
The optimum level of calls to monitor per month
How to detect customer dissatisfaction
How to find areas causing agents the most problems
Monitoring emails and social media
Top tips from our audience
Interactive questions and answers – your chance to ask questions

This webinar is brought to you by Call Centre Helper and is sponsored by Nexidia.
Original Webinar date: September 2012