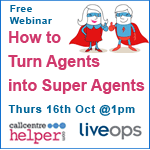 There are a wide range of abilities in most contact centres.  Some agents consistently answer more phone calls, have higher quality scores and are better at winning over and retaining customers.
So how can we turn ordinary advisors in to super advisors?
In this webinar we shared tips and techniques to achieve just this.
Speakers
Dougie Cameron – Addzest Consulting
Richard Pinnington – LiveOps
Jonty Pearce – Call Centre Helper
Agenda
Introductions – Jonty Pearce, Call Centre Helper
Dougie Cameron, Addzest Consulting
Richard Pinnington, LiveOps
Winning tip – "I still take calls with my team and use them in the group coaching sessions as it shows the agents on my team that I am not perfect either and able to take constructive feedback. It role models positive behaviours and encourages them to be open and honest in these sessions". – Congratulations to Sally1.
Interactive Q&A – Live questions from the audience
Topics discussed
Understanding why some advisors perform better
Cloning best practice
Exceeding customer expectations
Developing good listening skills
Building rapport
The right tools for the advisor desktop
Pivoting between channels
Knowledge Management
Original Webinar date: October 2014
---