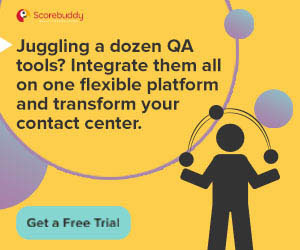 For the third consecutive quarter, independent research firm G2 has recognized Scorebuddy as a Leader in contact centre quality assurance.
To place in the Leader quadrant of the G2 grid an organization must have "substantial market presence scores" and be "rated highly by G2 users."
With user reviews forming the basis of G2's ranking process, it's a real honor to know that our work is appreciated by the customers who use Scorebuddy on a daily basis.
Our mission has always been about customer satisfaction and we're delighted to see this reflected in the feedback.
"I'm delighted that Scorebuddy has been named a leader in contact centre quality assurance for the third consecutive quarter," said Derek Corcoran, Scorebuddy Founder and CEO.
"The G2 Report is an excellent measure of quality and we're thrilled that our customers have contributed to this award with their positive feedback.
Our focus is always on the customer and how we can improve their QA experience so it's extremely rewarding to know that our platform is making a real difference to their work. This accolade will push everyone at Scorebuddy to build an even stronger platform in the future."
The Winter 2023 G2 Report recognized Scorebuddy as an overall leader in contact centre quality assurance, a momentum leader, a mid-market leader, and a small business leader. We also received recognition for providing the "Easiest Admin for Small Business".
The G2 Grid Report is based on a minimum of 10 reviews and ratings in data gathered by November 30, 2022, with products ranked on the basis of customer satisfaction and market performance. The G2 Grid is made up of four different categories.
Why Scorebuddy is a Leader
We deliver a better experience for both agents and customers, streamlining the QA process with a set of purpose-built tools to engage agents, improve performance, and mitigate risk.
Using our customizable scorecard builder, detailed reports, and integrated learning management system, customers can deliver high-quality service at scale, provide tailored agent training, and generate actionable insights based on the real-time data.
What Customers Say About Scorebuddy
We know that the call centre can be a high-pressure environment, especially with growing customer expectations and the evolving role of the agent.
Our platform is designed to alleviate this pressure by streamlining processes, automating repetitive tasks, and enhancing communication between agents and supervisors. Scorebuddy is easy to implement and delivers measurable results in as little as six months. Here's what some of our customers have to say.
"Scorebuddy puts all the necessary reports and tools for success on just one page. It is way quicker and more practical than the service used before, and it saves a lot of time both for agents and managers." – Andreia T, Customer Support Agent
"This is the most feature-rich quality monitoring tool I've ever worked with, it's quite detailed and super user friendly, I've never worked on a better tool before." – Sanmeet S, Manager Learning & Quality
"Scorebuddy offers the ability to search through all scorecard data quickly and run reports that are already set up in the system for you.
Usual excel spreadsheets did not allow us the ability to track and review trends across the company or drill down to specific problem areas easily, but Scorebuddy allows us to accomplish this and much more. Additionally, the interface is clean and easy to use." – Krystal G, Customers Experience Department Manager
This blog post has been re-published by kind permission of Scorebuddy – View the
Original Article
For more information about Scorebuddy - visit the
Scorebuddy Website