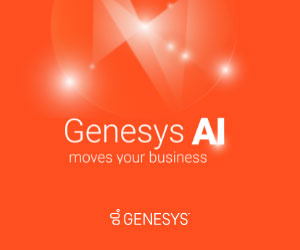 Genesys have announced that organisations using Genesys Cloud within the UK can now connect to the Amazon Web Services (AWS) Europe (London) Region.
This enables companies with compliance and security requirements to host their data locally while using the all-in-one solution and world's leading public cloud contact centre platform from Genesys.
In addition, this new offering ensures organisations can continue to adhere to UK data protection laws regardless of the legislative relationship between the UK and the European Union (EU).
Today, Genesys Cloud is available in nine AWS regions. The connection to the AWS Europe (London) Region is part of a broader recent global expansion, which also includes new connections to the AWS Canada (Central) Region and Asia Pacific (Seoul) Region.
Genesys Cloud's extensive data center footprint provides multi-national organisations with dispersed contact centres added flexibility, redundancy and scale. In addition to helping ensure data sovereignty, in-country data centers give organisations further advantages, including reduced data latency and accelerated communication with customers.
"In the event of a "no-deal" exit, customers in the UK can take comfort knowing they can continue using Genesys Cloud and meet local data sovereignty mandates," said Olivier Jouve, executive vice president and general manager, Genesys Cloud.
"The new connection to the AWS Region also makes it possible for even more organisations in the UK, especially those in highly regulated industries, such as healthcare, financial services and government, to move their contact centers to the cloud.
"Adopting Genesys Cloud puts organisations on the path to delivering Experience as a ServiceSM so they can provide truly personalised service to their customers on any channel with the added assurance that all data is secure."
"The security and protection of corporate data is increasingly governed by local regulatory and privacy requirements. The contact center is an example of where personal or commercially sensitive data needs to be managed to ensure it complies to these regulations," said Roy Illsley Chief Analyst at Omdia.
"As the cloud is increasingly used by businesses, where the data is stored is a critical concern. In the cloud contact center market, it is an obvious advantage for customers to have more choice in where data is stored so it is secured and protected according to local regulations."
With triple digit revenue growth over the last three years, Genesys Cloud has experienced progressive momentum worldwide. In 2019, the company added nearly 500 new Genesys Cloud customers.
In the UK, the company has significant traction with customers in financial services, telecoms, utilities and public sector, including AO.com, JPI Media, NSPCC and Northumbrian Water.
This stems from a track record spanning over 25-years in the UK providing contact center solutions to organizations ranging from enterprise to small-and-medium sized businesses. In addition, the company has an extensive partner ecosystem and employee base across the region.