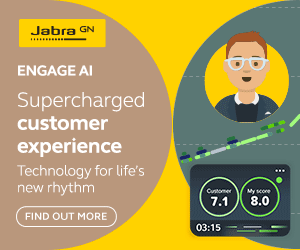 Holger Reisinger at Jabra explains that a major change in the way people work is here: Business leaders are considering new hybrid working arrangements for their organizations, which will fundamentally alter how, where and when employees work.
As with any large organizational transition, the way leaders communicate these changes and set expectations for their rollout will have a major impact on their company's success in the years to come. It will influence everything from productivity and innovation to employee satisfaction and hiring processes, all of which are crucial to business continuity and development.
However, recent data from McKinsey shows that performance on this front has been lacking. Though nine out of ten executives envision some form of hybrid working for their organization going forward, only one in ten have actually begun to communicate and pilot a new arrangement.
Whether due to disagreements among senior management or simply waiting to see how competition reacts, each day of indecisiveness means greater uncertainty about the future growth path of the organization.
Be Transparent and Inclusive When Experimenting With Different Models
Notice I said "pilot." Even for leaders that draw from the best data and latest insights, hitting a hybrid hole-in-one is unlikely; after all, rethinking the entire way we work is no small endeavor. For most organizations, the remainder of 2021 will likely be a period of trial and error, inching closer and closer to the perfect hybrid setup with every lesson learned.
A crucial first step — one that demonstrates your commitment to solving the issue — is to explain to employees that striking the right balance will require experimentation and thus will take time.
To limit any ambiguity in this process, set a timeline for the experimentation phases. For example, this could be a four-month period with monthly organization-wide updates on any changes to the plan.
But regardless of which cadence works best for your organization, instituting a practice like this does both you and your employees a favor: They know when to expect new information about their working arrangement, and you have the time you need to figure it out.
A final core aspect of this process will be inclusion. Data shows that employee inclusion in the planning processes of future work arrangements increases both their productivity and well-being. So, as you tweak your plan, be sure that any changes you make reflect their sentiments and lived experiences.
To do this, you can provide a medium (such as a survey or Q&A session) for employees to offer feedback on what works and what doesn't — and why! — alongside your periodic updates.
Set Remote and Office Expectations Early and Clearly
Remote work will be, to a greater or lesser extent, an integral part of any hybrid plan. So, for it to work effectively — for employees to be satisfied with the setup and for organizations to reap the productivity and real estate benefits — everyone needs to know that it is okay to work from home.
But as employees begin to come back to the office, the social pressure to be physically present will increase. Much of this is likely to be due to uncertainties about post-pandemic social norms or general FOMO.
However, many may also fear that by working from home more often, they will be missing out on valuable face time with leaders and decision-makers — which has been known to reduce the likelihood of advancement.
And based on the recent statements of several CEOs and business leaders, these fears are not unfounded. Either way, uneven representation of presence in the office can lead to discord and inequality among teams.
So much so, in fact, that some hybrid work experts are even making the argument that managers should pick which days their teams are in the office, so as to prevent diversity crises and inequalities from emerging.
For a hybrid setup to work, it is imperative that leaders clearly and regularly communicate the value set on office and remote work. To do this, concrete actions may need to be taken, such as fundamentally rethinking performance metrics to limit bias related to physical presence.
And finally, though the adage may be old hat, there is no better way for a leader to influence behavior than through leading by example. If you are in the office every day, most employees will likely follow suit. Similarly, that rule also applies if you work from home or if you mix your days between the two places.
Demonstrate a Continued Understanding of Home-Life Priorities
Employees report having greatly benefitted from WFH setups, specifically in the form of more time spent with family and on personal development. According to one study, 38% of remote workers even estimate that they save up to $5,000 per year due to a lack of commuting expenses. Because of this, they overwhelmingly want remote work options to continue.
As leaders begin to recalibrate for a hybrid future, a full consideration of employee home-life priorities will help strike a balance and ease the transition. So, when communicating your hybrid strategy to your employees, it is important to not solely highlight the business rationale upon which decisions were based.
Be sure to also clearly articulate that you understand the diverse and complex lives of your employees and have factored these into all considerations of hybrid work models. If you've properly surveyed employee sentiment and preferences around hybrid working setups, this data should already be at your disposal.
In general, leaders that display this kind of empathy and consideration for employees' lives outside of work are more likely to succeed in leading their organization into a hybrid future.
This article originally appeared on Forbes.com.
This blog post has been re-published by kind permission of Jabra – View the
Original Article
For more information about Jabra - visit the
Jabra Website