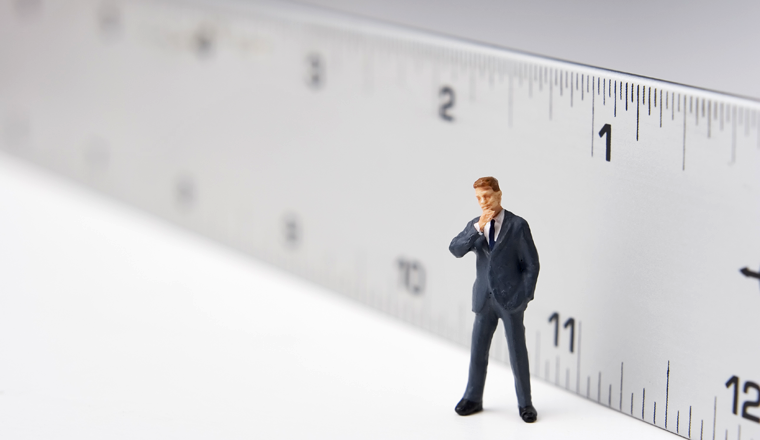 Many organisations measure their Customer Experience (CX) in the wrong way. Chances are, you are too.
So, what is it? How are you inadvertently thwarting your efforts to improve your CX?
It is how you measure it and it's one of the fundamental failures of many CX programs.
Measuring is a critical part of any effort to quantify progress (or failures) when you have a goal of improving your CX.
They not only let you know what you are doing right (or wrong), but they also create a clear goal for your organisation. And, it helps you determine how your people should focus their efforts and resources.
After all, a measurement is essentially telling your team this measurement is our clearest indication of success.
The challenge for CX programs is that you measure an intangible. How does one measure a concept? What does customer loyalty, customer satisfaction, customer experience or even "Happiness" look like on a chart or in an Excel sheet?
In other words, how do you link it to your bottom line?
We get this question a lot. The problem, for most organisations, is that they measure their performance in things like sales growth or margin or stock price.
However, these metrics don't work for measuring CX growth, at least not directly. These two indicators are too high-level, too general, and too difficult to translate into day-to-day actions of the team.
Moreover, how well it works to use these is dependent on what happens after you measure the growth.
To avoid this common metric pitfall, you should choose one that is not only accurate and linked to CX improvement efforts but also on that is actionable and defines the day-to-day work in no uncertain terms.
While it is always our goal to show growth in all of these areas with any recommendation we make in our global Customer Experience consultancy, we do not choose these areas as our indicators of success.
We prefer to measure CX performance on a metric directly related to how well your CX is delivering on your goals.
To that end, we recommend choosing a metric that delivers on these two concepts:
It reflects the CX you have defined that you want to achieve.
It selects an indicator that your new CX will return to your business.
Many tools exist to help you choose a measurement that reflects these two concepts.
When a CX delivers on Customer Satisfaction or even the nebulous concept of happiness, you can show it in no uncertain terms.
However, it is important to note that a moment in a CX can make a customer feel both satisfied or happy and still bring no value to your bottom line, meaning they neither develop customer loyalty or, in some cases, even make a repeat purchase.
As global Customer Experience consultants, we recommend avoiding this unhappy outcome that you focus on a few things that do create satisfaction and happiness AND yield benefits for your business also, aka the win-win.
Here are five more important tips related to choosing a valuable metric to measure your CX improvement success:
1. Get a Baseline for the Whole Organisation
When it comes to CX metrics, it is essential to apply them to the entire team, not just the customer-facing members.
That means you should include your finance department, your legal department, and any other "back office" departments in your measurement.
To skip this vital step is to sentence your CX program to a laborious route to success.
2. Invest in Real-Time Feedback on Your Results
Putting the metric in front-of-mind awareness is valuable because it helps keep the team's attention on the proper actions.
3. Give Your Reports Priority in Meetings
When there is a team meeting, the agenda shows what is most important to the organisation.
If sharing the findings is last on the list, what does that say about how serious you are about the results of the program?
Make it a priority to celebrate successes and discuss challenges in this area to communicate its importance.
4. Employ a Top-Down Strategy
When senior management gets involved in the discussion about measuring success, it demonstrates an authentic dedication to the cause.
Whether that means a dedicated day "on the front-lines" or brainstorming ideas to improve the program, top-down strategies lend more credibility to your agenda in CX improvement.
5. Re-assess, Re-evaluate and Refine Your Strategy
Your metrics will change as your performance does. So, don't be afraid to make changes and tweaks to your program and how it is measured.
As we always like to say, Customer Experience is a journey, not an event.
Furthermore, Customer Experience is dependent on customer perception, which is affected by trends and stories of the best CX out there, even from unrelated industries.
Therefore, regular analysis to ensure you are on-track with your program is essential.
We see it all the time. An organisation creates a robust Customer Experience improvement program but doesn't measure their success correctly. They keep the old standards of achievement and hope for the best.
This strategy is fundamentally flawed and makes it harder to succeed.
By choosing a tool that reflects a win-win for both your customer and your organisation that follows the desired outcome of your CX, you will likely be head and shoulders above your competition.
This blog post has been re-published by kind permission of Colin Shaw – View the original post
Published On: 24th Aug 2017 - Last modified: 22nd Sep 2017
Read more about - Archived Content
---