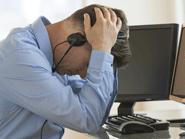 44% of industry professionals have named 'IT Issues' as a key barrier to running their dream contact centre.
A recent survey by Call Centre Helper, sponsored by NewVoiceMedia, asked over 600 members of the contact centre industry 'What barriers stop you from running your dream contact centre?'.
The findings revealed that budget (67%), IT issues (44%), the need for new technology (40%) and technology not being joined up (35%) are all being held responsible for stopping progress in the contact centre.
Management buy-in and staffing issues are also holding things back
It is equally apparent that a number of staff-related issues are holding back progress – with management buy-in (28%), not enough staff (25%), agent buy-in (17%) and lack of skills (15%) also being held responsible.
Download 'What Contact Centres Are Doing Right Now (2015 Edition)' to find out more.
---
---