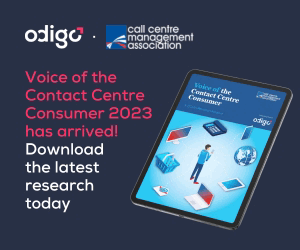 Neil Titcomb at Odigo explores how in the year of 2022, the fallout of the COVID-19 pandemic looks set to continue. The pandemic is still impacting business, as for many businesses, workers are still working remotely either some or all of the time.
For contact centres, particularly serving vulnerable customers, they must ensure that they keep on top of the latest trends so that they are not left behind, and their customers are not feeling let down.
These trends are all very significant as the pandemic years have piled on the pressure, with some businesses possibly already being left behind.
Research recently published by the Call Centre Management Association (CCMA) revealed that Britain is dealing with an epidemic of vulnerable customers, as 2 out of 3 adults in the UK fall into one or more vulnerable groups.
Contact centres need to be able to help, though they are already dealing with the energy crisis as well as servicing vulnerable customers, and by keeping on top of the latest trends, contact centres will be able to help themselves to build a stronger bond with their customer base.
Phone Interactions Will Still Remain
Phone interactions remain a very important part of the customer experience. This is in spite of the rise of digital interactions, self-service options and instant messaging. Contact centre agents will still need to be on hand to receive calls, as was shown during the lockdowns, in which a number of companies across a number of industries experienced a spike in call volumes.
While there are many things to indicate that digital interactions are set to completely take over CX, the increase in phone calls to contact centres show they remain important and beneficial to the customer experience.
In fact, phone interactions are working in tandem with digital forms of communication, self-service options like instant messaging and chat to provide the best experience possible.
The benefits of phone conversations are the familiarity of a human voice on the end of a line which can be invaluable to ensuring a customer receives and caring and empathetic.
The Agent Experience Is a Customer Service Trend
As well as the customer, it is important to focus also on the contact centre agent. While the needs of the customer come first, attention must be paid to the well-being and needs of the employee, particularly as working from home remains a fixture. Ensuring this is vital for retaining staff who work at contact centres and will be a great help in attracting new employees.
Connecting agents with one another, often in different parts of the world, allows them to have access to data and to one another as and when they require it. Modern CCaaS solutions are helping them to keep them connected by keeping up with trends. How so? By functioning as a workforce enablement tool for a geographically distributed team.
Agents can stand to benefit greatly from the technological advances in CCaaS. Mastering new technologies enables them to build on their already existing skills, and gain new ones, to supplement their interpersonal skills.
Working in tandem with modern tools frees an agent's time up, so they are not tied down in repetitive tasks. This will allow an agent's interactions with their customers to run a lot more smoothly as they have these tools, built on AI, at their fingertips, making for an improved CX.
This also improves the experience for the agent as well as the customer, hence why it will be a trend this year.
Channel-Less Is on the Rise
Modern technology allows records to be kept of all the interactions a customer has with your organisation, across different channels, as well as any other information relevant to their account and their needs.
The ability to do those things while providing a responsive and reactive customer experience based upon them makes all the difference in the world. A channel-less customer experience gives organisations the opportunity to be proactive with their customer service offerings.
A channel-less experience ensures that your agents will always appear both ready and attentive, whether real or virtual, irrespective of the channel being used for that particular interaction. This will inevitably form positive brand associations in the mind of your customers.
Taking these steps will help you to understand customers better and prevent issues such as customers having to repeat themselves whenever they get in touch to explain what their problem is. The by-product of this is customers can quite easily feel that they are not being heard, understood or even taken seriously.
For more information about Odigo - visit the
Odigo Website