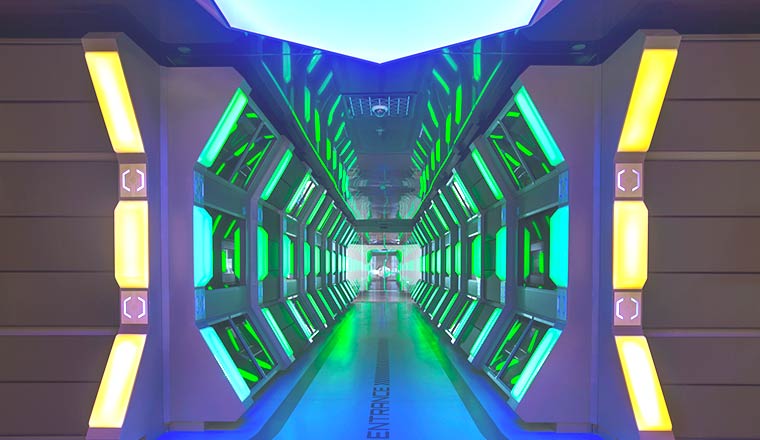 Tech companies in Silicon Valley know a little something about attracting the right people. But the secret isn't in their recruitment strategies — it's in their office space.
At ZaiLab, staff work in a… er, a spaceship. It's true.
As a software company, they need futuristic offices to be able to design a futuristic contact centre solution. But like most good stories, there's a little more to it than that. A helluva lot actually.
Attractive Office Space Attracts Talent
According to many research bodies (including the San Francisco Bay Area Planning and Urban Research Association, which includes Silicon Valley), attracting talent is a key driver in the design of 21st-century workplaces.
Think about it. In a digital world teeming with millennials, employees expect more from their work experience than just a desk and three designated breaks.
In the same breath, companies want their staff to come to work energised and ready to generate new ideas. Nowhere is this more important than Silicon Valley, where tech giants like Facebook and Google have their sprawling headquarters – campus-style office spaces which claim, like Disneyland, to be the happiest places on earth.
These companies know the importance of an attractive workspace. So, does ZaiLab's CEO.
When he first envisioned his software company, ZaiLab commander in chief Nour Addine Ayyoub knew that to attract the right people, his office space needed to be truly special.
The result has to be seen to be believed.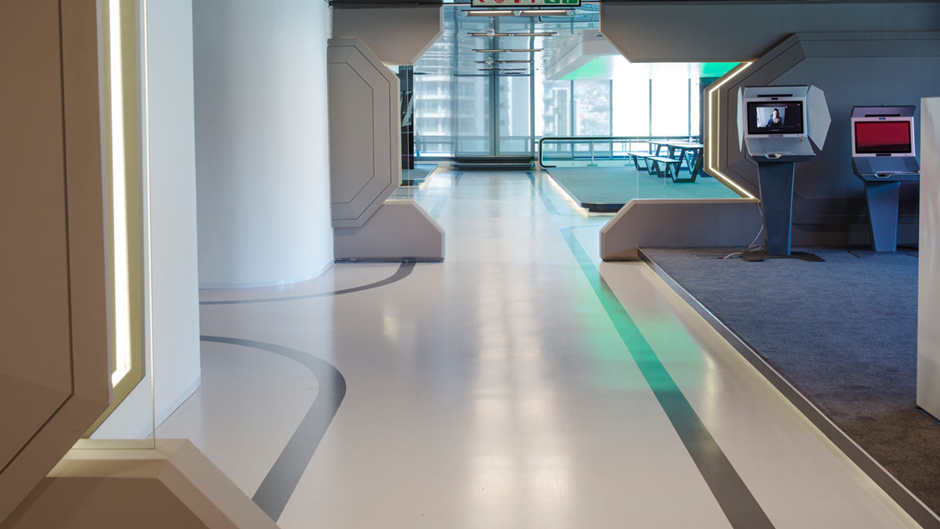 The Spaceship in the Sky
Nour Addine conceptualised a futuristic office space inspired by sci-fi films such as Oblivion and Tron, located on the tenth floor of the 450-foot-tall Portside Tower in Cape Town.
Design elements include custom-built panels that separate each section of the office, glass-encased meeting rooms bathed in a reactive phosphorescent glow, and Tron-style lighting throughout. Even the desks and chairs were designed to suit the spaceship theme.
Nour Addine wanted not only to attract the right people but also to inspire creativity. "In the software industry people work hard," he says, "and I wanted an attractive workplace that would make them excited to come in every day and do their best.
"Because I invest in my team, they are creative and productive. In that respect it's the best investment you can make."
The office even has a 55-inch touchscreen inspired by the Sky Tower light table from the film Oblivion. It's pretty cool. Software developers think so too. ZaiLab should know, they have a lot of them.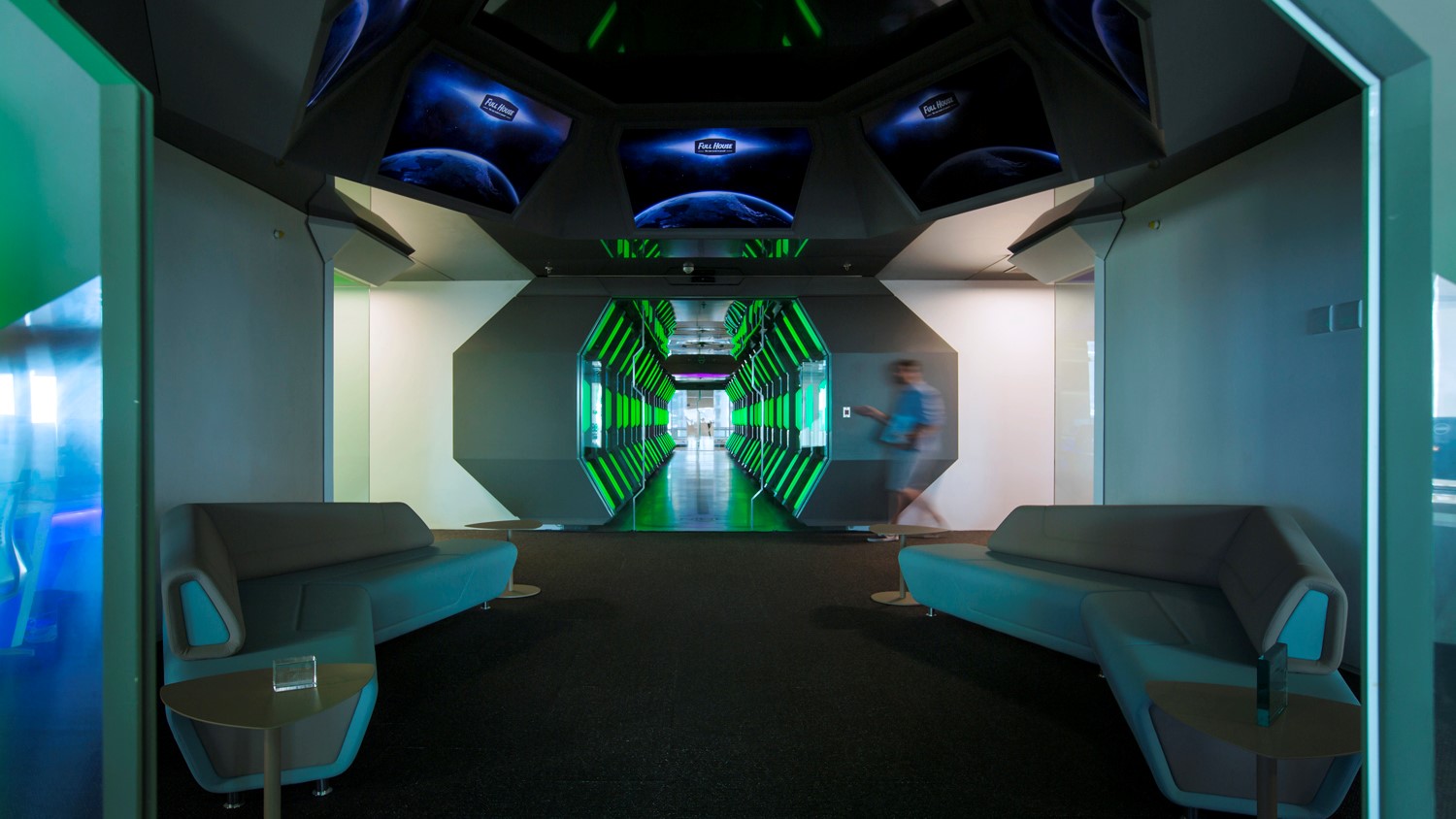 Design Matters
According to a Steelcase global report titled Engagement and the Global Workplace, employee engagement correlates with workplace satisfaction, which in turn is influenced by workplace design.
A significant 95% of respondents to the survey said office furniture played a direct role in their engagement and satisfaction scores and, interestingly, 98% said lighting did too.
In fact, lighting can actually influence optimism. Who woulda thought?
At ZaiLab, staff exit the lift on to hangar-style corridors – illuminated by neon LED panels and lined with monitors screening videos and celestial imagery – before entering the futuristic open space environment through doors that glide open soundlessly.
Oh, and the meeting rooms change colour, which – ZaiLab can say from experience – makes their staff endlessly happy.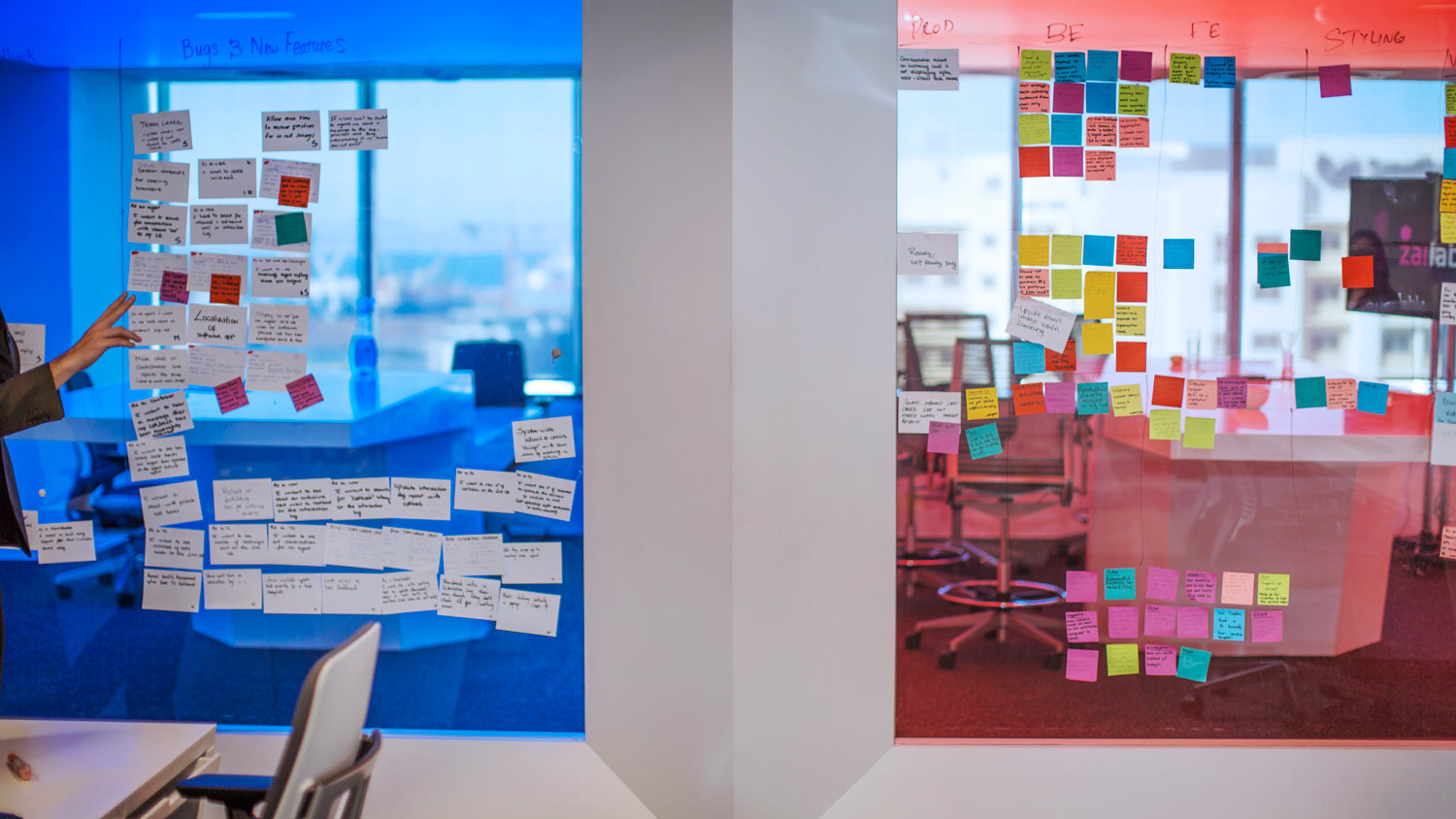 Hot Desking and Flexible Teams
Hot desking essentially means an office layout where there are no assigned seats.
In the Steelcase report, 88% of respondents who viewed themselves as highly engaged and satisfied said they could choose where to work in the office based on their tasks, and 98% said they could move around throughout the day.
Over and above the cool spaceship desks and Tron lighting, ZaiLab adopts an agile approach to how teams operate (another Silicon Valley secret).
Workspaces are flexible, so staff can move around according to where they need to be. In fact, ZaiLab has over 150 computer monitors that staff can take over as they wish, not to mention soundproof focus chambers and collaboration rooms.
The software company is not the first to have cottoned on to the merits of using workplace design to kickstart innovation and collaboration. Architecture and design firm Gensler published a workplace survey that found that a workplace designed to enable collaboration without sacrificing employees' ability to concentrate on their work was the most successful kind.
It's all about finding the balance and giving staff a choice of where they'd like to sit, work and play.
ZaiLab know this, which why their office layout is open-plan, but also flexible. And trust us, it works. Without fixed workstations, team members can move around easily where their skills are required.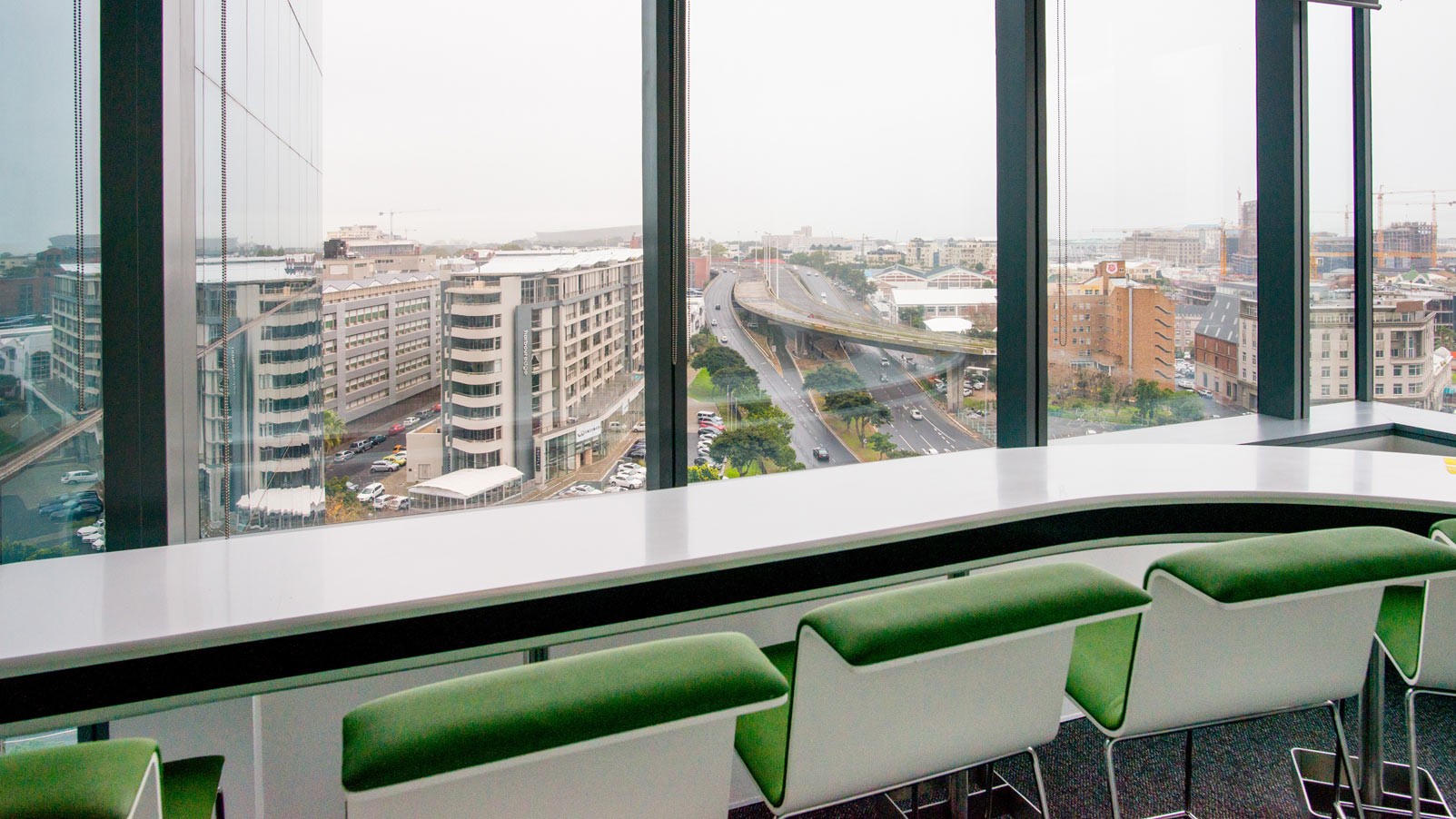 The Strategic Coffee Machine
The geniuses at Google have adopted the office-campus philosophy where no part of the office is more than '150 feet from food'. Staff are encouraged to 'snack and chat', which in turn increases the chances of collaboration.
ZaiLab have designed a top-notch cafeteria where staff can eat together, or simply hang out for exactly that reason.
"We wanted to create an atmosphere that would encourage chance encounters and idea generation," says ZaiLab's resident solutions architect, Kornel Steyn. "The idea was to create a place that people would want to work, and be comfortable in."
The gloriously illuminated kitchen features a barista-style coffee machine, which staff are encouraged to use as much as they like. It's ZailLab's version of the water cooler.
And, despite the fact that the building is in the heart of gourmet central, the coffee is so good staff don't need to trot down to Jason's Bakery to get their morning fix.
ZaiLab have also taken care of lunch, and offer bottomless popcorn with all the toppings. (Though to the colleague who puts tomato sauce on his – yes really.)
So, while the city dentists may not be happy, the staff certainly seem to be. And ZaiLab believe that the return on this investment is evident in their software. Not only do they consider their staff to be the best of the best, also believe they're dedicated, motivated, constantly exchanging new ideas, and, best of all, loyal.
So yeah, workplace design is key to attracting the right people, retaining that expertise and encouraging innovation.
And let's be honest. Who wouldn't want to work in a spaceship?
This blog post has been re-published by kind permission of ZaiLab – View the original post
To find out more about ZaiLab, visit: zailab.com
---