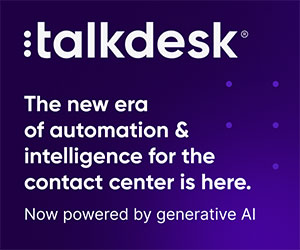 Diogo Vasques of Talkdesk discusses how you can turn the switch to remote working into an advantage for your contact centre.
A few years ago, a marketer named Scott Brinker coined the term Martec's Law to explain the dissonance between technology's exponential rate of evolution and the slower pace at which organizations change.
The result? A gap that widens over time until companies fall so far behind that they need to completely overhaul their technology stack in order to support modern operational needs.
Usually, this happens gradually, but every now and then, a major catalyst accelerates this process by compelling organizations to adapt in order to survive.
The COVID-19 pandemic is one such event. According to a PWC survey in June 2020, 39% of US office workers were not working from home in any capacity prior to the pandemic.
When it became evident that the virus could not be contained, the need for social distancing to protect the health and safety of employees saw companies embark on a massive and unprecedented remote work experiment.
According to a recent survey by JLL, 71% of the global workforce worked from home at some point during the pandemic. The contact centre industry witnessed a similar trend: US agents working full-time from home rose from 49% to 74%, according to Nemertes research.
Seeing the Glass Half-Full
There has long been a prevalent degree of scepticism towards remote workforces, driven by concerns related to lower productivity, lack of oversight and operational challenges.
However, the recent mass adoption of remote work has provided strong evidence to the contrary. A recent survey by Korn Ferry found that 64% of workers feel they are more productive at home.
It's becoming increasingly clear that not only is remote work a viable permanent option, it also offers significant advantages to contact centres.
These benefits include reduced real estate costs, a larger, more geographically diverse talent pool to hire from, the potential to expand service hours without increasing overall headcount, and an overall higher quality of life for agents that can boost employee engagement.
Many customer service leaders quickly grasped the positive potential of remote work, which explains why a Gartner survey from April 2020 revealed that 80% of customer service and support leaders planned to increase long term work-from-home (WFH) programmes.
Reap the Rewards by Optimizing Your Remote Contact Centre
In the early days of the pandemic, companies had to quickly adapt and transition their customer service agents to a remote work environment. From a technology and operational process perspective, this was a complex endeavour that required agile decision-making.
However, at the time, the main priority was to keep the lights on and avoid major service interruptions that could impact customers.
Now that companies have addressed their immediate needs, it's time to create a strategic long-term plan to reap the rewards of a remote or hybrid contact centre. So, what's the first step?
Understanding the common pain points that could prevent your remote contact centre from reaching its full potential, then addressing critical gaps in your technology infrastructure, operational processes and employee experience.
This blog post has been re-published by kind permission of Talkdesk – View the
Original Article
For more information about Talkdesk - visit the
Talkdesk Website