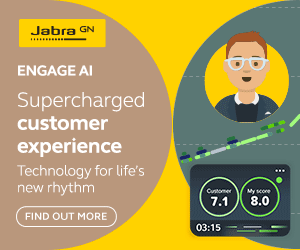 In Hybrid, We Build Relationships Virtually
The way professionals work is rapidly changing: 63% of employees globally now say that hybrid work is their ideal way of working.
And with that shift, 80% of meetings are now virtual, with only 20% happening fully in person. Managers, salespeople, and other highly collaborative employees must begin to think about how this transition to video impacts their working relationships.
Being Professional on Video
Since the start of the pandemic, work in many ways has gotten less formal, and the codes of professionalism are being rewritten in a new set of virtual-first practices.
And while we still put a great deal of effort into making ourselves presentable to boost our reputation with our colleagues, get that next promotion, or crush that big presentation, the audio and video technology we use to access our virtual workspaces plays a major role in defining our professionalism.
Video Has the Power to Strengthen Our Relationships
For collaborative employees, relationships are everything. In a joint study from Zoom and Forbes Insights, 97% of executives said that videoconferencing helps improve the sense of connectedness amongst remote workers, ultimately concluding that video provides "greater intimacy in working relationships – both internal and external," as well as "superior communication and understanding."
Frame the Way Others See You
As University of Virginia Darden School of Business Professor Laura Morgan Roberts sees it, if you aren't managing your own professional image, others are.
"People are constantly observing your behavior and forming theories about your competence, character, and commitment, which are rapidly disseminated throughout your workplace," she says. "It is only wise to add your voice in framing others' theories about who you are and what you can accomplish."
In a world of video meetings, adding your voice also means adding your image.
Present Yourself in Your Best Light with Intelligent Video
There's no going back to the pre-pandemic, pre-virtual way of working. In the new normal, we see the world and one another more frequently through a lens.
In order to evolve our professionalism and strengthen our relationships in the hybrid era, it's important for that lens to be powered by intelligent technology that adjusts for poor lighting, keeps you centred in frame, and provides the best video quality available.
So, the next time you go into that important meeting or presentation, take back control of the way others perceive you.
This blog post has been re-published by kind permission of Jabra – View the
Original Article
For more information about Jabra - visit the
Jabra Website