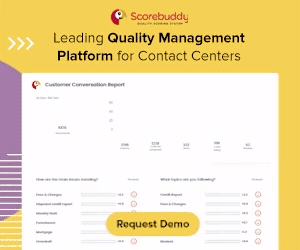 Working as a call centre agent is a mentally and physically demanding job. It is more complicated than it appears to be to spend hours attached to a phone and chatting with emotional customers. Agent churn is one of the most typical problems in contact centres.
The majority of agents do not stay for longer than a year. However, the company's turnover rate is always higher than average, costing it money and effort. This article is a practical guide on minimizing agent churn in call centres.
11 Steps for Minimizing Agent Churn
The enterprise and its management team can control most issues that cause agent churn in call centres.
We know that missing agents impair the operating flow, so it is critical to take the necessary procedures regarding this issue.
It also takes a lot of time and effort for the organization to hold a hiring drive to keep the slots filled. Treatment of the fundamental causes of agent churn is the optimal option.
Call centre managers can take some fundamental steps to reduce agent churn for their employees. So let us take a closer look at them.
1. Build a Reliable Company Culture
Reliable and robust business culture can help you attract the best employees and quickly communicate the organization's goals and values to the agents.
Call centre agents require a well-defined business culture. Building a solid business culture will help the company become where agents desire to work.
The company culture affects how employees communicate and collaborate within the firm.
To provide a consistent client experience, remote call centre operators must be able to interact and collaborate while working from home.
2. Have Perfect Hiring Practices to Reduce Agent Churn
The first step in reducing agent turnover is to hire the right people. A straightforward solution is to develop a referral program that rewards existing agents for referring qualified candidates.
Experienced agents are excellent judges of whether or not someone is a suitable match for the position since they have direct knowledge of what is going on in a call centre.
Create an ideal profile for a customer service agent, including the personality traits, qualities, cultural fit, and attitudes that a successful agent should have.
You can arrange your hiring and interview strategy to locate a suitable fit once you have mapped out the ideal prospect.
The ideal agent profile can be changed to incorporate attributes such as autonomy, values, and self-motivation for remote agents.
3. Train Customer Service Agents
Training is so crucial for minimizing agent churn in call centres. It equips employees with the knowledge and abilities to provide excellent customer service.
Customers interact with agents that do not know what procedures to take and cannot give an exceptional customer experience when training is rushed.
It invariably leads to bad customer experiences, increasing agent churn and stress, and increasing turnover risk.
Even if clients do not react negatively to agents who fail to give positive customer experiences, agents who discover they are not effectively trained for the task may feel insufficient and dissatisfied with their job performance, leading to a turnover.
4. Analyze the Cause of Agent Churn
You have to find out why customers decided to leave. The easiest way to do this is by talking to them.
The best and most straightforward solution is to call your customers. In this manner, you can show that you actually care and quickly figure out what went wrong.
Over 68 percent of customers leave a brand or company because they think the company does not care about them.
Do not just send the customers exit surveys; it is better to call them and ask why they left. Instead, it gives you immediate feedback on whether or not your product solves the customer's problems or causes trouble.
Communicating with customers has excellent effects when assessing agent churn in call centers.
It would help if you used all communication channels like phone, e-mail, live chat solutions, websites, and social media. In addition, they may provide excellent feedback on how successfully you serve your clients.
5. Educate the Customers Too!
We talked about training agents, but educating customers on some matters is also important. You have to provide enough quality educational materials to help increase retention and reduce churn.
Offer free training, webinars, or video tutorials, whatever it takes to make your customers feel comfortable and informed. In addition, you should provide them with education and practical tools for using these things profitably.
You will be able to show off the full potential of your products and services while also ensuring that consumers enjoy a smooth onboarding.
Another strategy to reduce agent churn is to keep your consumers engaged with your products, services, deals, and other offerings.
Give your customers reasons to return by proving the value of utilizing your products daily by incorporating your services into their daily routine.
6. Have Clear Metrics in Place to Reduce Agent Churn
Metrics bring helpful insight into the quality of the customer experience. Still, given the growing adoption of AI and automation technologies, the call centre's quest for continuous improvement will need to be examined with different paradigms and lenses.
Contact centres must look beyond limited cost-cutting KPIs and consider the economics of running the contact centre as a whole.
It is most apparent in average handle time (AHT) as a measure of agent performance.
A conventional view might look at the metric as one that always needs to decrease. However, new technologies show that we should look at this metric differently.
When consumers' callback satisfaction drops and costs rise, the first-contact resolution statistic becomes extremely valuable.
It is harder to measure than something as simple as average handle time is, but it is where the idea is put to a practical test.
Given technological developments, AHT may arise, and we should examine several indices of agent performance.
The ubiquity of mismatched metrics in call centres is most evident in how agents report misusing them.
Whereas customer surveys are biased, and agents are known to guide positive and receptive consumers to fill them out, emerging technologies in voice sentiment could provide another approach to assessing agent satisfaction.
Instead of oversampling in a few surveys, voice sentiment analysis might be used to audit all customer calls, providing a complete picture of what customers are experiencing.
7. Simplify System Complexity for Agents
As agents continue to operate in a complicated environment with poorly designed systems that are difficult to use, they become more overwhelming. For example, almost 44 percent of agents believe that technical innovation lags behind the times.
The cognitive bandwidth of the human agent must be considered; however, human agents will always be involved in solving complex problems.
However, given the advance of IVRs and chatbots, more of the agents' mental load will be spent on the more challenging problems.
It can affect how much an agent absorbs in a given amount of time. For example, agents reported feeling more motivated when tackling simple customer problems instead of difficult ones, implying a balance in how they manage their day.
Tipping points in cognitive anxiety have the potential to spread throughout the contact centre.
8. Empower Agents to Handle Agent Churn
Contact centre agents face aggression from demanding customers. About four out of every five agents report experiencing verbal abuse during their careers.
Agent jobs are intellectually demanding and thankless, and aggressive customers cause anxiety and tension to spike.
We should strive to please customers at all times, but furious customers who refuse to seek redress are changing the "customer is always right" ideology.
Empowering agents to deal with challenging situations and upset customers is critical. For example, a business policy allowing agents to end calls with aggressive customers was requested by nearly 78 percent of agents.
9. Pay Attention to Complaints
Complaints are like tips of the icebergs; they suggest that the more significant part of the problem is hidden from the view.
You should take complaints seriously and respond to them. Prevent customer churn because disgruntled customers who get their issues addressed are more likely to stay loyal and even become advocates than other consumers.
10. Provide Communication Tools to Reduce Agent Churn
Even though an agent has had extensive training, they may come across a scenario that necessitates the assistance of a more senior colleague.
The traditional call centres were not set up that way; instead, they were silos where agents could not quickly turn to their colleagues for help.
As a result, they could not get the information customers needed, which led to low customer satisfaction and frustrated agents.
Collaborative communication technologies can help with this. These tools allow agents to collaborate with colleagues outside of the contact centre to provide exceptional customer service.
Agents may feel lost and overwhelmed without the necessary tools and training, resulting in a poor client experience.
When the customer experience deteriorates, agents are faced with an increasing number of dissatisfied consumers, resulting in low morale.
Call centre agents might feel more capable of managing customer problems with the right collaborative communication tools.
They also devote less time to inefficiencies and tiresome chores. As a result, remote workers can benefit significantly from collaborative communication solutions.
Agents may acquire the information and guidance to manage consumer situations quickly and efficiently by interacting with others.
Agents need remote-specific training to know how to use their contact centre tools and where to find resources to fix customer issues.
Overall, the right tools and training boost agent morale, improve customer satisfaction, and lighten the strain.
11. Provide Feedback and Recognize Efforts
The cogs of the great wheel are agents. Agents are usually overlooked in contact centres, even though their efforts are the driving force behind growth.
They are obligated to complete their tasks without interruption, and it is preferable to acknowledge and appreciate their efforts.
Kindness and praise will create a great work environment where employees want to stay and flourish.
Aside from acknowledgment, providing feedback is critical for an agent's development. Team leaders must always provide both positive and negative feedback to grow.
Instead of the Customer First approach, companies should strive for the Employee First approach. If you solve agent churn in the call centre and motivate your agents, they eventually make the customers happier. Once agents join your company, train them and onboard them with utmost care.
A healthy employee relationship will result from nurturing them initially until they settle in as they progress in their careers, mentoring, and equipping them to give the organization their best.
By investing in your employees and providing them with the tools they need, you'll help them work harder, ensure your business's success, and decrease agent churn.
For more information about Scorebuddy - visit the
Scorebuddy Website