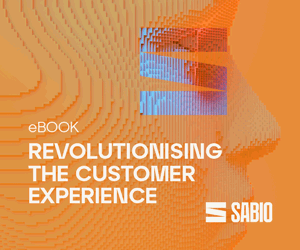 Derek Forrest at Sabio Group looks at what is on offer and what to consider when moving your contact centre to the cloud.
While a number of innovators and early adopters have seized the initiative and embraced a rapid transformation to cloud contact centres, the reality remains that the vast majority of organisations are still trying to establish just exactly what their cloud contact centre journey might look like.
That's completely understandable. There are many difficult challenges to consider, like trying to define exactly what constitutes success for a cloud contact centre journey, how to set about actually unlocking cloud innovation, and also balancing the benefits of moving to the cloud while still weighing up potential risks.
Too Many Choices?
Any transformation is difficult, and one of the biggest challenges with transitioning to a cloud contact centre is one of choice.
There's a vast array of providers out there who are all keen for you to embrace their technology – each with seemingly compelling claims that their solution or approach will resolve all your business challenges quickly.
The good news is that most vendors in the market have something to offer in this space, but the less good news is it's dependent on you to make all the right choices here. A frequent mistake, however, is not to reflect on all aspects of such a move.
For example, are you able to rely on real world customer service data that you can collect, consume, and analyse for yourself?
You'll need this if you are to succeed in aligning your business objectives to the offerings provided by today's many solution providers.
So What's on Offer?
Okay, so what options are available to you? At a more macro level, you can consider three main options: public Contact Centre as a Service (CCaaS), a private cloud solution, or a more customisable public programmable dev-ops style approach.
Key characteristics for each approach include:
Public CCaaS – for smaller contact centres, start-ups, digital-first operations, typically pre-packaged solutions with transactional costs
Private Cloud – for organisations with voice-critical service, operational maturity, high levels of regulation, dedicated architecture, higher levels of complexity
Public Programmable Contact Centre solutions – core dev-ops approach for organisations that want to build it themselves and customise everything, continuous development, data-driven, ideal for Internet voice traffic
A public CCaaS solution offers a contact centre platform that's delivered on a centralised fabric – providing a feature-rich fit, frequently refreshed capabilities, and a simple per user per month pricing model.
The private cloud approach provides a secure environment that's provisioned on a dedicated infrastructure to ensure all the benefits of a bullet-proof solution that you would expect from your on-premise environment.
Finally, the public programmable approach comes without the overhead of complex estate management. This enables you to build your own highly customisable cloud native contact centre that's designed and built with flexibility in mind for both you and your customers.
Either one of these three approaches could be right for your business, while it's also possible to opt for a hybrid solution that allows you to stay ahead with regards to innovation while minimising the risk to the rest of your core contact centre operation.
Clearly there are a range of vendors that offer cloud contact solutions, but it's important when making a choice that you focus in on best-of-breed solution providers that demonstrate innovation and a proven track record in evolving their portfolio.
For more information about Sabio - visit the
Sabio Website