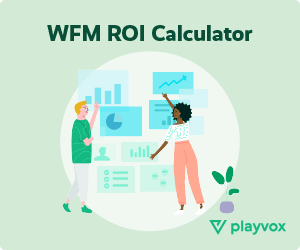 Delivering exceptional customer experiences is the new competitive advantage. In fact, it's now the last remaining way to gain a sustainable edge, since traditional sources of differentiation – including price and product – quickly erode with the rapid pace of digital information flow.
While it's hard to argue against the importance of delivering great CX, it's also all too easy to assume that the experiences your contact centre delivers are up to par simply because you are handling interactions efficiently. This is not necessarily true.
Until you start measuring customer experience, you could easily be falling behind the competition. What's worse, without customer experience metrics in place, is that you won't know until it's too late. At that point the impact of customer frustration will already be hurting your bottom line.
If you take the journey from providing good enough customer service to delivering great experiences, and measure your progress with actionable customer experience metrics, you'll be able to stay ahead of the competition.
You'll be able to create happy, loyal customers who want to spend more money with you, while at the same time enjoying positive brand equity and a lower customer acquisition cost.
What Makes a Great Customer Experience?
Before we map the journey of measuring customer experience, let's define what we mean by great CX.
CX refers to all of a customer's experiences with a company, both online and off, for the entire lifecycle of the relationship. Contact centres play a pivotal role in this equation because interactions are frequently the human face of the brand to the customer.
How well these interactions go can make or break the relationship and determine whether the customer continues to do business with you.
A great customer experience is commonly understood to mean that the customer's problem is solved in a way the customer perceives as effortless. What's more, customers expect to have a consistent experience where they are recognized across all interaction channels — whether digital, in person, or voice.
But to get to this level of service excellence, you may need to rework contact centre operations to focus on enhancing CX. Simply providing an acceptable level of customer service while containing costs is no longer enough.
In the age of digital disruption, customers now expect effortless and personalized omnichannel experiences, or they will likely take their business elsewhere.
As you begin your journey to measuring customer experience, it's useful to learn from the examples of CX leaders that have built their brands based upon CX excellence. A few examples can be found here.
You can't manage what you don't measure, so you need to capture customer experience metrics to understand how they evaluate their interactions with your brand.
Why Some Moments Matter
Why do the experiences your contact centre delivers to customers have such a massive impact on your ability to grow your business and remain profitable? Unpacking the types of customer interactions contact centres handle provides key insights.
The bulk of inquiries contact centres receive are for routine matters such as making payments and checking account balances. For these, customers expect and appreciate well designed self-service options, with the option of shifting to live service if needed.
What's more, businesses that provide effective access to digital channels, as well as voice, are rewarded for the convenience they provide customers.
You want to measure customer experience to ensure your routine interactions minimize friction and frustration. But it's even more important to do so when the interaction has the potential for heightened emotions, such as receiving financial advice or making an insurance claim.
Here the stakes are high. Industry researchers and analysts refer to these interactions as moments of truth, due to their ability to make or break the customer relationship.
Customers that have positive experiences during moments of truth are typically transformed into loyal brand ambassadors who are not only open to purchasing more products and services from you, but will recommend your business to friends.
By contrast, customers who experience frustration during these moments may not only take their business elsewhere, but are also liable to broadcast their grievances with negative impacts on your brand's reputation and revenue.
What Are the Benefits of Improving the Customer Experience?
Measuring the customer experience makes it easier to ensure that both your routine interactions and the moments that matter meet and exceed customer expectations. In fact, a myriad of industry studies demonstrate businesses that improve their CX enjoy:
Increased customer retention
Higher average customer spend
Increased customer lifetime value
Improved customer loyalty
In short, providing great CX directly impacts your bottom line to cultivate happy, loyal customers who spend more money over the lifetime of their relationship with your company. For example:
According to Forbes, 73% of consumers say a good experience is key in influencing their brand loyalty.
86% of buyers will pay more for a great customer experience.
Customer-centric companies are 60% more profitable than companies that don't focus on customers.
What Are Customer Experience Metrics?
Ensuring that your company is providing a great CX is a journey that starts with the first step of understanding the purpose of customer experience metrics.
This requires going beyond traditional contact centre metrics such as service level, average time to answer, and average handle time. The goal is to gather feedback derived from customers' subjective perceptions, evaluations of your brand, and their interactions with your staff.
You can then choose the customer experience metrics you'd like to gather. We recommend you start with the following:
Net Promoter Score (NPS) – customers rate how likely they are to recommend your business to a friend or colleague
Customer Satisfaction (CSAT) – customers rate their level of satisfaction. You can then take the right actions to improve the customer experience.
Customer Effort Score (CES) – customers rate how easy they find doing business with your company. You can identify hidden friction points in the customer journey and take powerful steps to improve.
You can collect these metrics by putting a customer feedback plan, otherwise known as voice of the customer (VoC) program, into place. You'll then be able to establish a baseline for your contact centre performance, and create new processes, procedures, and targets for improvement.
To take your customer service to the next level you can unite your customer feedback program with a quality monitoring program. This will allow you to gain a better understanding of your CX then automate your corrective actions.
You'll be able to identify any performance gaps and provide agent coaching and motivation tools, forecasts, and schedule more effectively, and even reward team members who provide exceptional customer experiences.
This blog post has been re-published by kind permission of Playvox – View the
Original Article
For more information about Playvox - visit the
Playvox Website