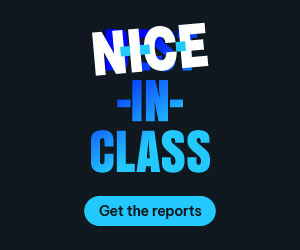 NICE has been named a Leader in the Ventana Research 2023 Buyers Guide for Contact Centres, out of 21 vendors evaluated.
NICE ranked first overall among the vendors, receiving the highest overall ranking in contact centres and the highest overall scores in product experience, capability, reliability, usability, and TCO/ROI.
NICE was placed in the Exemplary category, representing vendors that performed the best in meeting the overall Product and Customer Experience requirements.
The Ventana Research 2023 Buyers Guide for Contact Centres stated, "Going forward, we expect that contact centre technology will differentiate on factors like the availability of APIs to connect more dispersed tools, on ease of integration and administration, and on the ability to automate more processes across the customer lifecycle.
This evaluation pays special attention to these factors, as well as to the ways in which vendors use modern artificial intelligence (AI) to improve performance across their platforms."
NICE's cutting-edge CXone platform underpinned by Enlighten AI, NICE's core AI engine, enables organizations to scale up operations on a secure cloud platform. CXone is the most secure foundation for superior orchestration of all possible customer journeys.
CXone makes it easy for organizations to transition to the cloud, offering a multipath approach and ensuring that organizations migrate at their own pace. CXone delivers hundreds of APIs in its open cloud platform, letting organizations simplify their tech stack onto a single, all-in-one platform.
Barry Cooper, President, CX Division, NICE, said, "Rapid digitalization in recent years has completely transformed the customer experience landscape.
As organizations now need to engage their customers on a variety of digital and voice channels, journey orchestration has become a top priority.
NICE has responded to the changing dynamics with CXone, a single, open cloud-native platform underpinned by Enlighten AI, which enables organizations to provide excellent, next-generation customer experience.
This recognition from Ventana Research highlights NICE's ongoing commitment to providing the latest, AI-powered contact centre solutions for organizations."
Keith Dawson, Vice President and Research Director for CX at Ventana Research, said, "NICE's decades of experience in the CX space have allowed the company to easily navigate the new AI era and innovate to create the solutions organizations are seeking for their customers.
NICE's CXone platform is just one example of NICE's industry dominance and the steps the company takes to ensure only the best for its customers around the world."
This blog post has been re-published by kind permission of NICE – View the
Original Article
For more information about NICE - visit the
NICE Website