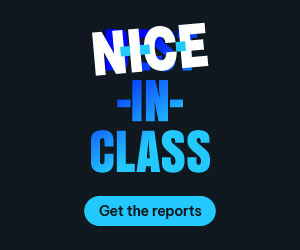 NICE has announced that it has been named a Leader in Ventana Research 2023 Buyers Guide for Agent Management, receiving the highest ranking for overall agent management and scoring the highest on product experience out of 12 vendors evaluated.
NICE also scored the highest in capability and TCO/ROI. Ventana Research categorizes Leaders as Exemplary, performing the best in meeting the overall product and customer experience requirements.
The Ventana Research 2023 Buyers Guide for Agent Management states, "Providing agents with the tools they need to improve the customer experience can improve the agent experience.
Agents who feel empowered by their tools rather than at odds with their technology are more likely to deliver better customer experiences and will be less frustrated, fatigued and burned out.
Furthermore, modern systems can provide performance analytics to deliver up-to-date information to the agent on their performance and suggest areas for improvement."
NICE infuses Enlighten's purpose-built AI across the CXone platform, streamlining workflows across digital and voice interactions and elevating the agent experience.
Powered by Enlighten, CXone Supervisor Workspace enhances visibility across all touchpoints and monitoring capabilities, guiding supervisors' attention to where it's needed most and providing coaching opportunities to pinpoint areas for agent performance improvement.
NICE also provides the industry's leading AI-powered WFM solution, using AI to optimize agent scheduling and forecasting, allowing agents to self-schedule while still maintaining the staffing needs of the business.
Earlier this year, NICE also launched Enlighten Copilot, offering agents a by-their-side conversational AI experience, empowering agents with AI-driven personalized coaching and offloading repetitive tasks, pushing agents to deliver exceptional customer experience.
Barry Cooper, President, CX Division, NICE, said, "This recognition exemplifies NICE's commitment to both the customer and agent experience.
Both are equally important for brands looking to differentiate themselves from their competitors.
NICE is using Enlighten AI to augment the agent experience, delivering powerful data analysis into agent performance and using AI to guide agents during interactions to lead to a faster resolution.
We are proud to be recognized by Ventana and will continue to innovate with AI to provide agents with the cutting-edge tools they need to be more effective."
Keith Dawson, Vice President and Research Director for CX at Ventana Research said, "The agent experience has a direct impact on customer experience and thus it is essential for organizations to provide their agents with the tools to deliver exceptional customer experience.
AI is expanding the capabilities of the tools available to agents, enabling agents to achieve the best possible outcomes. NICE continues to innovate in this space, using the latest technology to develop next-generation solutions to elevate the agent experience."
This blog post has been re-published by kind permission of NICE – View the
Original Article
For more information about NICE - visit the
NICE Website