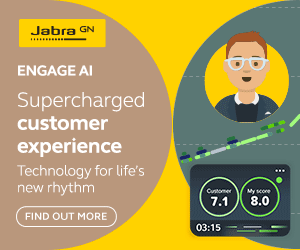 Noisy offices take a toll on all of us. But people with hearing loss are uniquely affected. Whether it's struggling to hear their colleagues or have a phone conversation, hearing-impaired people are often at an extra disadvantage in the workplace.
It doesn't help that sometimes hearing aids can actually amplify background noise, making things even worse.
Fortunately, there are headsets that can help hearing-impaired wearers conduct calls in a better, more noise-free way. But finding the right headset or pair of headphones is challenging enough as it is. If you're using a hearing aid, you have a few extra considerations:
Speaker placement: If the headset's speaker doesn't sit properly over the hearing aid's microphone, the wearer might not hear any audio at all.
Audio feedback: On the flip side, if the speaker is too close to the microphone, you may get that nasty ringing noise from audio feedback. Definitely not fun.
Physical fit: Finally, the mere presence of a hearing aid can make headsets impossible to fit comfortably on the ear.
But there's hope. Let's explore the options you have as a person with hearing loss.
Types of Conventional Office Headsets for the Hearing Impaired
The type of headset you can use will largely depend on your level of hearing loss and what kind of hearing aid you wear.
If you don't use hearing aids
If your hearing loss isn't severe enough to warrant a hearing aid, you can pretty much freely pick any of the available office headsets on the market. Still, to reduce background noise and make your conversations more intelligible, consider getting a headset with both passive and active noise cancellation.
If you use hearing aids
Hearing aids come in an impressive range of wearing styles, from the tiny IIC (invisible in-the-canal) to the bulkier BTE (behind-the-ear). Broadly, they fall into two categories: those that fit fully inside your ear and those that have a unit tucked externally behind the ear.
For the first category, you have more options. Most on-the-ear and over-the-ear office headsets should work. To avoid the issue of audio feedback, try to make sure the headset speaker sits at least 1 centimetre from the hearing aid's microphone.
The second category is a bit more limiting. You probably can't get an on-the-ear headset to fit comfortably, as it'll be pressing on the BTE unit of your hearing aid. Also, it'll be hard to keep the 1 centimetre distance between the headset speaker and the microphone of the hearing aid. As such, your main options are over-the-ear headsets that fully encompass the hearing aid and block out background noise.
Are Bone Conduction Headphones Good for the Hearing Impaired?
Bone conduction music headphones bypass the eardrum and are a viable option for certain categories of people with hearing loss. They rely on vibrations sent directly to the cochlea and can also offer a better fit for some hearing aid users.
However, you'd be hard pressed to find any office headsets that rely on bone conduction technology. You can try using a pair of bone conduction headphones for phone calls if they also have a mic, but the sound quality would suffer.
Even though it's focused on music headphones rather than office headsets, this article offers relevant advice about your options when selecting between over-the-ear, on-the-ear, and bone conduction headsets.
In addition to the above, there's a special type of headset that's geared exclusively towards hearing-aid users: telecoil-compatible headset.
Telecoil-Compatible Headsets: Your Best Bet?
Virtually every hearing aid these days is equipped with a telecoil, a tiny wire inside that can convert electromagnetic signals into sounds. The telecoil can be used in any place with a so-called "hearing loop" (or "audio induction loop").
A hearing loop is a system that serves sound signals via an electromagnetic field that telecoil-equipped hearing aids can pick up. These are typically found in public venues like churches, concert halls, airports, and so on.
Want to use your hearing aid's telecoil? Simply put it into "T" mode. This switches off the regular microphone and activates the telecoil. Now you can hear any signals from the hearing loop without picking up any background noise. Smart!
This brings us to telecoil-compatible headsets. They're a special group of office and call centre headsets designed to take advantage of the telecoil technology. In addition to outputting sound regularly via speakers, they also serve it as electromagnetic signals. In a sense, these headsets create their own mini hearing loop for the telecoil to pick up.
These headsets are ideal for work calls. The "T" mode on your hearing aid ensures the phone conversation is heard clearly while the rest of the office noise is completely blocked out.
What Are the Best Telecoil-Compatible Office Headsets?
Companies like Jabra, Sennheiser, and Plantronics all offer telecoil-compatible headsets.
Take a look at lists of hearing aid compatible headsets like this one and this one to discover your options. Picking the right headset for you is often a matter of your exact needs and preferences.
Jabra GN2125: Noise-free conversations on both sides of the call
The GN2125 is a Jabra headset for the hearing impaired that's built with telecoil-equipped hearing aids in mind. It comes with its own telecoil that generates the electromagnetic signal for your hearing aid to pick up. It's ready to use out of the box: You put it on, switch your hearing aid to "T" mode, and you're all set!
Unlike a number of competing headsets, the Jabra GN2125 also has a noise-cancelling microphone, which benefits the person you're talking to by filtering out the background noise in your office. This way, each side of the conversation can more easily focus on the call.
This blog post has been re-published by kind permission of Jabra – View the
Original Article
For more information about Jabra - visit the
Jabra Website