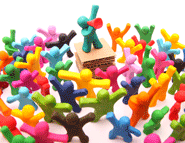 Customer Contact Expo is taking place on 30th September-1st October in London, with a key theme of leadership.
The free to attend event will take place at London's Olympia, showcasing the latest technologies, services and insights in the contact centre industry.
The Leadership Arena
Brand new this year, The Leadership Arena will host a number of high-profile industry names and personalities including the star of the BBC's hit show The Call Centre, Nev Wilshire, Managing Director of customer-centric Metro Bank, Chris Brindley and chair of the government's Employee Engagement Taskforce, David MacLeod OBE, to name a few.
Leadership is a key theme for Customer Contact Expo this year, the launch of The Leadership Arena in 2015 will focus on how companies can obtain the highest standards of customer service with examples from leaders that are already achieving this.
"Leaders have to show a genuine interest in the customer and the front-line interactions. They need to experience their own customer journey, spend time listening to the ideas and frustrations of their front line teams. They need to make decisions to solve problems and take actions to reduce the root causes of customer frustrations," said Carolyn Blunt from Real Results Training, who will be speaking in The Leadership Arena on Thursday 1st October.
The Expo also offers the opportunity to meet the suppliers in the call centre and customer service industry, with over 150 suppliers at the show – including 30 new exhibitors.
Exhibitors this year include: Interactive Intelligence, LiveOps, Salesforce.com, Conversocial and CommuniGate Systems GmbH, plus many more.
Hosted Buyers Programme
Once again, Customer Contact Expo will be setting up meetings for those with a live buying need and the suppliers that fit that need. The service ensures visitors are able to speak directly with the relevant suppliers and attend bespoke one-to-one meetings that match immediate and longer-term needs.
The Hosted Buyer programme also provides plenty of opportunities for networking and knowledge sharing between senior-level delegates within the Hosted Buyers Networking Lounge.
Customer Insight Hub
The event will also be hosting the Customer Insight Hub on the show floor.
The Customer Insight Hub will allow visitors to feedback about the event. This is an opportunity for all visitors to help shape the next 16 years of Customer Contact Expo, highlight what they enjoyed and what they would like to see more of in future events.
Registration is now open for Customer Contact Expo 2015.
---