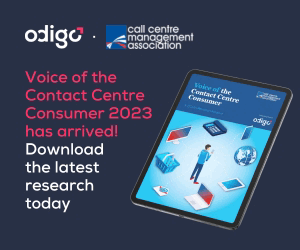 Guillaume Schwoerer at Odigo explains why open APIs should power the customer experience offered by contact centres.
Communication is key to delivering exemplary customer experience (CX). Whether it's conversational AI that helps pick up on the nuances of customer speech or making use of metrics like the net promoter score to gauge satisfaction from feedback, customer service is a continuous process of listening and responding to customers.
It makes sense, then, that to deliver top-tier CX, the software and solutions that help do the job must also interact.
APIs, or application programming interfaces, are intermediaries that allow two different pieces of software to communicate with each other. There are private APIs, which developers use to access in-house backend systems and other internal data for analytics and automation purposes.
However, this discussion is about public (or open) APIs, which allow access to information outside of an organisation, in this case, to improve customer experience.
Open banking and bank APIs are credited with boosting the growth of fintech organisations. Banking customers gain clear benefits, for example, connections with payment networks.
Organisations themselves also benefit from public APIs through flexibility in data migration, in-depth analytics and, most relevant for Contact Centre as a Service (CCaaS) solutions, better CX. When CX tools are able to share information and functionalities with each other, contact centre capabilities expand broadly.
API-Led Customer Experience Means the Capability to Communicate Across All Touchpoints
An API-powered customer experience can drive value because of the work required to keep and win customers.
Striving for exceptional CX in this modern day and age means unifying multiple channels – voice, email, messaging, and social media – into a single omnichannel experience for customers to eliminate frustrations caused by redundant communication across channels. Any channel necessary can be integrated and managed by contact centres thanks to APIs.
Public APIs can help CCaaS solutions merge multiple interactions into a single thread to avoid repetition and promote a quicker understanding of customer issues that separate, discrete channels are less competent at doing.
Behind the scenes, APIs can also handle data sharing for enhanced decision making. This aptitude is especially essential in the hospitality industry, where APIs help hotels, airlines and travel agencies communicate to smooth out the booking process for customers, suggest pricing recommendations and illuminate opportunities for upselling.
The result is not just serving customers the CX they deserve but also helping brands maximise ROI in the process.
API-Powered CX Technologies and Strategies Help You Innovate to Accommodate the New Realities of Work
Speaking of health, the global pandemic brought on by COVID-19 majorly disrupted workflows across all industries.
Time revealed that many companies rose to the occasion by quickly adjusting to the restrictive temporary realities of the pandemic, but also uncovered the expanded possibilities of remote and hybrid work.
APIs enable customer experience visibility on contact centre activities wherever agents are, whether in the office, working from home, or elsewhere. What's more, public APIs are also cloud-based, so there's no loss of functionality (or level of customer experience) no matter where your agents are working from.
All of these perks mean that contact centres can easily set up virtual call centres, remote teams or distributed teams.
Even under the extreme time crunch with which the initial lockdown set in, modern CCaaS solutions rose to the occasion with minimal disruption to everyday contact centre functions, and got a full teleworking solution up and running in no time.
Even better for your brand is that productivity can go up as much as 38% when converting to remote mode.
On top of it all, working from home contributes to the agent experience (AX) in small ways such as minimising commute-related stresses (e.g. spending money on fuel, which is especially salient at the moment). The effects of deploying APIs to provide customer experience radiate benefits for everyone involved in creating it.
APIs Make Communicating With Your Customer Base Easier Than Ever
The simple and rapid integration of APIs with your existing data environment can help reduce your contact centre's deployment and run costs.
Many human tasks can be handled through deploying APIs to provide customer experience. It should be noted, however, that APIs (much like other innovations in the artificial intelligence realm) do not aim to replace the roles of agents.
They can save countless hours by automating routine tasks such as call routing and data compilation, leaving enough time to focus on the customer issues that matter most.
Find the Right API for the Customer Experience You Want to Deliver
Open APIs can vastly improve the customer experience capabilities of your contact centre and your brand in myriad ways.
CCaaS solutions are capable of connecting to a large number of APIs to integrate your contact centre with customer relationship management (CRM) systems, unified communications as a service (UCaaS) solutions, workforce optimisation (WFO), enterprise resource planning (ERP) systems and more.
This blog post has been re-published by kind permission of Odigo – View the
Original Article
For more information about Odigo - visit the
Odigo Website