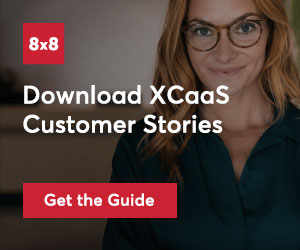 Choon Khee Koh at 8×8 looks at Voice APIs and explains the difference between good and great customer service.
Once upon a time, nobody liked calling customer service. It was seen as a helpline that promised a lot, but delivered little, and it was usually a last resort after customers had exhausted all other options. But fast forward to today, and voice phone calls have suddenly become popular again.
As the world pivoted to digitizing mostly everything at breakneck speed, what was once considered standard operating procedure has since been turned upside down.
New technology, new rules, and new processes were thrown at people from every direction, and naturally, humans wanted to be able to turn to other humans to help them make sense of it all. They wanted to feel heard and understood, and they wanted to know that another human has their back.
Voice Is in Demand, but Customer Service Agents Don't Have the Right Tools
As more and more areas of life move online, and the world increasingly craves human connection, call centres are being flooded. Many of our clients across several industries tell us that they are receiving a significantly higher number of calls than before the pandemic.
As a result, overwhelmed customer service representatives resort to hiding behind concrete protocols, or sending customers on a wild goose chase by redirecting them to other departments—and customers are frustrated with a capital "F"!
Imagine yourself in the shoes of a call centre agent. If you're pressured by KPIs from stressed-out management on one side, raging customers on the other side, and a customer dashboard that doesn't give you the information you need, what would you do?
Why Is Voice Technology So Important?
According to Forbes, 48% of sales leaders say that their CRM system doesn't meet their needs.
Over a century ago, it was said that "a man is only as good as his tools," which perfectly describes the situation that many businesses are in today. Many companies still rely on outdated CRM systems that look like they fell out of a 2002 time capsule.
However, the problem is that not only do customers have difficulty connecting to agents, but it also takes too long for customers to be identified. Sadly, it's at this very moment that most customers decide whether or not it's worth continuing to patronize your company or move on to a competitor.
If that's not enough to convince you, here's what our research tells us about unsatisfactory customer experiences:
There is a 30 to 45% chance of losing a customer to a competitor
There is a 94% chance of having cross-sells or up-sells rejected
You would be spending five times more to re-engage lost customers than to keep existing customers satisfied
Compare that to the perks of a smooth customer experience, and the choice is obvious:
57% more money coming in for each purchase from a satisfied customer
25% profit increase for every 5% of customers retained
Peace of mind for your customers and servicing officers: priceless
Move From Good to Great With Voice APIs
The principle behind good customer service is deceptively simple: provide customers with high-touch personalized engagement while safeguarding personal privacy. Putting this into practice, however, may sound complicated, but with 8×8's Voice APIs it doesn't need to be.
Voice solutions such as call masking, app-to-app calling, and voice messaging help your customer service agents reach customers where they are at, enable quick and effective resolution of complaints, accelerate delivery of time-sensitive notifications, and even offer better privacy for all calling parties.
Call masking enables parties to make calls with complete anonymity. Instead of revealing a customer's number on caller ID, the system server generates a temporary virtual number. This allows users to get reconnected within a short timeframe should connections get cut off, and it is ideal for ride sharing companies and logistics providers.
App-to-app calling allows you to keep customers in your app to make calls without forcing them to consume their personal mobile minutes.
Through the fast generation of virtual caller IDs, transactions and disputes can be resolved easily. This solution is often used by ride sharing companies, online marketplaces and fintech providers.
Voice messaging plays a dual role by making it harder for hackers to access your conversations and ensuring wide-spread inclusiveness.
Using text-to-speech technology to send voice-generated OTPs and notifications, your online transactions can be more accessible to individuals with low literacy levels, disabilities, or even just people on the go.
Delivery rates are also heightened as voice messages can be heard without internet connectivity, making it an ideal back-up plan for time-sensitive information and reservation confirmations.
These insights can be used to streamline internal operations, improve marketing campaigns, and proactively detect fraud.
Voice APIs Are All About Privacy, Simplicity, Security and Inclusivity
To move from good to great, it's no longer about having better prices, or even a better product. Today, it's all about who is better at managing customer experiences.
Sure, everyone loves the convenience of chat apps and emails for simple matters, but it's obvious that now more than ever, voice is preferred (and needed) when it comes to getting complex problems solved quickly.
This blog post has been re-published by kind permission of 8x8 – View the
Original Article
For more information about 8x8 - visit the
8x8 Website