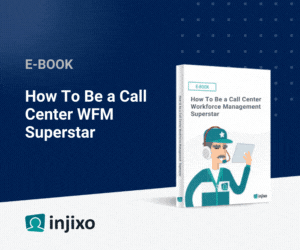 injixo discuss how you can better schedule meetings and coaching with the help of a workforce management (WFM) tool.
One-to-one meetings, team meetings, online training, on-site training, coaching sessions… Every planner struggles with incorporating these into the schedule. Are they even necessary?
Don't they just create worthless overhead, distracting agents from their job? How can you keep these activities from impacting service levels?
The Bad Reputation of Meetings, Training and Coaching
Activity in a contact center is frenetic: customers are calling, email messages have to be answered, and issues have to be resolved in short-time. These are customer-centric activities, all of which we consider productive.
As a counterpart, we have a set of activities which are reducing the amount of time we spend with the customer, like breaks, training sessions, meeting sessions, coaching sessions. In fact, agent performance metrics, like utilization or occupancy, normally factor these as non-productive time.
For simplicity, let's refer to "meeting, training & coaching" as MTC.
Another reason why MTC sessions are regarded as negative is this: training is seen as an onerous necessity to onboard new agents because other agents have left due to attrition.
By that, the negative concept of attrition is connected to training. But actually, it should be seen the other way around: Training and coaching are crucial in avoiding attrition and result in saving costs.
Training and general skills development are important for agents to learn new ways to serve customers better, to challenge themselves, and to prepare for career advancements in the contact center.
Because of this, training and coaching are important motivational factors and have a direct impact on retaining agents.
In summary, if you invest in developing your agents, you will improve your retention rates. You also decrease the cost of onboarding new agents due to attrition.
Why Meetings, Training and Coaching Matter
A recent McKinsey study showed that there is a direct relation between an agent's sales performance and the number of coaching hours the agent gets. The amount of time spent in training sessions results in an improvement of the agent's skills and productivity in the long run.
And the results of this study can be applied to other kinds of agent tasks. Does this tell us that MTC sessions are "unproductive" time? On the contrary, they should be counted as "indirectly productive" time.
Neglecting training and coaching may result in major productivity problems down the road.
It may be of interest to your contact center to measure the impact of training and coaching on the performance of your agents. A good way is to create scorecards per agent with key metrics like average handle time, first-time resolution, customer satisfaction or sales revenues, and measure the status quo.
You can then start your MTC programs and determine the impact. You also have the option to involve agents in the process by gamifying their scorecards and by apply a benefits program to those who improve the most.
Another example that highlights the importance of MTC sessions is this: McKinsey's research found that a typical 500-agent contact center in North America allocates around $2 million worth of staff time to coaching activities every year.
Even though these activities may sometimes be denied, the resources spent are an indication of its importance to contact centers.
The Scheduling Challenge
We now understand why MTC sessions are necessary to reduce costs, increase agent productivity and improve customer satisfaction. But how do you factor MTC sessions into your schedules?
You may know this scenario all too well: You have been working on a pixel-perfect forecast for your calls. Factoring in your trends and special events, you have calculated the staffing requirement need to cover your desired service level goals.
Finally, you have generated a top-notch optimized schedule considering a wide range of variables like agents' skills, shifts, contracts, legal constraints, etc.
Fantastic! After your hard work, everything looks ready… but suddenly, HR tells you your 100 agents have to take part in a 30-minute, on-site training session next week in groups of 10 agents. Panic, frustration, anger invades you.
Even if MTC sessions are given to you in advance, balancing these sessions with customer-related activities in your planning is difficult. Taking into account all variables, without impacting your service level negatively, really requires time and some Jedi skills.
Your Best Solution
But it's possible. Due to the complexity of the tasks and the variables that have to be taken into account, the best way to do it is with the help of a WFM tool. This is one of those situations in which it should be quite straightforward to build a business case to use a professional scheduling tool.
Two main arguments will support your business case: First, agent performance will be increased if MTCs can take place as needed. And second, the otherwise inevitable decrease in service level will be prevented.
In the end, each percentage point in lost service level equals lost money and a drop in customer satisfaction.
If you don't want to or can't start with a WFM tool right away, there is always the pragmatic approach of using the quiet moments of the center to schedule such MTC sessions. But you may end up not having enough time slots to properly train all agents.
Conclusion
Meeting, training and coaching sessions are a fundamental part of a healthy successful contact center. They provide the proper balance between agent engagement, customer satisfaction, and opportunities for revenue growth.
Optimizing activities, shifts, breaks or lunches is generally accepted as a fundamental part of the scheduling process. This is the moment to take your scheduling and the performance of your contact center to the next level by also properly optimizing the placement of MTC sessions in your schedules.
By doing that, you fill the gap between your optimized schedules, your agents' satisfaction and the potential to increase your agents' performance in the long run.