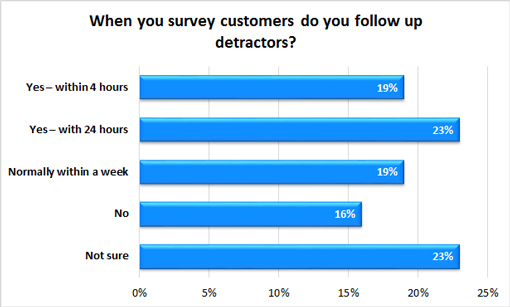 According to our poll, 19% of contact centres aim to respond to negative feedback within four hours of the customer completing their feedback survey.
In addition, a further 23% said that they aim to do so with 24 hours, meaning that more than four in every ten contact centres, 42%, are responding to detractors with a sense of immediacy.
The poll also revealed that now only 16% of contact centres do not follow up detractors at all.
Poll – When you survey customers do you follow up detractors? – answers
Yes – within 4 hours – 19%
Yes – with 24 hours – 23%
Normally within a week – 19%
No – 16%
Not sure – 23%
Source: Call Centre Helper Webinar: 7 Clever ways to Improve Customer Service    Sample size – 111     Date: June 2014

---
---