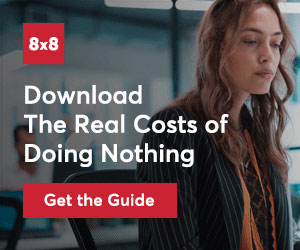 According to Bloomberg Intelligence, the global metaverse revenue opportunity could equal $800 billion by 2024. While the first focus will most likely be from the gaming industry, all industries will eventually look for ways to participate.
Virtual property has already been purchased by consumer-facing brands such as Gucci, PricewaterhouseCoopers (PwC), HSBC, and hundreds more. The trend of staking an early claim in the metaverse could make the virtual real estate industry a $5 billion market by 2026. That's not that far away.
How Will Businesses Interact With Customers in the Metaverse?
So what might customer service and customer interactions look like in the metaverse? In contact centre Predictions for 2023 and Beyond, 8×8 contact centre/call centre subject matter expert Jessica Smith says, "Picture this: your customers are interacting with your brand online only to find themselves needing customer support.
"Perhaps they begin with a self-service option such as a chatbot that leads to an escalation or the need for real-time communication with a live agent.
"As part of the customer journey, they then have the option to have a more interactive session with a live agent—one in which both parties choose an avatar to then meet in a virtual setting—the virtual setting of course being up to your design entirely.
"In fact, the setting may be one that changes depending on the nature of the interaction, the customer's preferences, their tenure as a customer, customer routing procedures, or the workings of the business.
"The possibilities of metaverse meetups will be limitless. But as consumers begin to interact with businesses in the metaverse, it's certain customer expectations will yet again change.
"The bar will be raised as constraints related to immersive experiences lift, and consumer desires take new shape."
More Than Meets the Eye
But there's far more to customer service and support in the metaverse than what your brand's experience and agent and customer avatars will look like.
Organizations should also be thinking of unique challenges, concerns and opportunities around data, identity, security, personalization, automation, customer satisfaction, and more.
It's 8×8's prediction that by 2025, virtual reality will be used in at least 65% of contact centres as brands enter the metaverse and customers look to engage with or as avatars in virtual spaces.
And in a recent poll, 73% of respondents said organizations should be creating a strategy around both employee and customer experience.
How will your organization create this strategy around both employee and customer experience in the metaverse?
This blog post has been re-published by kind permission of 8x8 – View the
Original Article
For more information about 8x8 - visit the
8x8 Website