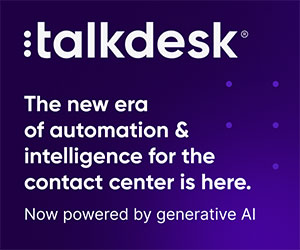 Lídia Dias at Talkdesk explains how many companies are already entering the metaverse space and leveraging the customer experience opportunities.
What is the metaverse?
The metaverse can be described as an online, three-dimensional environment for people to interact, socialize, work, and shop using avatars and augmented reality. Although still conceptual, it's capturing consumers' and brands' attention.
The Talkdesk Metaverse Survey indicates that the metaverse will be the next channel for brand engagement, with a quarter of respondents saying they bought a digital item or found inspiration to make a physical purchase in real life during their time in the metaverse.
With buying and browsing for goods and services (both physical and digital) becoming a key metaverse activity, brands need to prepare for this channel.
While the metaverse isn't likely to replace physical and online shopping experiences in the short term, it is positioned to become a new form of interaction between customers and brands.
Who's in the Metaverse and What are They Doing?
Before talking about how brands can use the metaverse to enrich the customer experience, let's take a closer look at what's happening in it. According to the Talkdesk Metaverse Survey, more than two-thirds of the respondents have already tried the virtual world.
The metaverse presence does not differ significantly between men and women. The majority of people who are already using this virtual world are millennials and Gen Zers, but baby boomers are starting to feel the pull as well.
Socializing with friends is on the top of the list of preferred activities in the metaverse, as well as gaming and using it as a virtual showroom to inspire physical or online shopping. Moreover, many respondents said they're also seeking new experiences.
What about brands? Metaverse is an exciting playground of innovation for companies. Some of the biggest brands have already started experimenting with this digital world to create exciting experiences for their customers.
Here are a few examples of brands that are playing it right in the metaverse:
Nike. In November 2021, Nike launched the Nikeland, an interactive world based off the brand's headquarters for customers to play games, indulge in a lifestyle centred around sports and playing, and engage with the brand's products and services.
Wendy's. Fast food restaurant chain Wendy's has also been exploring the opportunities of the metaverse, capitalizing on the huge popularity of Fortnite to release its own branded game called "Food Fight." The brand streamed the online game on Twitch and quickly reached more than 250,000 views.
Samsung. The brand launched its first metaverse store earlier this year, building an immersive experience where users can build their own adventure, interact with other users, accomplish missions, browse collections, or take on quests—with over 120.000 customers visiting it, so far.
Six Tips to Reimagine the Customer Experience with the Metaverse.
As the most popular brands are already leveraging this new virtual world, new players may find it difficult to find their space. Here are some tips for brands to use metaverse to reimagine the customer experience:
1. Get Your Foot in the Door.
Sooner or later, it will be imperative for lifestyle brands and those catering to the younger generation to establish their presence in the metaverse.
2. Find Your Space.
Look for opportunities to reinforce the brand's values and physical experiences, while establishing new ways of engaging with your audience.
3. Be Nimble.
The early days of any new technology can be rocky. Brands exploring how best to leverage the metaverse with consumers should be resilient in the event of any setbacks.
4. Embrace Creators.
Embrace decentralized content from creators that are aligned with your brand and support the communities that rally around them.
5. Explore New Digital Assets.
Consider support for cryptocurrencies and digital assets known as NFTs, which allow businesses to experiment with new offerings that complement their physical goods and services.
6. Optimize Customer Experiences.
Artificial intelligence and automation can help companies to not only deliver smarter, more personalized, and seamless journeys across the metaverse and other channels, but also predict future needs and behaviors.
Final Thoughts on the Metaverse Benefits for Customer Experience.
Most like social media, it's expected that using the metaverse to connect with customers will become mainstream in the near future.
As the real world becomes more uncertain and health crises, political conflicts, and social movements multiply, it's natural that people move to the metaverse to find a secure, yet immersive, experience.
"While the reality of a sophisticated, intuitive, and seamless metaverse is still on the horizon, consumers are dipping their toes into metaverse-like platforms to shop, share, play games, and taste the novelty. Some are even dating in these digital environments," says Shannon Flanagan, vice president of retail and consumer goods at Talkdesk.
"For consumers, the metaverse holds promise for near-limitless, out-of-this-world experiences and connecting in new and different ways."
"To prepare for what's to come, brands should consider incorporating more interactive shopping and services, including video shopping, into their customer experience strategies," advises Shannon.
"This will help them plan for their immersive engagements and what those will look like when the metaverse does arrive, so they're well positioned for making the kinds of meaningful and memorable connections consumers are seeking."
Brands that want to stay relevant to their audiences will need to find a way to gain authority in this new virtual space and use the metaverse to reimagine the customer experience.
This blog post has been re-published by kind permission of Talkdesk – View the
Original Article
For more information about Talkdesk - visit the
Talkdesk Website