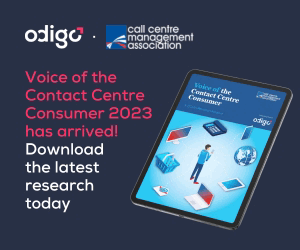 Jake Gardiner at Odigo explains how the landscape for retailers has shifted dramatically. The rise of eCommerce and the increasing importance of omnichannel services including social media offer exciting new opportunities to develop brand communities.
In these new arenas, conversations between brands and consumers can be initiated by both sides. This style of retail customer service helps to capture attention, drive engagement and inspire loyalty.
How do brands take advantage of the benefits of e-commerce? It comes down to how to communicate. Proactive engagement shifts the tone of conversations from mere support to one that also includes more marketing opportunities.
For this retailers need to know what makes them unique and understand their customer base. On a practical level however, what exactly is proactive engagement and what are the main considerations for contact centres who want to use such a strategy.
What is Proactive Engagement?
Traditionally the mainstay of the contact centre has been reactive engagement. The customer makes the first move when they have a query. Proactive engagement is the opposite of this; it is all about anticipating a customer's needs and taking steps to meet them.
Executing such a strategy relies on outbound contact centre capabilities. Proactive is not the same as predictive engagement though, predictive engagement is targeting who and when to engage proactively to drive sales, normally in an online environment.
The purpose is not to annoy customers but it remains a risk for poorly planned services. A 2021 consumer survey revealed that 71% of consumers expect personalisation and 76% get frustrated when personalisation doesn't happen.
Don't Just Act, Maximise Engagement Using Personalisation
Even if you send a customer exactly what they need when they need it if it's via the wrong channel or poorly constructed they won't see it, or even realise it's relevant. Worse, one or two poorly personalised messages will make it even less likely that customers will engage in the future.
Personalisation helps cut out the unnecessary and deliver quality relevant messages that bring value to the customer relationship with a brand.
McKinsey has highlighted just how important personalisation is, calling it a "force multiplier—and business necessity—one that more than 70% of consumers now consider a basic expectation."
78% of consumers are more likely to make a repeat purchase from companies that personalise and 78% would also be more likely to recommend brands that personalise to family and friends.
Stand-Out Customer Care Enhances Brand Reputation
The e-commerce impact on retailers and customer connection as well as hybrid strategies that combine physical and digital stores 'phygital retail' mean competition for attention and loyalty has never been higher.
There has always been an acknowledged and accepted difference between the customer service delivered by luxury vs. basic brands.
Now however, every retailer must keep up with new 'basic standards' arising from digitalisation, and discover ways to stand out through brand values and identity, product features or customer services; proactive service is a key part of this.
Big factors in the change in retail culture are convenience and cost. In this sense, proactive messaging is perfect for the modern consumer. By anticipating queries about delivery, stock levels and upcoming promotions, convenience is enhanced and value is highlighted.
Customers save even more time because they don't need to search for answers or contact details, it's all provided.
Despite shopping around for low-cost deals being one driver of customer habits, the share of UK customers willing to pay more in order to get excellent service has continued to increase over the past 2 years: from 25.9% in January 2020 to 29.5% in January 2021 and in 2022 a further increase to 34%. Customer service should be considered a business strategy, not simply a business necessity.
How Can Retail Contact Centres Apply All This to Proactive Engagement?
When the different departments of a brand all run on different systems, data and opportunities are lost. Cloud-based technology allows the sharing of information across sites and departments so all the relevant history about a customer is accessible in an easy-to-navigate omnichannel history.
This preservation of detail enriches both individual customer personalisation and creates more information about the whole customer base.
By identifying when customers typically make contact and their preferred channels, intelligent strategies can deliver alerts, notifications and reminders via SMS, email or outbound calls.
For effective long-term use of proactive services however, there are two major requirements. Firstly adaptability, which is a growth strategy and with enhanced engagement and repeat purchases more inbound contact may well occur as a result.
The scalability of cloud-based solutions instils readiness into contact centres so growth is easy to accommodate.
Secondly, efficacy should be measured and assessed using contact centre KPIs and analytics. This allows interactions to be fine-tuned promoting positive outcomes and informs the removal of underperforming experiences.
CCaaS Solutions Helps Make it Possible
Contact Centre as a Service (CCaaS) solutions come with a suite of AI-enhanced contact centre tools to provide the level of support that differentiates brands and inspires customer loyalty. Every interaction can be optimised using a CCaaS solution, to drive business growth and brand reputation, and proactive service is a key part of that.
Would you like to discover other ways to boost retail customer loyalty?
This blog post has been re-published by kind permission of Odigo – View the
Original Article
For more information about Odigo - visit the
Odigo Website