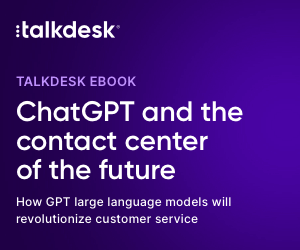 Talkdesk's Lídia Dias asks: is outsourcing your contact centre operations on your mind? Learn more about the pros and cons of contact centre BPO and see our recommendation for a "best of both worlds" solution.
As the frontline for many businesses, contact centres have become even more important these days. At the same time, customers' expectations are rising, and quick, effortless customer service is essential for companies to thrive.
It can be costly to deliver a high level of service to customers. That's why many companies are looking to outsource their contact centre services to lower costs and scale customer service. However, it is important to note that there are disadvantages associated with outsourcing and emerging technologies can offer a better alternative.
In this blog, we'll go through:
What's a contact centre BPO?
Pros and cons of an outsourced contact centre.
A best of both worlds recommendation.
What Is a Contact Centre BPO?
Business process outsourcing (BPO) refers to the process of contracting third parties to handle front or back-office functions. BPO can take many forms, including updating online and offline data, managing payroll and billing, or handling contact centre operations.
A contact centre BPO is a third-party vendor that manages inbound and outbound contact centre functions.
It has gained a lot of attention recently as more companies leverage contact centre outsourcing. The external service provider typically takes care of hiring and training agents, maintaining the software and infrastructure, and managing day-to-day operations.
Companies can outsource a segment of their contact centre operations (like support, sales, etc.) or outsource the entire contact centre. Once the decision has been made to outsource and the contracts are signed, many companies take a hands-off approach to overseeing operations and trust that their service provider will take the reins.
Pros and Cons of Contact Centre BPO.
We understand that the decision to outsource part, or all, of contact centre operations to a third party is delicate and specific to each business. Usually, there are two occasions where the decision to contract a contact centre BPO is a good call:
When your contact centre operations are already at full capacity and customers are waiting too long to get their questions answered.
You have other areas of the business that need focus before building an in-house contact centre.
If you're facing one (or both) situations above, you might need to evaluate outsourcing the contact centre operations. To help you making a decision, we gathered the 5 pros and cons of contact centre BPO.
These Are the 5 Pros of Outsourcing Your Contact Centre Operations:
1. Lower Costs. 
When call centre operational, infrastructure, overhead, and labour costs are significantly reduced (or being handled by an external service provider), the savings can be significant.
2. Eliminate Staffing Issues.
External service providers typically handle all of the hiring, training, scheduling, and managing of a team of call centre agents. This can save your company time, money, and headaches.
3. 24/7 Customer Service for a Fraction of the Price.
Outsourcing call centre functions often allows companies to provide 24/7 customer support at a price point that won't break the bank.
4. Easily Handle the Overflow Call Volume.
Outsourcing part of your call centre operation to a service provider (that is only responsible for answering overflow calls during periods of high call volume) can be an invaluable solution to a costly problem.
5. Increase Business Continuity.
It's easier to have 100% uptime with a call centre provider that has servers located in multiple geographic locations and staff dedicated to providing round-the-clock service.
And These Are the 5 Cons of Outsourcing Your Contact Centre Operations:
1. Linguistic and Cultural Barriers.
Agents located overseas may lack the cultural knowledge, fluency, and communication skills necessary to provide excellent support.
2. Decreased Control Over Business Functions.
When outsourcing contact centre operations to an external service provider, you are putting vital business functions in a third party's hands. It may be more difficult to monitor for quality assurance and put policies in place to help increase customer satisfaction.
3. Lack of Company Knowledge.
Outsourced agents are often unfamiliar with company culture, practices, and values. They may not be dedicated to the company, devoted to the customer, or provide a level of service that is in line with company standards and reflects the company culture.
4. Agent Focus May Be Divided.
Agents who work for outsourcing companies often are assigned to make and receive calls for multiple clients. Therefore, their attention and time may be divided and they may never be 100% devoted to (or passionate about) your company.
5. Lack of Collaboration and Communication Between Agents and Departments.
Often, all of the agents who make and receive calls for a single company do not work in the same building and likely do not have the means to communicate with each other. Thus, collaboration and communication between agents and departments is limited.
What to Choose: BPO or In-House Contact Centre?
If outsourcing your customer service operations to a contact centre BPO provider seems enticing but not worth the risk, you should consider a simpler, more cost-effective solution. Hiring a team of global agents who work remotely can be a "best of both worlds solution".
It allows you to leverage some of the advantages that make contact centre BPO so alluring and also mitigate the disadvantages associated with outsourcing.
With a cloud-based contact centre solution, you can easily maintain a global workforce for a reasonable price. All that agents need to make and receive calls is a computer, headset, and an internet connection.
They can work from home, undergo all training online, learn how to use the agent dashboard in minutes, and start making and receiving calls on day one.
Another critical advantage of hiring global at-home agents is that you have a larger applicant pool as you are not limited by geographic location or transportation issues.
You can also select candidates based on cultural fit with your company, industry expertise, language and communication skills, and other factors that you deem important. Thus, by expanding your team globally, you can see an increase in the quality of the workforce.
In addition to hiring more skilled agents and giving them the freedom to work where they like, a cloud-based contact centre also allows for managers to keep a close eye on their global workforce and provide real-time feedback when necessary.
Managers can listen and drop in on live calls and whisper coach the agent without the customer knowing.
They can keep track of agent performance using real-time and historical reporting and keep their entire team on the same page with real-time updates, automated tasks, integrated customer relationship management (CRM), and helpdesk software.
Managers can also ensure that the calls are routed to the most appropriate agent (e.g., the most tenured, one who has specific industry/product expertise, etc.) and provide a better customer experience with an interactive voice response (IVR) system and call queues.
Additionally, with pay-as-you-go options, the ability to add and remove agents in seconds, and maintaining high SLAs that guarantee call quality and uptime, you'll have everything you need to provide quality service at an affordable price.
Contact centre cloud platforms are a simple, more cost-effective solution to hiring and managing a team of global agents. It is a "best of both worlds solution" to a problem that has garnered a lot of attention and has industry giants taking a stance.
To Wrap Things Up.
Just to be clear, there's no correct answer for whether or not you should hire a BPO provider. There are pros and cons for both options and you should consider what suits your company better.
Choose a contact centre BPO provider if you want to:
Cut the operational costs of running a contact centre.
Eliminate staff issues.
Seamlessly face overflow call volume.
Provide round-the-clock call service.
Opt for an in-house, cloud-based contact centre if you:
Want agents to be versed in the company's culture.
Want dedicated agents.
Consider department collaboration is crucial for your business.
Are concerned about security and quality of service.
This blog post has been re-published by kind permission of Talkdesk – View the
Original Article
For more information about Talkdesk - visit the
Talkdesk Website