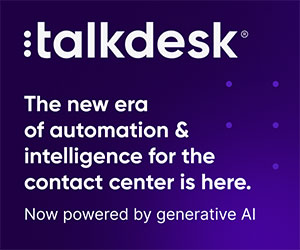 Antonio Gonzalez at Talkdesk shares insights about retailers transforming customer experience.
Retailers are turning to cloud contact center platforms as an experience unifier and source of customer insight.
Retail is changing, and the contact center is taking the central stage of customer experience (CX) transformation—that's what we found in our most recent Talkdesk Research report, 'The customer experience (CX) revolution in retail'.
The line has blurred between digital and in-store experiences for shoppers, and retail CX professionals recognize that contact centers must be used to redesign customer experience.
However, many retailers still struggle with legacy on-premises software that does not offer the scalability, AI functionality, or work-from-anywhere capabilities that the current context demands.
Sixty-two percent of CX professionals agree that legacy contact center technology is limiting their ability to improve customer experience.
CX professionals are clear on the importance they see in having cloud-based solutions to get over these challenges:
86% of not fully cloud-based retailers are likely to transition to the cloud in the next two years.
67% of retail CX professionals see contact center technology upgrade as a priority.
64% of retail CX professionals take contact center digital transformation as a top strategic priority.
AI Has a Key Role to Play in Tailoring Experiences at Scale
AI is key in contact center transformation. It minimizes or even eliminates low-value or manual tasks, drives greater operational consistency and efficiency, and frees agents so they can deal with complex interactions that require more empathy.
AI empowers retailers to build stronger connections with shoppers, understand their behaviors and patterns better, and deliver tailored product recommendations. Cutting-edge customer service is achieved through timely, accurate, and relevant communication supported by robust analytics capabilities.
AI also enables retailers to proactively deliver customer service with personalized recommendations and tailored interactions, when and where the customer wants.
The share of retailers using AI in the contact center is expected to rise from 31% to 57% over the next two years—representing an 84% growth and a significant sign of how AI will shape the contact center of the future.
The good news is that AI capabilities are now mature enough to deliver real ROI and value to the contact center. As cloud contact centers are increasingly leveraging AI, retailers will take advantage of deepened customer intelligence to find new ways to differentiate themselves through CX.
Deepened Customer Intelligence Will Unlock the Power of AI
Although retailers have lots of customer data today, they struggle to draw meaningful insights from it. With AI and machine learning built into modern applications, it's easier to pull data together in an effective manner that enables retailers to drive better customer experiences.
True data gold mines, contact centers are repositories of insights that show what customers want and their feedback regarding products and services. Retailers can unlock this data to the benefit of the entire organization and its CX strategy.
More than just gathering data is the ability to effectively analyze it into actionable insights that makes the difference for an engaging retail CX.
This blog post has been re-published by kind permission of Talkdesk – View the
Original Article
For more information about Talkdesk - visit the
Talkdesk Website