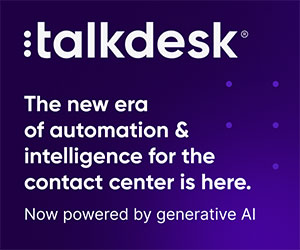 Talkdesk introduce 13 key metrics that could be great to measure this Halloween.
Assessing a contact centre's effectiveness and efficiency can leave you without a "trick or treat" option, so Talkdesk has 13 scary-good key performance indicators (KPIs) to keep an eye out for this Halloween and beyond.
Let's carve together the big pumpkin that is your contact centre metrics.
1. Average Abandonment Rate
The percentage of customers who hang up before reaching an agent. This is a common occurrence in contact centres and has a horror movie impact on customer retention.
Customer-centric contact centres must track this KPI to ensure it remains below the target threshold.
2. Average Speed of Answer
The average time it takes for incoming calls to be answered during a specific timeframe. This includes the time it takes for a call to be answered after it is assigned to an agent, which ideally should be between 4 and 5 seconds. It doesn't include IVR system navigation time.
Teamwork makes the scream work, and this metric is great for assessing the team's efficiency and accessibility to callers.
3. Average Hold Time
If your customer asks "Do you like scary movies?" don't leave them hanging. Average Hold Time is the average amount of time callers spend on hold after they are connected to an agent.
High average hold times are often the result of unreliable, slow and scattered systems and information or even under-trained agents and complex processes.
4. Percentage of Calls Blocked
This is the percentage of inbound callers who receive a busy tone when they call.
It is often caused by agents not being available and call queues not being configured (or call queues full), so callers hear a busy tone or are routed directly to voicemail.
Additionally, it could be a result of the call centre software not being able to adequately handle call volume. This Halloween, don't leave them hanging at your door.
5. Average Time in Queue
No one likes a long candy line. To ensure your callers' wait time is within an acceptable range – thus customer satisfaction is as well – you must keep track of Average Time in Queue.
This is the total time callers spend in call queues waiting to be connected to an agent, divided by the total number of calls answered by agents.
6. Service Level
Service Level is the percentage of calls answered within a specified number of seconds. This call centre KPI is typically displayed in real time to both agents and managers in their call centre software metrics dashboard so they can make data-driven decisions that bring this KPI home safe after a long night of call centre trick-or-treating.
7. Average Handle Time
Average Handle Time is the elapsed time from when an agent answers a call until he/she finishes the after-call work.
It is one of the most commonly analysed KPIs in the call centre industry as it is directly related to caller satisfaction and it's one of those metrics that, when overlooked, can make callers flip the witch switch.
8. Average Call Wrap-Up Time
Agents get goosebumps from spending more time updating databases, sending emails, plus filling out notes and informing teammates after the call.
The time an agent spends completing a transaction after the caller has disengaged is called Call Wrap-Up Time.
9. First Call Resolution
First Call Resolution (FCR) measures the percentage of all calls in which the caller's issues were resolved on the first attempt, without the agent needing to escalate the call, transfer the call or call the customer back. This KPI is a contact centre crowd favourite at any Halloween KPI costume contest.
10. Customer Satisfaction (CSAT)
Contact centres typically calculate a Customer Satisfaction (CSAT) score by conducting customer surveys and obtaining quality assurance measurements.
Regardless of the method, CSAT is one to watch when analysing contact centre effectiveness and efficiency. Make sure your agents are a treat to customers.
11. Occupancy Rate
This is the time agents are on live calls and completing work associated with the calls. While most call centre managers seek to optimize Occupancy Rates, you must also be aware of agent workload as well as agent stress when setting targets for this metric.
At the end of the day you want your agents to be alive and kicking rather than the walking dead.
12. Agent Absenteeism
This is the number of days lost per year due to agents being absent as a percentage of the total number of contracted days.
Agent Absenteeism is an important KPI that offers valuable business intelligence for developing a contact centre budget and optimizing workforce management practices. This can have a major impact on call centre scheduling and staffing, mostly during those tough Hallowmas days…
13. Agent Turnover Rate
BEWARE – black cat crossing! Unlucky number 13 comes with the percentage of agents who leave your contact centre Halloween bash early to party elsewhere.
Agent Turnover Rate significantly affects customer satisfaction, contact centre scheduling and team spirit.
Have a Scary Good Halloween!
Measuring contact centre metrics that are associated with customer satisfaction, agent effectiveness and contact centre efficiency should be the main aim of any contact centre manager.
Keeping track of these 13 scary good KPIs is a great start this Halloween!
This blog post has been re-published by kind permission of Talkdesk – View the
Original Article
For more information about Talkdesk - visit the
Talkdesk Website